Before your visit to Hawai'i, brush up on these useful Hawaiian words and phrases.
With a little practice, you can say "aloha" (hello) to the locals and embrace the culture of Hawai'i with the entire "ohana" (family).
MAHALO (mah-hah-loh) – Thanks, gratitude, to thank.
KŌKUA (ko-coo-ah) – Help, assistance, to extend help to others. "Mahalo for your kōkua" means "Thank you for your assistance."
KEIKI (kay-kee) – Children. Your keiki will love the many fun-filled adventures available on the island and at your resort.
MAOLI (mau-lee) – Native, indigenous, genuine. Persons of original Hawaiian descent are considered "kanaka maoli."
MALIHINI (mah-lee-hee-nee) – Visitor, tourist, newcomer. If it's your first visit to Hawai'i, then you are a malihini.
HAU'OLI (hau-oh-lee) – Happy, glad, joyous. "Hau'oli lā Hānau" means "Happy Birthday."
E KOMO MAI (eh koh-moh my) – Welcome, come in. A friendly invite you will surely hear upon your arrival.
'ONO (oh-no) – Delicious, tasty. Also the Hawaiian name for the wahoo fish, served in many restaurants and coincidentally also delicious.
NIU (nee-ooh) – Coconut. Although first brought to the island by Polynesian voyagers, the nutrient-rich fruit has become a native staple for traditional recipes, and even building materials, tools and apparel.
HOLOHOLO (Ho-loh-ho-loh) – To venture out or travel for leisure. You'll be saying, "Let's go holoholo" before setting out on a beach adventure or a journey around the island.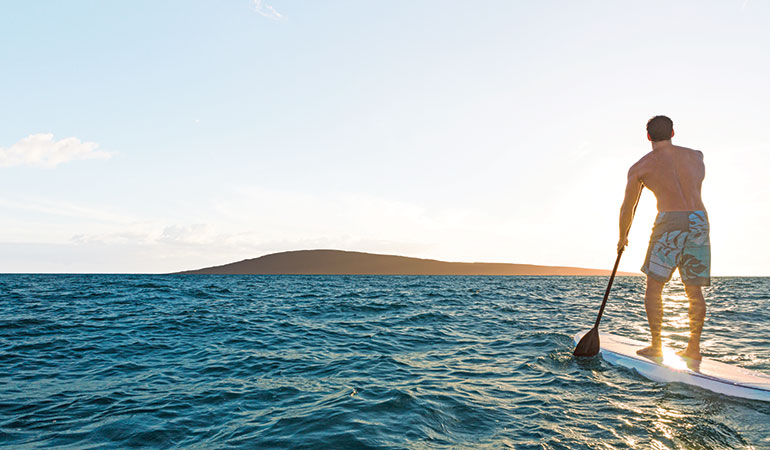 KALA (kah-la) – Forgive or release, such as in the sentence "E kala mai ia'u" or "I'm sorry." Not to be confused with "kālā," which means money or currency.
MAUKA/MAKAI (Mao-kah/Mah-kai) – Navigate like a local with these common directional queues. Mauka means "on the mountain side," while Makai means "on the ocean side."
HOALOHA (Ho-ah-loh-ha) – Beloved friend. The people of Hawai'i will welcome you as a hoaloha and make you feel right at home.
KAPU (kah-poo) – No trespassing. Look out for signs with this word in dangerous territory or off-limit areas.
DA KINE (dah-kain) – Da kine does not have a direct meaning, but is a placeholder word that refers to anything — literal or figurative — as "good" or "the best." You will soon be setting out on da kine adventure through the beautiful island.

Now that you're a kahuna (expert) at the alelo (language) of Hawai'i, reserve your unforgettable Maui experiences, including learning to play ukulele, making traditional leis, hula lessons, and many more. Contact your Personal Concierge for a full list of activities, as reservations often fill up quickly.
Plan your Hawaiian villa vacation and activities
Contact your Personal Concierge today.