We talked to Josh Smith, Activities Supervisor at Sheraton Desert Oasis, to pick his brain about some of his favorite must-do activities and experiences in the surrounding Phoenix/Scottsdale area.
Tell us about a "best kept secret" of the resort or local area that guests might not know about?
"The Southwest Wildlife Conservation Center, just a few miles north, rescues native wildlife that have lost their homes, or are found injured, orphaned, or abandoned. Visiting is a great way to see beautiful native animals like bobcats, javelina (wild, pig-like animals), jaguars, mountain lions, and more, all while learning all about these animals from the expert staff."
Where's the best spot at the resort to sit back and relax? Why?
"The Relaxation Pool of course! It's a shady, tucked-away area perfect for unwinding beside the tranquil waters. Try the hammock behind the small waterfall. And any one of our beautiful courtyards is ideal for good, quiet relaxation as well."
Where locally would you take out-of-town friends to entertain them when they visit? What would you do?
"There are so many things to do in the area! Trail hiking, visiting the Desert Botanical Garden, Top Golf, the Musical Instrument Museum, Frank Lloyd Wright's amazing Taliesin West house, the nearby "Old West" town of Cave Creek, and Old Town Scottsdale for shopping, dining, and art."
Josh and Guests enjoying the views.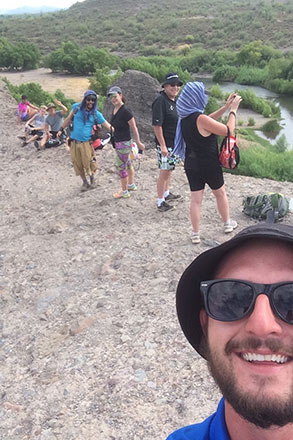 Start planning your Arizona vacation today
Contact your Personal Concierge.