When you can't travel, you can still make these five location-inspired cocktails at home to remind you of a favorite city or vacation spot.
Whether it's a Manhattan ordered at a sophisticated bar in New York City or a mojito sipped by the pool in Miami, some cocktails immediately bring to mind a favorite city or vacation spot. But even when you can't go to those places, you can still enjoy a location-inspired cocktail at home. Here's the backstory on five classic drinks, with recipes you can make at home. Cheers, and happy (armchair) travels!
Paris: Bloody Mary
Several theories exist on how the Bloody Mary came into existence, but the ubiquitous brunch staple (pictured above) made famous in New York most likely traces its roots back to American expats in 1920s Paris. Over time, the drink has grown heartier with the addition of the spiciness we associate with it today, and even such novelty toppings as burgers and a whole rotisserie chicken.
Bloody Mary Recipe
1 ½ ounces vodka
3 ounces tomato juice
1/2 ounce fresh lemon juice
2 dashes Worcestershire sauce
Add Tabasco, salt, pepper (all to taste)
Stir gently in a mixing glass with ice and pour into highball glass. Garnish with celery, lemon wedge (optional).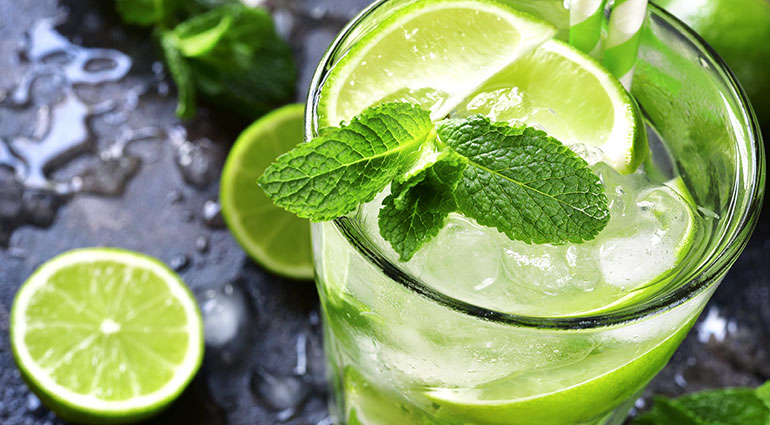 Miami: Mojito
Cuba claims rights as the birthplace of the mojito, although its exact origin is not clear. No matter its start, there's no doubt that Miami helped popularize this refreshing, mint-muddled concoction. Enjoying a freshly made mojito is as about as close as you can get to Miami without leaving your couch.
Mojito Recipe
1 1/2 ounces white rum
2/3 ounce fresh lime juice
6 pieces mint sprigs
2 teaspoons white cane sugar
Splash of soda water
Muddle mint sprigs with sugar and lime juice. Add splash of soda water, and fill Collins glass with ice. Pour the rum and top with soda water. Lightly stir. Garnish with sprigs of mint and slice of lime.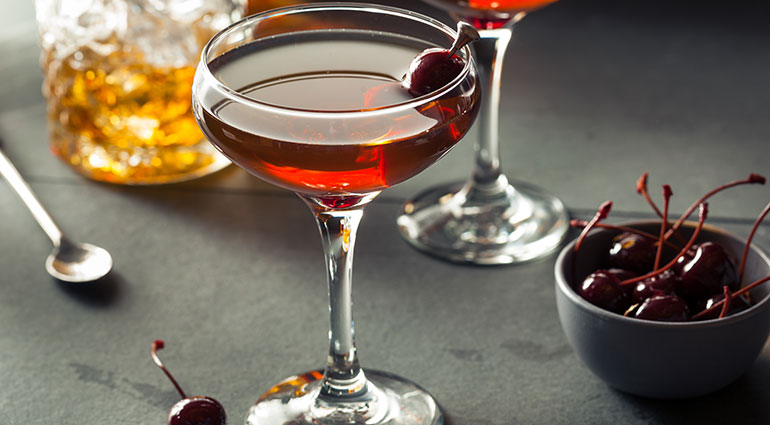 New York City: Manhattan
Few drinks are more "New York" than the Manhattan. While several NYC establishments say they created the drink, the Manhattan is most commonly associated with two watering holes from the late 19th century — the Manhattan Club and Hoffman House.
Unlike many cocktails popular today, the stiff whiskey-based potion has not changed significantly throughout its history. It's brash, strong, and no nonsense — much like New York City itself. It is also one of the most basic drinks in a bartender's bag of tricks, so an easy one for an at-home mixologist to try.
Manhattan Recipe
1 ½ ounces rye whiskey
2/3 ounce sweet red vermouth
1 dash Angostura bitters
Pour ingredients into mixing glass with ice cubes. Stir well. Strain into chilled cocktail glass. Garnish with a cocktail cherry.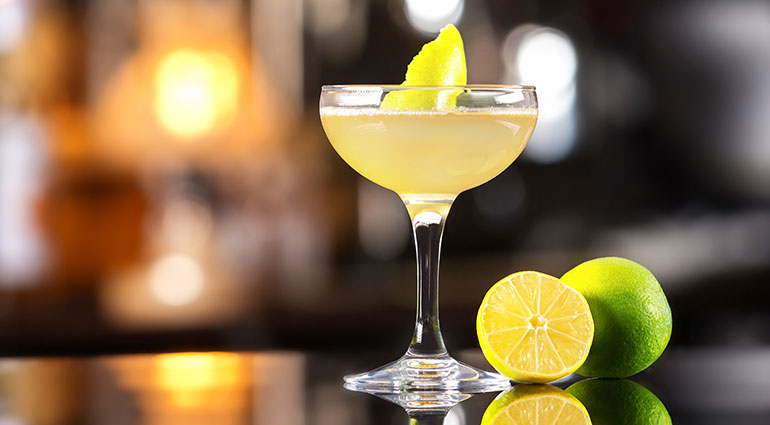 Caribbean: Daiquiri
A daiquiri is synonymous with a day at the beach. And if that beach happens to be in the Caribbean, all the better. The iconic summer cocktail was first stirred in the early 20th century in Cuba and popularized at Havana's famed El Floridita bar with the help of larger-than-life writer Ernest Hemingway.
While many associate the daiquiri with the sugary frozen version, it should walk a careful line between sweet and tart.
Daiquiri Recipe
2 ounces white rum
2/3 ounce fresh lime juice
2 bar spoons superfine sugar
Put all ingredients in a cocktail shaker. Stir well to dissolve the sugar. Add ice and shake. Strain into chilled cocktail glass.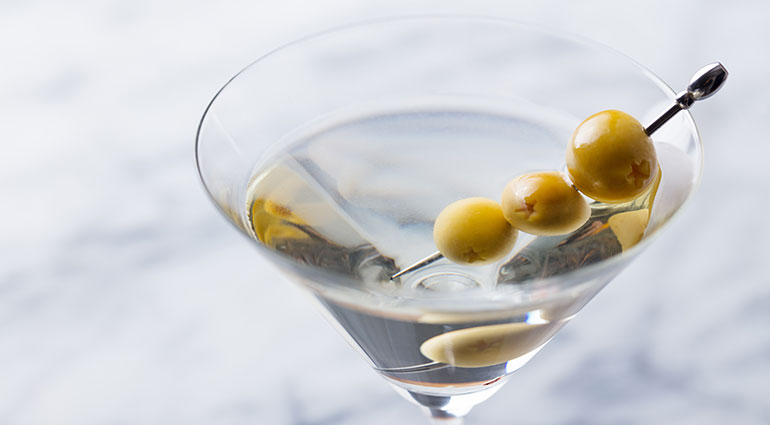 San Francisco: Martini
While the "quarantini" — a cocktail of your choice that can be shared with friends via virtual happy hour — has become a buzzword recently, few drinks are as essential to modern cocktail history as an actual martini. The classic drink most likely traces its roots to the mid-19th century Gold Rush era in San Francisco.
One popular story finds the martini originating at the now-defunct Occidental Hotel and taking its moniker from the nearby town of Martinez, California. From James Bond to the "three martini lunch" of the "Mad Men" era, this gin-based icon has never gone out of style.
Martini Recipe
2 ounces gin
1/3 ounce dry vermouth
Pour all ingredients into mixing glass with ice cubes. Stir well. Strain into chilled martini cocktail glass. Squeeze oil from lemon peel onto the drink, or garnish with a green olive if you desire.

Whether your go-to vacation drink is a Bloody Mary or a mojito, you can always take a virtual trip by mixing one at home.