Take advantage of your villa's fully equipped kitchen with these quick, simple-to-make breakfast recipes.
Breakfast is the most important meal of the day but your vacation schedule is jam-packed with fun activities. No problem, just prep breakfast when you have time with a make-ahead egg-strata or French-toast casserole. Or whip up something quick in the morning, like a yogurt parfait. The best part: A short grocery list adds up to five different crowd-pleasing meals.
Baked Egg-Strata Casserole
Prep time: 20 minutes
Cook time: 60 minutes
Serves 8
Ingredients
1 pound sausage
1 loaf of bread, cubed (preferably day old)
2 cups (8 ounces) shredded cheddar cheese
6 eggs
2 cups milk
Directions
Heat a fry pan to medium-high and cook sausage until evenly brown. Drain, and set aside. Prep a casserole dish with butter or cooking spray and layer bread cubes, sausage and cheddar cheese. In a bowl, beat together the eggs and milk. Pour the egg mixture over the bread cube mixture. Cover, and refrigerate at least 8 hours or overnight. Remove the casserole from the refrigerator 30 minutes before baking. Preheat oven to 350 degrees F. Bake 50 to 60 minutes in the preheated oven, or until a knife inserted in the center comes out clean. Let stand 10 minutes before serving.
Baked French-Toast Casserole
Prep time: 20 minutes
Cook time: 40 minutes
Serves 6 – 8
Ingredients
1 loaf of bread
8 large eggs
3 cups milk
1 teaspoon vanilla
½ teaspoon cinnamon
dash of salt
maple syrup
Directions
Prep a casserole dish with butter or cooking spray. Arrange bread slices in 2 rows, overlapping slices. In a large bowl, combine the eggs, milk, vanilla, cinnamon and salt, and beat with a fork until blended. Pour mixture over the bread slices, making sure all are covered evenly with the milk-egg mixture. Spoon some of the mixture in between the slices. Cover and refrigerate overnight. The next day, preheat oven to 350 degrees F. Bake for 40 minutes, until puffed and lightly golden. Serve with maple syrup.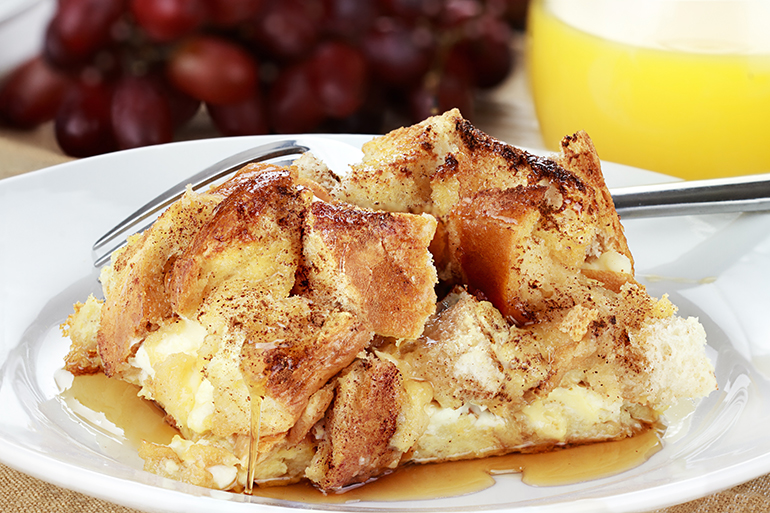 Breakfast Burritos
Prep time: 20 minutes
Serves 10
Ingredients
12 bacon strips
12 eggs, lightly beaten
salt and pepper to taste
10 flour tortillas
1 ½ cups (6 ounces) shredded cheddar cheese
½ cup sliced green onions (optional)
Directions
In a large skillet, cook bacon until crisp; remove to paper towels. Drain, reserving 1-2 tablespoons drippings. Add eggs, salt and pepper to drippings; cook and stir over medium heat until the scrambled eggs are completely set. Spoon about 1/4 cup of egg mixture down the center of each tortilla; sprinkle with cheese, onions and reserved bacon, diced. Fold bottom and sides of each tortilla over filling.
Breakfast Parfaits
Prep time: 10 minutes
Serves 4
Ingredients
2 cups granola
2 cups plain yogurt
2 cups fruit of your choice, such as bananas, blueberries, strawberries and mangos, fresh or thawed if frozen
1 tablespoon maple syrup
Directions
Line up four bowls. Evenly divide the yogurt in the bottom of each bowl. Spoon the granola on top. Next add fruit. Drizzle with syrup.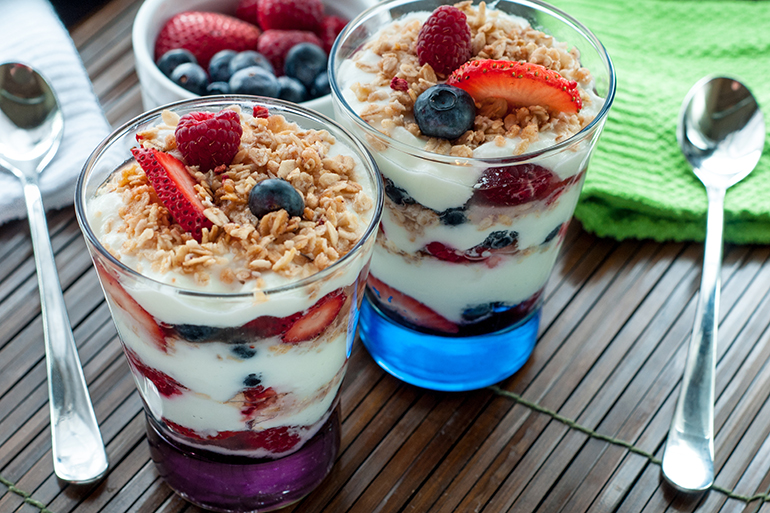 Egg Sandwiches
Prep time: 15 minutes
Serves 4
Ingredients
4 eggs
4 English muffins or 8 slices of bread
3 ounces grated cheddar cheese
butter
Directions
Preheat oven to 350 degrees F. Fry eggs. Split English muffins; arrange them or bread slices on a cookie sheet. On four halves, evenly divide shredded cheese. Top with a fried egg. Butter the top half of muffin and place on top of egg. Stick tray in the oven for approximately 10 minutes.
Furnishings may vary.
Book your next getaway
Reserve your villa vacation today.