Beyond beaches and nightlife, Cancún offers an array of wild experiences to explore when staying at
The Westin Lagunamar Ocean Resort
, from swimming with sharks to climbing Mayan ruins.
Experience Mayan Temazcal
"You'll feel reborn," says Xochitl Hernandez, therapist specializing in chakra balance and Reiki, of the Mayan Temazcal ceremony offered at the Westin Resort & Spa in Cancún. This cleansing ritual varies according to the shaman conducting it, but the general concept has participants enter a hut for a sauna-like sweat washing away toxins and emotional residue. The event takes place in four rounds, each ending with a shower. Note that the heat can be physically taxing, but the reward is an unparalleled purification of skin and soul.
Snorkel with whale sharks
The urge to scream is common upon first sighting a whale shark — they're 40 feet long with gullets stretching 5 feet across. But fear not: They swallow only plankton. From mid-May to mid-September, this fish congregates around Isla Mujeres, a satellite island of Cancún. Operators such as Ceviche Tours stay in constant communication with one another to shuttle guests to the schools' last known locations. Hop in and be nose to gills with anywhere from five to 50 spotted giants.
Explore Mayan ruins
Go for the history lesson — stay for the curious energy emanating from the Yucatan Peninsula's remaining Mayan ruins. The pyramid at Chichén Itzá is the largest and most talked about site — and also the farthest from Cancún's Hotel Zone, separated by a two-and-a-half-hour drive. For a closer experience right at the resort, visit the Templo del Alacrán, aka the Temple of the Scorpion, dating between 1200 and 1550 A.D. Acoustics in mind, the Maya designed this structure to whistle, warning of impending hurricanes and other intense weather. Regardless of which structure you visit, spend a few quiet moments soaking in the surroundings. The Maya had an intense connection with nature, still very apparent in their centuries-old structures.
Cart around Isla Mujeres
From the Gran Puerto Cancún ferry terminal, it's a 15-minute ride to the sleepy, 5-mile-long Isla Mujeres where golf carts serve as the main transportation. Rent one for the day, stopping to eat ceviche, stretch out on a private stretch of sand and snap photos at the lighthouse at Punta Sur, the southernmost point. Another highlight is artist Richard "Rishi" Sowa's floating island, a livable raft with a base constructed of 150,000 discarded plastic bottles. Find it at Laguna Makax.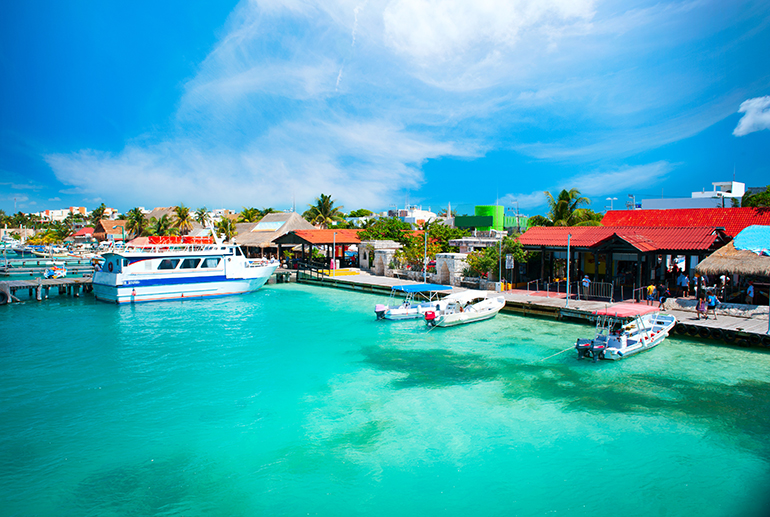 Swim among an underwater sculpture garden
In dreaming up Cancún's underwater museum in 2009, sculptor Jason deCaires Taylor provided a habitat to reef fish and created an installation of ever-changing art thanks to the proliferation of corals and sponges. This collection of 450 life-size figures is spread among two locations in the greater Cancún area: Salon Manchones off of Isla Mujeres and Salon Punta Nizuc south of the Hotel Zone. Both welcome snorkelers; Salon Manchones, in depths between 20 to 30 feet, also permits scuba divers.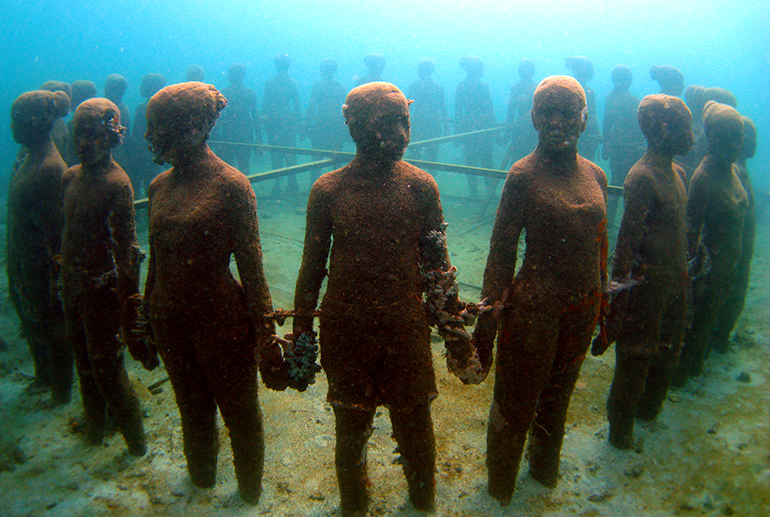 Start planning your Canćun vacation today
Contact your Personal Concierge.