Experience haunting history and nighttime scenery with a guided ghost tour.
Who knew frightening could be so fun? Guided ghost tours — more popular than ever in the wake of paranormal TV shows — can be a great way to discover the mysterious past of your vacation destination. On these top tours around the U.S., entertaining storytellers provide thrills and chills as they show you the spooky sights and share haunting history.
Savannah, Georgia
Creepy never looked so charming: One of America's most haunted cities is also one of its most beautiful. Meander past graceful Southern mansions, historic public houses and entrancing graveyards like those made famous in the non-fiction bestseller, Midnight in the Garden of Good and Evil. Ghost City Tours offers several after-dark tours ranging in scare factor from family-friendly to adults-only. Some eerie stops may include some of Savannah's rumored-to-be-haunted historic homes like the Davenport House; secret cemeteries; sinister squares like Chippewa Square and Johnson Square; and the city's most haunted spot, Colonial Park Cemetery.
Where to Stay: The Westin Savannah Harbor Golf Resort & Spa
Key West, Florida
After an iconic sunset at Mallory Square, the U.S.'s southernmost city turns surprisingly haunting. One of Key West's nicknames, "Isle of Bones," was coined by Spanish explorers who found skeletal remains of Indians when they discovered the island, and the East Martello Museum is home to Robert the Doll — a creepy toy that many have dubbed "The Original Chucky." For more bizarre details like these, Conch Ghost Tours, led by members of a fourth-generation Key West family, will take you off the beaten path to explore the authentically haunting, hidden side of this laid-back island. Those restless souls of explorers, pirates, literary legends and eccentric entrepreneurs thought to be lingering around Old Town's quaint streets are even more colorful than the painted Victorian mansions.
Where to Stay: Sheraton Suites Key West
Alexandria, Virginia
Skirting Washington, D.C. along the Potomac River, Alexandria's charming historic district has witnessed many dramatic events from Colonial times through the Civil War. Brick-lined streets and cobblestone alleyways wind around stately Federal homes, venerable cemeteries, a Revolutionary War hospital and a tavern frequented by founding fathers. Traverse the spectral past of our nation's capital and walk the footsteps of George Washington and Robert E. Lee with Alexandria's Original Ghost & Graveyard Tour. Guides donning authentic attire entertain with ghost tales and folklore while retracing the area's haunted past. For even more thrilling history by day, all of the inspiring museums, monuments and memorials of the capital await nearby.
Where to Stay: Sheraton Suites Old Town Alexandria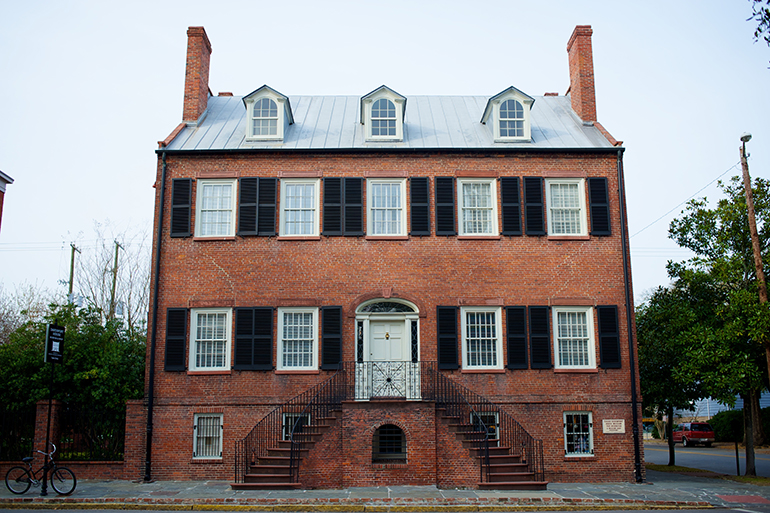 The Davenport House — Savannah, Georgia
Two ghosts have been spotted at The Davenport House, a historic home on Columbia Square in Savannah. A young girl is rumored to haunt the house and, from time to time, visitors have professed to seeing a ghostly cat sitting on the windowsill.
Maui, Hawai'i
Embrace the aloha spirit … and the aloha spirits of Maui. The Hawaiian practice of oneness — connecting all people, places and things — includes those who have "changed address" from the physical world. The spiritual energy and healing power known as mana can be felt strongly throughout the magical Valley Isle and its inhabitants. Mahalo Tours offers a Maui's Most Haunted adventure by lantern light around some of the island's spookiest after-dark places. Hear legends of ghostly apparitions and restless spirits, from ancient warriors still roaming the 'Īao Valley to the rumored night marchers in Waihe'e graveyard.
Where to Stay: The Westin Ka'anapali Ocean Resort Villas
Search availability at The Westin Ka'anapali Ocean Resort Villas
New Orleans, Louisiana
A rich gumbo of cultural influences from Europe, the Caribbean, Africa and beyond help make New Orleans one of the world's most fascinating cities. In the historic French Quarter, you'll find an eclectic assemblage of jazz musicians, street performers and fortune tellers. But after dark, the streets lined with old bricks, vibrant facades and ornate wrought-iron balconies also brim with vivid tales of "dem bones." Walk The Quarter by moonlight as a Master Storyteller from French Quarter Phantoms recounts a spooky past of disease, disaster, sinister spirits and murder most foul. They promise historically accurate accounts of local hauntings and vampire lore, including the real story of the notorious socialite Madame LaLaurie and the LaLaurie Mansion. Bonus: grab a Hurricane (to go, of course) and sip as you take in the sinister tales.
Where to Stay: W New Orleans French Quarter
BOOK YOUR NEXT GETAWAY
Start planning the perfect vacation today.