Scottsdale, Arizona, is known for its fitness-loving locals. On your next visit to
The Westin Kierland Villas
, take advantage of the healthy amenities at The Westin Kierland Resort & Spa — the variety of wellness options will make your fitness regime anything but routine.
Push your limits with FORE-MAX training
"It's the most intense workout I have ever done," says Carrie Moszer, director of marketing at The Westin Kierland Resort & Spa in Scottsdale, Arizona. She's referring to the FORE-MAX training group fitness class, geared toward improving golfers' flexibility, stamina, driving distance and more. Steve Heller, resort fitness director, designed the program to incorporate cardio and strength training. Heller also assesses each participant's strengths and weaknesses, targeting ways that they can maximize individual improvements. For those who have never swung a club, Moszer still recommends the workout. "It's a full-body experience that definitely pushes you to your limits."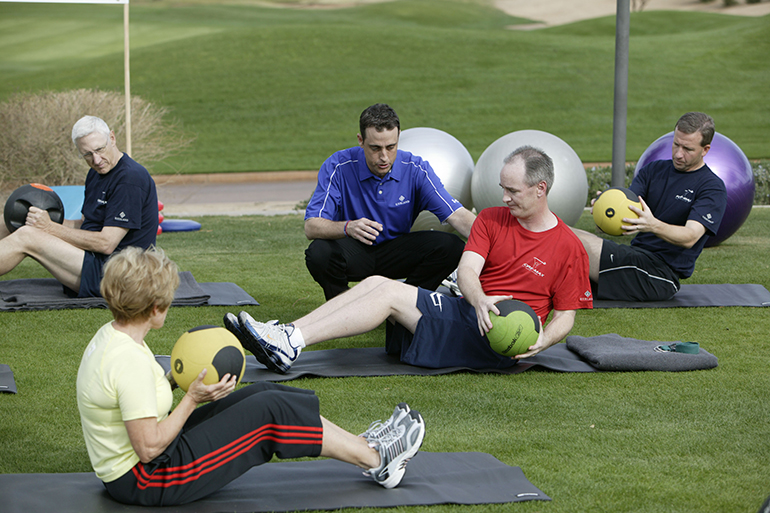 Surf in the desert
The Westin Kierland Resort & Spa is the only one in Arizona's Paradise Valley to offer surfing. The FlowRider is a surf machine designed to deliver a constantly breaking wave — not one that diminishes while traveling across a pool. Sign up for an hour-long session and get instruction, plus borrowing rights to a board and rash guard. "Most riders are not standing up their first time," says Moszer of the sport that's more akin to wakeboarding than surfing. "Your first couple rides, you'll be on your stomach, then kneeling until you get your balance. Once you do, it's a great core workout."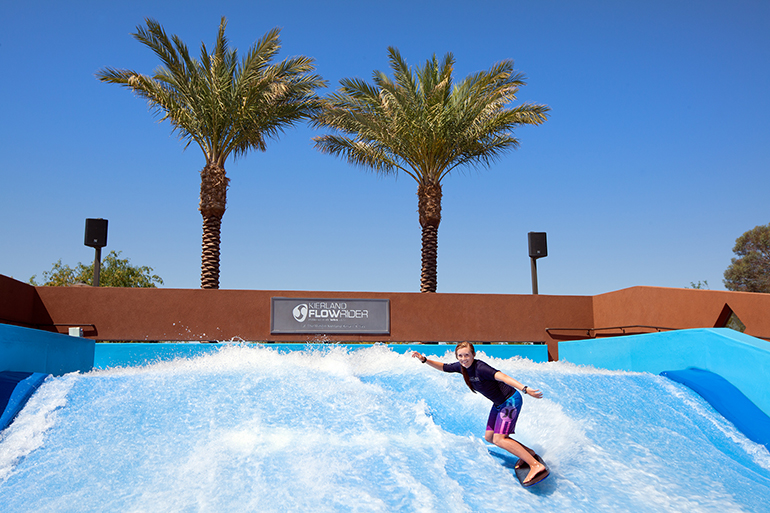 Join a guided hike
From early September to the end of May, guests of The Westin Kierland Villas can sign up at the concierge desk for guided hikes happening every Tuesday and Thursday. Tuesday's 4-mile route is lower in elevation, offering a good introduction to the Sonoran Desert. Guests will meander past saguaro cacti, mesquite trees and choya — and possibly coyotes and rabbits. Thursday brings the 4.4-mile workout with an 838-foot elevation gain. Thanks to the climb, this route offers better views, first overlooking south Scottsdale and Camelback Mountain, then winds round the mountain for a view of north Scottsdale and Cave Creek. Hikes are also available in the summer, offered once a week.
Bike a golf course
As of June 2014, The Westin Kierland Resort & Spa offers golfers a new fitness option: seven-gear mountain bikes with wide tires designed for turf riding. Each bicycle is also outfitted to carry the rider's set of clubs. Play 18 holes and you'll cover between 3 and 4 miles, estimates Pete Treyve, head golf professional at the property. "They're fun and fairly easy to ride," he says. "We had a husband and wife who did the course on bikes several days in a row — and she wasn't a golfer."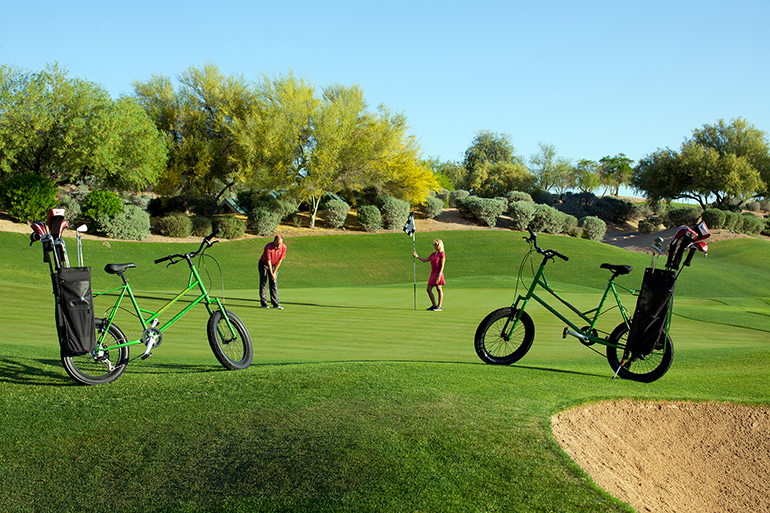 De-stress with a wellness massage
Meredith Cummings, massage and facial expert at the Agave Spa at The Westin Kierland Resort & Spa, knows guests will be pleasantly surprised following the treatment known as a wellness massage. The 50- or 80-minute service combines cranial-sacral and lymphatic work, plus reflexology. Cummings finds that most folks accustomed to deep-tissue massage are initially skeptical, given that the touch is so light. But for stress release, it's the one she recommends most as it replenishes the spiritual connection between body and mind — and doesn't leave guests feeling sore the following day. Says Cummings, "Even without massaging a muscle, this removes an incredible amount of toxins."
Ready to try these fun fitness activities? Your Concierge Can Help.
Just give us a call to start planning your Scottsdale vacation.
Book your Scottsdale getaway
Reserve your villa vacation today.