While spending time at home or in one of our spacious villas, taste more of the world from your own kitchen.
You can recreate world-famous dishes from your favorite vacations by using pantry ingredients and some frozen essentials.
New York City: Breakfast
There are many ways to bring a New York City vibe to your kitchen. Start with the popular to-go breakfast sandwich of bacon, egg and cheese on a roll. Don't have a roll? Use any bread product you already have, like croissants, bagels, English muffins or sliced bread. Scramble the eggs, top them with American or cheddar cheese, and layer between bread with a couple pieces of bacon. You can even wrap them in foil to enjoy on-the-go.
If you're craving a biscuit, the orange-apricot marmalade from NYC breakfast staple, Sarabeth's, may be hard to top. But you can liven up any jam in your fridge with a little orange zest and juice. Bake either frozen or canned biscuits and slather them with both butter and jam.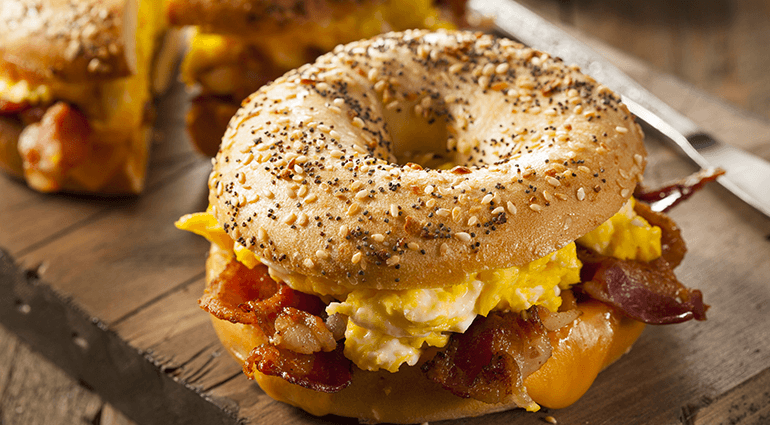 South Carolina: Grits and Caviar
Savor South Carolina by preparing hearty cheese grits. Note, cornmeal is an acceptable substitute.
In a medium heavy-duty pot, bring 2 cups of milk to a boil on medium heat. Gradually add a 1/2 cup cornmeal to the boiling mixture, whisking constantly. Decrease the heat to low and cook 20 to 25 minutes until thick and creamy. Remove the grits from the heat and stir in butter with 1/2 to 1 cup of any cheese you have on hand, like cheddar, Parmesan or cream cheese. If you have frozen shrimp in the freezer, sauté and serve a bowl of Carolina shrimp and grits.
If you prefer something fancy, consider Southern caviar dip, which can be whipped up from pantry ingredients. Drain one 15.5 ounce can of black-eyed peas and one 14.5 ounce can of chopped tomatoes. Add both to a medium bowl. If you have any canned corn, add a 1/2 cup, drained. Then add fresh vegetables from the fridge — finely chopped bell pepper, two finely chopped scallions, 1/4 cup finely chopped onion and 1 to 2 tablespoons chopped fresh or pickled jalapeños. Toss the mixture with 1/2 cup Italian vinaigrette or make your own. Refrigerate for at least a couple hours until chilled and then serve with tortilla or corn chips.
France: Soup
A hearty bowl of comfort food makes spending time at home extra cozy. If you don't already have a can of French onion soup, don't worry. Thinly slice a few onions and add them to a slow cooker with a little oil. Cook on low for up to 12 hours (or overnight) to caramelize the onions. Add any broth you have on hand, then top with toasted bread and mild cheese.
Thailand: Noodles
Thai-style peanut noodles are another easy meal. Start with one pound of any thin, straight pasta like spaghetti or angel hair.
In a large bowl, toss together 3/4 cup of peanut butter (or any nut butter), 1/4 cup of boiling water, 1/4 cup of soy sauce, 2 tablespoons of fish sauce, 2 tablespoons of honey and 1/2 teaspoons each of ground ginger and garlic powder.
Toss sauce with the noodles. Stir in any leftover veggies from the fridge and garnish with scallions and sesame seeds, if desired.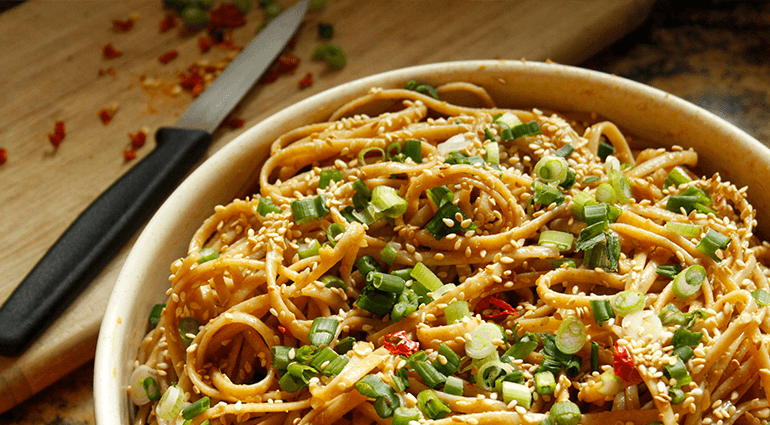 Hawaii, California, New York: Pizza
There are several ways to jazz up a frozen plain pizza to give it a regional flair.
Add canned or fresh pineapple chunks and ham or Canadian bacon for a Hawaiian feel. For a California pizza, top the pie with arugula and prosciutto twirls upon removing it from the oven. Drizzle with balsamic vinegar before serving.
For a more New York-style pie, add dollops of ricotta cheese and basil leaves before baking.
No matter where you wish to travel, you can take your taste buds on a vacation with items you likely already stock in your fridge and pantry.
This article was written by a paid contributor.