Top-notch eateries with cuisines to please any palate.
From western kitsch to dry-aged steaks, classic California cuisine to artistic sushi, these restaurants are the best spots to dine in the desert.
Steakhouse: LG's Prime Steakhouse
Winner of OpenTable 2014 Diner's Choice award, this "locally owned and nationally known" restaurant features tender USDA prime cuts, plus an onsite dry-age facility for its two mammoth-sized star porterhouses, the 24-ounce "LG's Jewel in the Crown" and even bigger 30-ounce "Gold Strike" 49'er. Non-steak entrees include rack of lamb, oven-roasted chicken breast and a fresh catch of the day, plus an extensive 350-plus wine selection. Be sure to start with a made-from-scratch Caesar salad, prepared tableside, and finish your meal with a scoop of salted caramel ice cream.
Sushi: The Venue Sushi Bar and Sake Lounge
Located on trendy El Paseo, this chic and contemporary spot features creative rolls and cocktails artfully crafted by Engin Onural, owner, executive chef and sake sommelier. Signature rolls include The Venue, with salmon seared with a blowtorch topped with a light sauce of micro greens and tabiko, and the Bosphorus (a nod to the chef's homeland, Turkey), with shrimp tempura, crab, avocado and escolar, plus a hint of heat. The sake cocktails are equally artistic; try the Flor Dulce made with sparkling sake and hibiscus nectar, finished with an edible hibiscus flower.
Mexican: Las Casuelas Nuevas
Grab a table on the patio of this Spanish colonial hacienda, which has been family-owned and operated since 1958 by the Delgado family — their authentic Mexican recipes have been perfected and passed down through four generations. Try the super fresh guacamole, prepared tableside, and the chicken enchiladas topped with a traditional mole sauce flavored with dried chiles, nuts, spices and a touch of chocolate. Toast the restaurant's 40th anniversary with a Delgado's Mirage Margarita, made with tequila, raspberry liqueur, organic agave nectar and fresh lime.
Ceviche at Las Casuelas Nuevas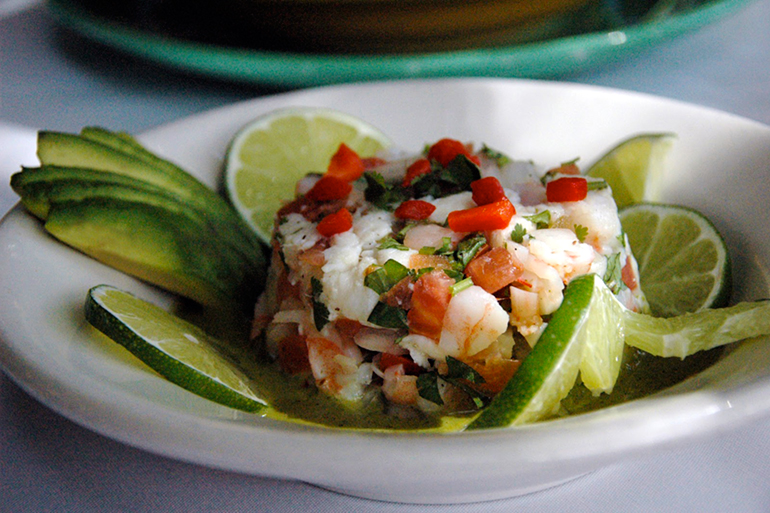 Romantic: Cork Tree
This bistro has earned top ratings from Zagat, Trip Advisor and Open Table, and the warm and inviting atmosphere is perfect for a romantic night out. The contemporary California cuisine (available in a seasonal prix fixe menu or a la carte) features grass-fed and dry aged beef, free-range chicken and organic produce. Start with mini duck confit tacos with feta cheese and chipotle sauce, or the wild mushroom ravioli with manchego cheese and truffle oil. Main dishes range from jumbo scallops with creamy sweet corn lemon risotto to a vegetarian polenta stack with French lentils and goat cheese to the chef's 36-hour pork shank with a cabernet reduction. Share a banana split "Cork Tree Style" with banana gelato, a chocolate hazelnut bar and caramelized banana topped with cabernet and black cherry syrup.
Seafood: Pacifica Seafood Restaurant
Think you can't get fresh seafood in the desert? Think again. And this modern El Paseo restaurant, awarded the 2014 Certificate of Excellence by Trip Advisor, is just the place to get it. The menu changes often, but inventive dishes have included seared ahi with a ginger-soy beurre blanc, served with ginger carrots and sticky rice, and sugar-spiced salmon with Chinese beans, mustard sauce and garlic mashed potatoes. Vodka is the star of the cocktail menu, with over 150 varieties from around the world. Al fresco dining with panoramic views of the mountains and valley is available on their rooftop terrace.
Barbecue: Jackalope Ranch
Expect a kitschy, western vibe at this lively barbecue joint. Baby back ribs, chicken and beef are served fresh from the smoker, and each is apple cider brined and smoked with hickory, almond, apple and oak woods. Pair your entree with a side of bourbon mashed sweet potatoes and a pint of the restaurant's own brew, Jackalope Honey Blonde. Be sure to save room for the mouthwatering malasadas, fried dough filled with white chocolate and served with coffee creme anglaise dipping sauce.
Italian: Castelli's Ristorante
This family-owned establishment is the kind of place where you could expect to rub elbows with The Rat Pack. The specialty of the house is fettuccine alfredo made with imported pasta, or opt for the filet mignon with marsala sauce or the on-bone veal shank with mushroom risotto. Feeling indecisive? The Pranzo del Padrino, aka Godfather's Dinner, features beef tenderloin, shrimp scampi and veal piccata. Pair it with vino from Italy or California, and save room for the tiramisu topped with topped with Ghirardelli chocolate. Buon Appetito.
Need Reservations? Your Concierge Can Help.
Just give us a call for dining reservations, exclusive dining discounts and additional recommendations for Palm Desert restaurants.