Discover Maya culture in Mexico
Cancún may bring to mind images of beaches, nightlife, and total relaxation, but it also offers a gateway into a deep and rich history that dates back thousands of years.
At their peak, the ancient Maya controlled a territory that spread across southern Mexico all the way down to Honduras. The Maya possessed vast knowledge in mathematics and astronomy. Their temples, dedicated to various gods, often aligned with the stars and the sun, many offering spectacles of shadow and light during the solstice and equinox.
Today, there are many ways to explore the Maya history, by visiting ancient sites and cenotes — or sinkholes — and seeing how the culture has continued to influence contemporary life in Mexico.

Ancient Maya, Modern Mexico
The Maya calendar spanned 260 days and listed many ritual and feast days related to the skies and the natural world. Maya priests kept a close eye on the planets, aware of the cycles of Mercury, Venus, Mars, Jupiter, and Saturn long before Galileo trained his telescope toward the heavens.
The arrival of the Spanish in 1519 resulted in the loss of many Maya traditions, although many descendants live in Mexico today. The 2020 census counted 759,000 speakers of one of some 20 Mayan languages in Mexico. Undoubtedly, there are also many more descendants who no longer speak the languages. When visiting the area, listen closely, and you may notice locals speaking languages other than Spanish.

Visiting Ancient Sites
To gain insights into the life and beliefs of the ancient Maya, you can visit archeological sites near Cancún.
At the edge of the grounds of The Westin Lagunamar Ocean Resort is the remains of the Templo del Alacran, or Temple of the Scorpion. The structure probably served as an observatory or lighthouse during ancient Maya times.
Several other Maya sites make for good day-trips: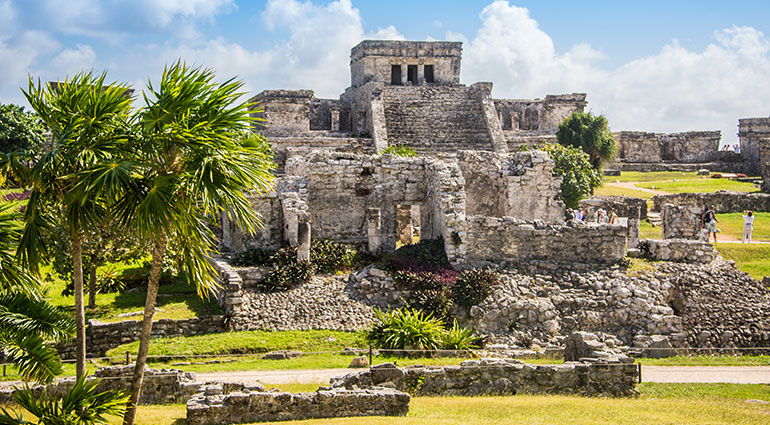 Tulum (78 miles from Cancún) overlooks the Caribbean Sea and is worth a visit for the view alone. The Yucatec Maya name for Tulum was Zamá, meaning "dawn," and, due to its location, most of the area temples were dedicated to the gods of rain and wind.
Cobá (90 miles from Cancún) is an expansive site where you can enhance your visit by hiring a bike or a tricycle with a driver to take it all in. You can also climb the nearly 140-foot-tall Nohoch Mul pyramid and get an impressive view from the top.
Chichén Itzá (130 miles from Cancún) is known for its Kukulkán (or El Castillo), an imposing, four-sided pyramid. With precisely 365 steps across its four sides, the structure offers a clear indication of the ancient Maya's understanding of the movement of the earth in relation to the sun. The Great Ball Court, measuring 551 feet by 230 feet, features excellent acoustics that speak to the Maya's architectural prowess.

Diving into the Past
Another way to connect to the Maya world is by going underground.
Lying beneath the surface of much of the Yucatán peninsula, cenotes were considered by the ancient Maya to be entrances to the underworld. It is believed that some 90 percent of the cenotes in the Yucatán hold secrets from Mesoamerican times. Offerings of jewels and precious stones may lie in the deep.
Swimming or diving is a modern twist on cenote use. Cenotes vary in size, shape, and openness to the sky above, making each experience different.
For a stunning cenote close to Cancún, visit Siete Bocas (about 30 miles from the resort), which features seven different "mouths," or entrances.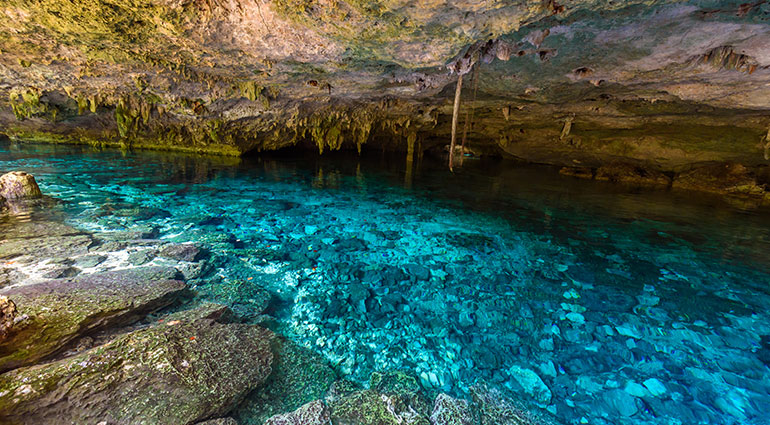 It's perfect for swimming and accessible to people of all ages. More expert swimmers looking to dive further should head to Cenote Dos Ojos (about 70 miles from the resort), which has a depth of 350 feet and many miles of underground caves to explore.

Experiencing Maya Rituals
As well as sacrifices and offerings, the Maya connected to their gods through temazcal, or sweat lodge rituals. The Maya used the temazcals for both spiritual and health reasons. Interestingly, a number of these temazcal structures have been found close to the ball courts, providing an ancient twist on the mind-body link.

Sampling Maya Flavors
Sampling traditional Maya cuisine offers yet another vehicle to connect to the past.
Maya food would have consisted mainly of staples like beans and corn in the form of tortillas and tamales, wild boar, and other game, as well as squash, chile, yuca, and other vegetables. However, the arrival of the Spanish resulted in a fusion cuisine that combines local and imported ingredients.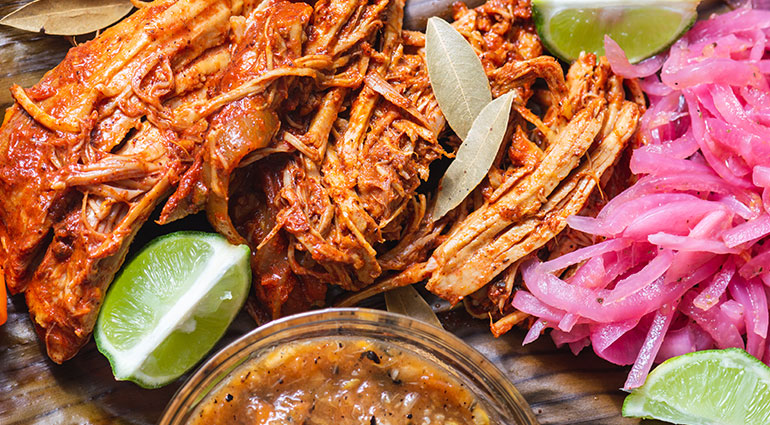 A dish found on many local menus — cochinita pibil — offers a delicious example of an ancient dish that incorporated newer ingredients. Shredded pork marinated in bitter orange (brought by the Spanish) and axiote (a red seed from local trees) is wrapped in a banana leaf and cooked underground. You can even prepare this dish at home with a recipe from Lucio Miss, the chef from Oceano at The Westin Lagunamar Ocean Resort.
Chocolate also provides a direct link to the ancient Maya. Cacao (kawkaw in Yucatec Maya) was believed to have been a gift from their creator god Kukulkán — it held so much importance that it had its own patron god, Ek Chuah.
The Maya high society generally preferred to drink cacao, rather than eat it — cacao-based beverages represented great wealth and abundance. The drink also figured in rituals and rites of passage, such as births, marriages, and deaths.
To appreciate chocolate's history hands-on, you can visit Chococacao Maya near Cobá as part of a day-trip. There, you can learn more about the Maya cacao rituals, make your own chocolate, and try the chile-infused cacao drinks that were common in Maya times. In Cancún, you can sip Maya-inspired hot chocolate at Ah Cacao Chocolate Café, or take a Maya chocolate workshop.

Where to Stay
To experience the best of Maya culture, Owners in the Vistana Signature Network™ can explore the local area from their home base at The Westin Lagunamar Ocean Resort, which offers a modern escape among the Maya ruins, complete with a spa and proximity to the area's best shopping.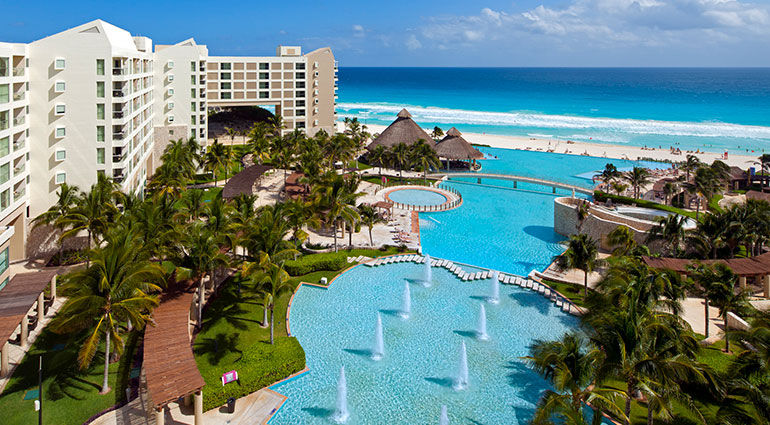 Reserve Now
Plan your Mexican retreat at: