Enjoy this unforgettable fitness experience blending Hawaiian traditions with modern exercise, right at your Maui resort.

The Westin Kā'anapali Ocean Resort Villas has partnered with Kiakahi Maui, the island's premier fitness ambassadors, to bring guests this unique new Hawaiian fitness experience.
Kiakahi fitness classes weave ancient Hawaiian wisdom and teachings with modern functional exercises and mobility training. Guests participate in invigorating movements inspired by Polynesian dance, Hawaiian martial arts, and Makahiki games — an ancient tradition in which competitors practice and display their skills and athleticism during a time of peace.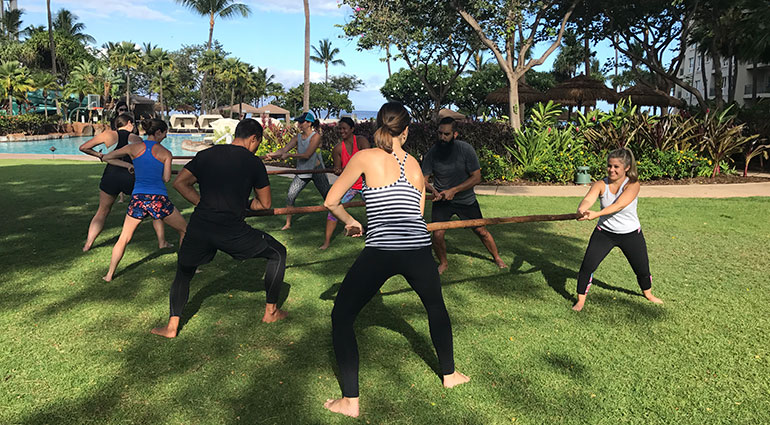 In this challenging and fun outdoor class, guests crawl, jump, balance, and test their endurance with battle ropes, while Makahiki games such as 'o'o ihe (spear throwing) and uma (arm wrestling) are among the traditional Hawaiian exercises in the training. Each guest also learns Hawaiian words, phrases, and values, leaving with a deeper understanding of how to stay in tune with his or her body, mind, and spirit.
"In Hawaiian culture, we have a saying, 'I ka wā mamua, i ka wā ma hope,' which means our future is in the past," said Makalapua Kanuha, the resort's cultural director. "The classes that Kiakahi offers tie in our heritage with modern exercises and science. The result is a unique firsthand experience of Polynesian culture." 

Offered as an extension of the resort's Pu'uhonua Cultural Center, Kiakahi fitness classes do more than just invigorate the body — they give guests a more meaningful connection to Hawaiian history and culture.
Conveniently located on the South Lana'i Lawn of The Westin Kā'anapali Ocean Resort Villas, Kiakahi classes are easily accessible to Owners and Guests of both The Westin Kā'anapali Ocean Resort Villas North and The Westin Nanea Ocean Villas.
Plan this activity and more for your Maui getaway
Contact your Personal Concierge today.