Get to Know Your Owner Dashboard
In this edition of Ask the Expert, we review the different ways to manage your ownership via your Owner website.
Did you know you can manage most aspects of your ownership online? In this edition of Ask the Expert, Benjamin F. reviews the tools available on your Owner Dashboard, where you can make reservations, manage your loans, view your VOI, and more.
Your Owner Dashboard
Question: What is the online Dashboard?
Answer: The online Dashboard is a control panel available for Owners to manage their vacation ownership. The Dashboard is a great resource to learn about ownership, plan usage for current and future Use Years, view confirmed future villa reservations, and manage loans and maintenance fee payments.
WHAT I OWN (WEEKS)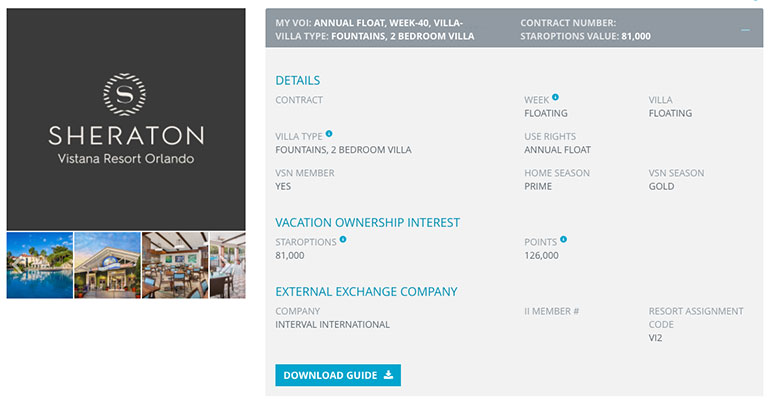 WHAT I OWN (POINTS)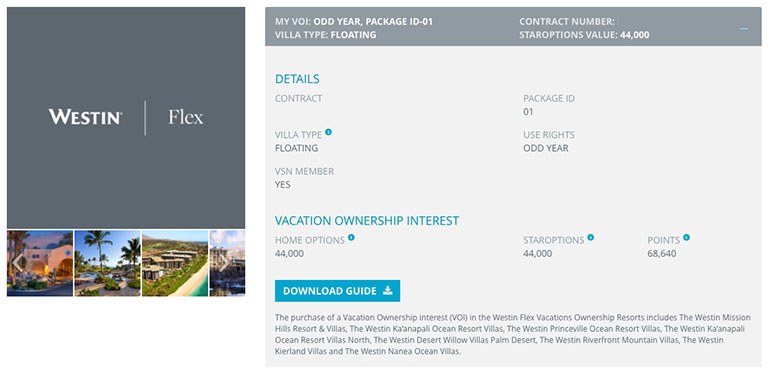 Question: Where on the Dashboard can I find my usage balances?
Answer: The Account Balances section will share a full view of current-year StarOptions®. When you select "Details," you'll see your StarOptions balance for the next 3 years.
CURRENT-YEAR STAROPTIONS BALANCE


EXPANDED VIEW OF ACCOUNT BALANCES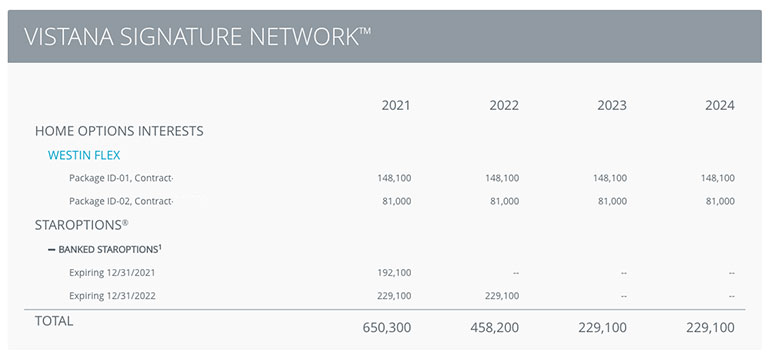 Question: Now that I know how many StarOptions I have, where do I go to make a reservation?
Answer: Your transactions begin in the green box on the right of the screen.
All VSN deadlines occur during the Use Year. Here is the breakdown of the deadlines for usage options:
Make a reservation. Select "Make a Reservation" to make a reservation at a villa resort using your VOI. You may choose to use your Home Resort reservations or use your StarOptions to travel through the Vistana Signature Network™ (VSN) to a different villa resort. If you need a quick getaway, you may even be able to find villa vacations for reduced StarOptions via VSN Escapes.
Bank your StarOptions. Select "Bank my StarOptions" to begin the transaction, which preserves your ability to use your StarOptions for up to 2 years. Banked StarOptions may be used for villa reservations, to purchase travel insurance or Resort Credit, or for making reservations through VSN Escapes.
Assign your VOI with Interval International®. If you wish to travel outside of the VSN but still want to have a villa vacation, select "Exchange with Interval International." Assigning your VOI with Interval International will allow you to preserve your usage and travel to any of the thousands of resorts across the world. As a Vistana™ Signature Experiences Owner, you also have access to Interval International Internal Exchange, which gives you priority to confirm vacations at other Marriott Vacation Club® resorts. After you assign your VOI, sign in to your Interval International account to begin your vacation planning.
Convert your ownership to Marriott Bonvoy™ points. Select "Convert to Marriott Bonvoy Points" to enjoy hotel stays. The conversion deadline is March 31 each year. Elite Owners have extended deadlines for conversion. When you convert to Marriott Bonvoy points, those points can be transferred into airline miles or enjoyed via offers from other third-party businesses.
GET TO KNOW BENJAMIN F.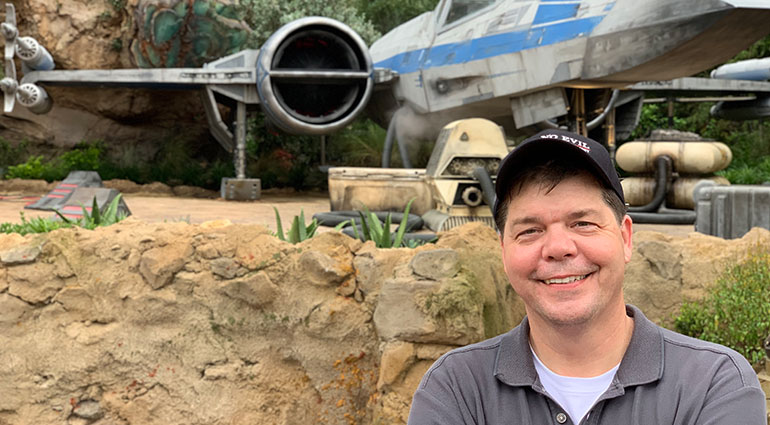 Benjamin has been with Vistana Signature Experiences for almost 14 years. He has a master's degree in Administrative Educational Leadership and a bachelor's degree in English Education.
Question: What are your favorite travel destinations and activities?
Answer: For the past 23 years, I have been to 31 states and 19 countries. I love to experience new firsts and climbing famous landmarks while traveling. Some of my favorite destinations were the Eiffel Tower, Mars Hill, the Leaning Tower of Pisa, and the Ruins of Saint Paul's.
Question: What's your favorite thing about working for Vistana Owner Services?
Answer: Besides my love of travel, I really enjoy helping others experience the best vacations possible. I share my knowledge regarding travel, whether it's about a dining experience, excursion, or well-hidden gems of a destination. I try to instill the idea of being a traveler, not a tourist.
Visit your Owner Dashboard to manage your ownership. Have a question about your ownership? Contact us and let us know.