Understand your ownership options
An Owner Services expert responds to questions about reserving a vacation at your Home Resort.
When you're ready to plan your next vacation, it's important to understand your Home Resort reservation timelines. In this edition of Ask the Expert, you'll learn how to make Home Resort reservations, how to use Home Options, and the benefits of the "My Resorts" section of your Owner Dashboard.
Home Resort Priority and Reservation Timelines
Question: How soon can I make reservations at my Home Resort using my Week(s)?
Answer: Owners may begin making reservations at their Home Resort as early as 12 months prior to arrival. Weeks Owners may reserve any week in the deeded Villa type (and deeded villa number, if available) in the Season purchased at their Home Resort. Use the Home Resort calendar to select your vacation dates in your Season. Your Home Resort seasons generally match up to the Vistana Signature Network™ (VSN) seasons, although there are exceptions. When you are 12 months out from the desired arrival date, go online to VillaFinder and request your reservation.
Question: I purchased Home Options. How soon can I make a reservation at my Home Resort using my Home Options?
Answer: Points Owners may use their Home Options at any of the resorts in their multisite Home Resorts from 12 to 8 months prior to arrival. Points Owners can combine packages to use their Home Options to reserve larger villas or longer stays at their resort(s).
To view your Home Resort, log in to your Owner Dashboard and navigate to "What I Own." From here, you can check your Home Options balance, then select "Make a Reservation" to make your Home Resort reservation for your next Use Year. Use your Home Options charts to select your vacation date.
Account Balance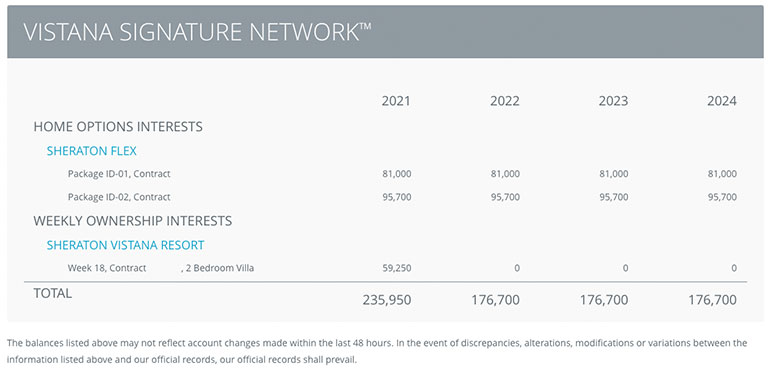 Home Options may be used for reservations of any Villa type in any Season (if applicable) for any length of stay at your Home Resort(s). Home Options may not be combined with StarOptions® for a reservation. If you wait too long and miss the 8-month time frame, you can use your StarOptions for a reservation. The VSN Float reservation period begins 8 months prior to arrival, where ownership reservations require you to use StarOptions.
Make a Reservation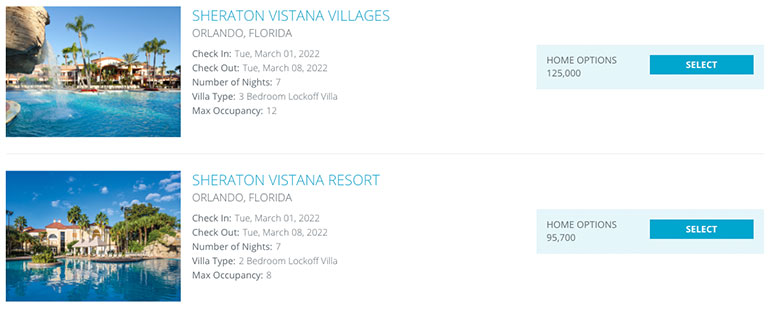 Question: Where can I find information about my Home Resorts?
Answer: The "My Resorts" section on your Owner Dashboard offers complete information about your Home Resort(s), including a welcome message from the general manager and details of each Vacation Ownership Interest (VOI). This section contains information about what you own — but not necessarily how to use it. When you select the down arrow beside the resort name, you will see each of the Home Resorts where you own a VOI. If you select "What I Own," you will see the details of your ownership. This display will not change and will always match your contract information. Every VOI, regardless of Weeks or Points, will show in this location.
My Resorts


What I Own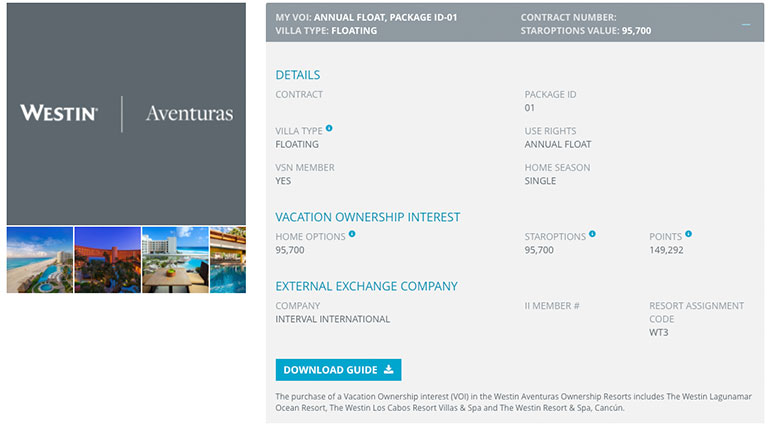 Visit your Owner Dashboard to manage your ownership. Have a question about your ownership? Contact us and let us know.