Vacation with America's Pastime
Catch a baseball game during your stay.
Whether you've been savoring the 2021 World Series win by the Atlanta Braves or are rooting for another team to go all the way this year, there's a special time and place where the season always begins — spring training. Part of the fun of this annual ritual is scouting out the future interest of your own favorite team — and upcoming talent in other clubs.
With so many squads clustered in two states, and multiple Marriott Vacation Club® and Vistana® Signature Experiences properties nearby, it's easy to plan a baseball extravaganza and make this an annual tradition.
Now, the hard part: Are you visiting the Cactus League, the Grapefruit League, or both?

The Cactus League
As you may have already guessed, the Cactus League is a grouping of 15 teams that train in the Arizona desert. With nearly 7 games to pick from each day in one of ten different stadiums, you'll be able to hear the crack of the bat from one end of metro Phoenix to the other.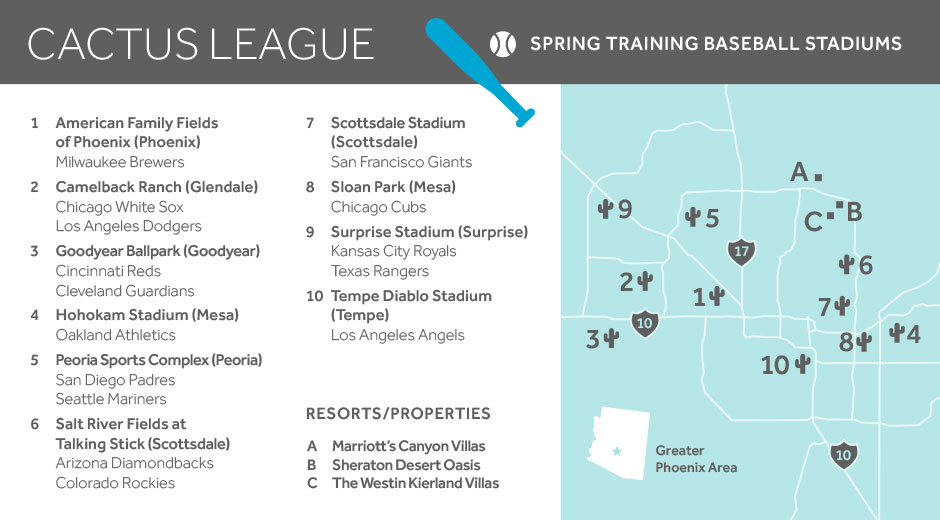 According to Visit Arizona, nearly two million baseball fans come to the area each year from late February through March to see the "Boys of Spring" when there's still snow on the ground in much of the country.
Where to Stay
Plan your Arizona getaway at:
The Grapefruit League
Florida's 13 training camps for 15 teams are a little more fragmented, with one cluster on the southeast coast and another on the southwest.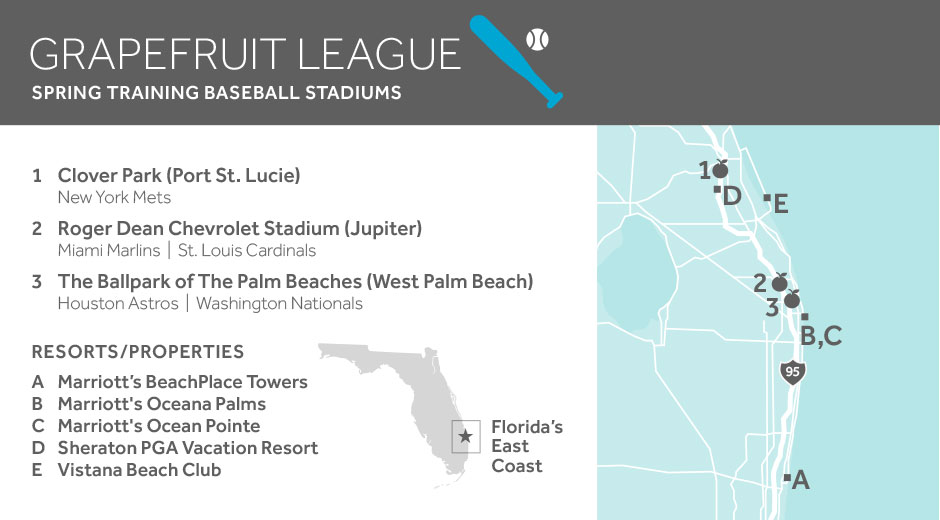 Mets, Marlins, Cardinals, Astros, and Nationals fans will have the best access to comfy places to stay in one cluster near Port St. Lucie and Singer Island after a day at the ballpark, and there are plenty of ways to stay at properties near the other ten training facilities across the state using StarOptions®.

Where to Stay
Plan your Florida getaway at:
Making the Most of Your Experience
No matter which league you choose, here are some tips for a great spring training experience:
Show up early for batting practice — you may get a ball tipped to you from a future star.
If you're used to seats in the nosebleed section, you'll be amazed at the up-close views you get without the associated costs. You'll be up close and personal with some of the best in the game.
Typically, pitchers and catchers report a week before the rest of the players.
Don't just watch your own team. Do your own scouting report for the season by attending contests at different stadiums to watch multiple games in a short amount of time.
Avoid hot summer days with cooler Florida and Arizona spring temperatures.
Get a good night's sleep when you stay at a Westin® Vacation Club, Sheraton® Vacation Club, or place an internal exchange to request to a Marriott Vacation Club® resort in these destinations. Owners may also convert their ownership to Marriott Bonvoy® points to choose from 7,500+ hotels and resorts, or deposit their Vacation Ownership Interest with Interval International® to stay at thousands of resorts worldwide.
Story by Janet Brindle Reddick
Maps by Shannon Lattin