Plan your journey with these must-see spots and travel tips.
The legendary Hāna Highway spans Maui's entire northeastern coastline, connecting the bustling airport city of Kahului to the remote mountain beach town of Hāna. Along its 52 miles, around its 600 turns and over its 59 bridges, the scenic thoroughfare rewards sojourners with lush opportunities for adventure. Considered a vivid metaphor for life itself, the Road to Hāna teaches travelers to enjoy the journey. And no two journeys are ever the same.
Tip: Start your adventure early
For the best experience, set off well before the sun and you'll stay ahead of the rush all day. Within an hour, you'll be headed east on the Hāna Highway (as Route 36), which technically begins in Kahului, the locale of the island's main airport.
Stop 1: Gather provisions in Pā'ia
First things first: prepare for your day-long adventure. As the last town you'll see until Hāna, small Pā'ia (PAH-ee-ah) is a convenient place to top off your gas tank and fill up your picnic basket. Charming options like Anthony's Coffee Co. (opens daily at 5:30 a.m.) and Hāna Picnic Lunch Company (7 a.m.) offer popular boxed lunches and other essentials to go.
Stop 2: Pick up snacks and a view at Twin Falls
Just past MM 2 (on Route 360) is a nice spot to stretch your legs and see your first waterfall of the day. An easy-to-park site in the Ho'olawa Valley, the Twin Rivers Farm Stand offers Hawaiian smoothies, banana breads and other exotic nibbles for later. Its owners, Wailele Farm, officially opened the private trails in recent years for tourists to respectfully explore the nearby lower falls as well as the less populated upper falls and plunge pools, about a mile round-trip.
Tip: Keep your eyes on the road
Starting around Mile Marker (MM) 16, you'll find an especially tricky stretch of blind turns and hundred-year-old one-lane bridges that can harry even the best drivers. Just take it slow and practice your best aloha road manners. (If you're the type who wants to take it all in while driving, you may want to consider a luxury van tour.) Also, have someone other than the driver track mile markers along the Hāna Highway. When Route 36 becomes Route 360, the numbers start over from 0.
Stop 3: Stop and smell the flowers at the Garden of Eden
About halfway between Kahului and Hāna, at MM 10½, you can enter the Garden of Eden. Meander through idyllic acres of soothing native flora, fauna, and waterscapes to see how the Maui Botanical Gardens and Arboretum practices and inspires malama'aina, caring for the land.
Garden of Eden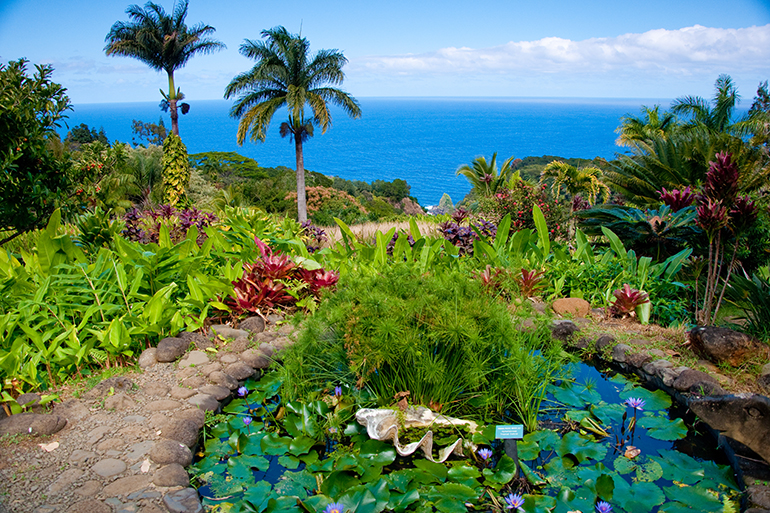 Stop 4: Walk black sand beaches at Wai'ānapanapa
A must-explore just before Hāna is the 120-acre Wai'ānapanapa Wayside State Park at MM 32. Powerful waves of glistening water crash against ebony volcanic rock of Honokalani Black Sand Beach in Pa'iloa Bay. Take in the park's striking natural formations: stone arches and sea stacks along the rugged coast, and inland an array of ancient freshwater caves, blow holes and anchialine pools. Also, Wai'ānapanapa is also home to several seabird species and the largest heiau (temple) in Hawai'i.
Tip: Pull over to your personal paradise
The Road to Hāna encourages spontaneity. With a picturesque waterfall, enticing trail or scenic landscape around every turn of your winding drive, it's up to you to decide which sites you feel like exploring. Just one great option is Upper Waikani Falls at MM 19½, called Three Bears for its distinctive side-by-side trio of water.
Final Stop: Mix with locals in Hāna
You've arrived. After spending anywhere from two hours to most of the day to get here, the isolated town of Hāna appears like a welcome tiny oasis of civilization. While you're there, browse the Hasegawa General Store, known for its eclectic Hāna-only merchandise since 1910. Then take a brief walk through Hawaiian history, viewing rare artifacts and art at the Hāna Cultural Center. On your way out, wet your toes along Kaihalulu Red Sand Beach.
Kaihalulu Red Sand Beach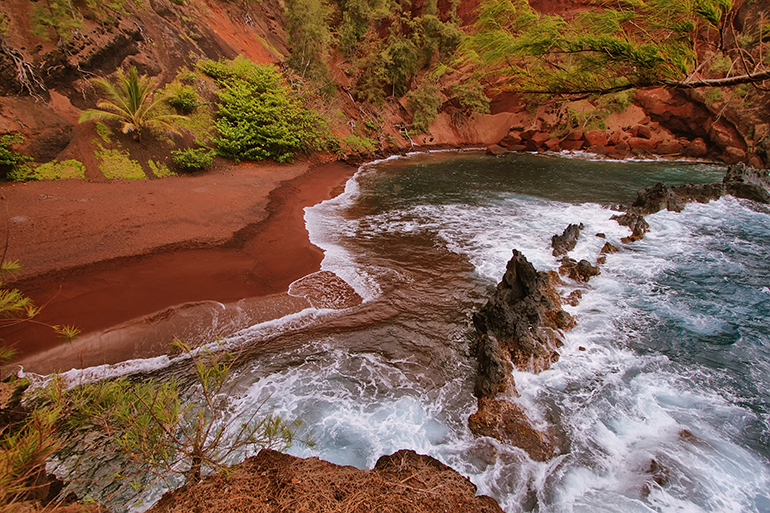 Contact Your Westin Concierge To Plan Your Vacation
Our experienced, on-site Concierge Team is ready to assist you. Email us to make your Maui activities reservations today, or call 1-888-641-8210.
On the way home, don't miss…
Near the end of your westward return trip, just before Pā'ia, you can catch the afternoon whirling of sails at Ho'okipa Beach, the windsurfing capital of the world. Once you've returned to where you started with a medley of indelible experiences, cap your eventful day with a relaxing dinner back in Pā'ia at Mama's Fish House or Charley's. Mahalo for the memories!
BOOK YOUR MAUI VACATION
More amenities. More fun. Reserve a villa and start planning the perfect vacation today.