Discover Sedona and Tucson
The saguaro cacti in Tucson and vortexes in Sedona are only a short drive away.
When you reserve a stay at Sheraton Desert Oasis or The Westin Kierland Villas, you can expect an escape filled with restoration and relaxation in the Sonoran Desert. Spend the day under the sun in shimmering resort pools, or perfect your golf game with sweeping desert views. From your home base, you can also explore some of Arizona's most iconic rock formations, historical archaeological sites, and — of course — the Grand Canyon. Consider these day trips, all about 3 hours or less from your resort, when planning your Arizona getaway:
Visit the Vortexes in Sedona
Less than 2 hours from both your Sheraton® and Westin® villa resorts lies Sedona, Arizona, a destination notable for red rock formations, specifically, its vortexes — uniquely shaped rocks thought to emit energy. Red Rock State Park, a 286-acre nature preserve, offers incredible views of Sedona's most famous vortex and landmark, Cathedral Rock. Choose to catch a glimpse of this incredible formation on the Red Rock Scenic Byway, which is often called the "museum without walls."
Sedona also offers a variety of outdoor activities for you to enjoy, including hiking and golfing. The Coconino National Forest makes for a memorable afternoon, featuring scenic overlooks of the desert landscape.
After a day of adventure, take a break and browse the Tlaquepaque Arts & Crafts Village. This outdoor shopping center is marked by mosaic fountains and cobblestone streets, where you'll find art galleries, New Age shops, restaurants, and more. While in Sedona, use your StarOptions® to book a Scenic Sedona Tour through Vistana™ Signature Experiences Activities Powered by PlacePass, where you'll explore everything from the vortexes to cultural shopping and dining.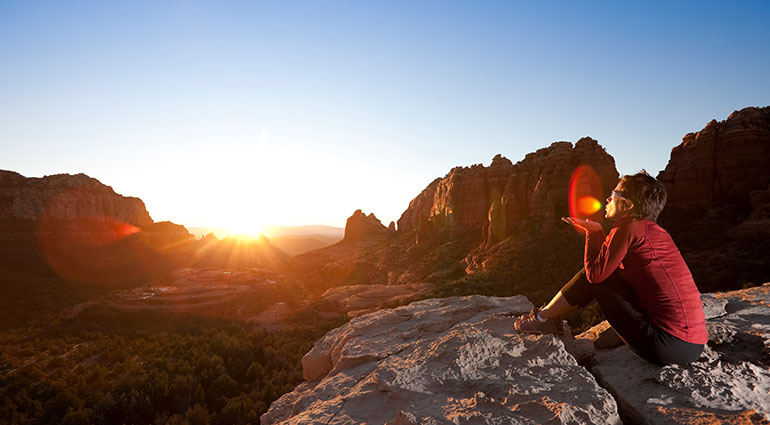 Hike, Raft, and Ride at the Grand Canyon
A trip to Arizona is incomplete without a visit to the Grand Canyon, located less than 3.5 hours from your Phoenix resort. There are myriad ways to experience the Grand Canyon, from hiking and biking to more unique excursions, including mule rides and raft trips on the Colorado River. Don't think you can see it all on foot? Take a Grand Canyon Desert View Tour via Vistana Signature Experiences Activities Powered by PlacePass, where you'll board an open-air Jeep® to peer down at the Colorado River and visit the Desert View Watchtower.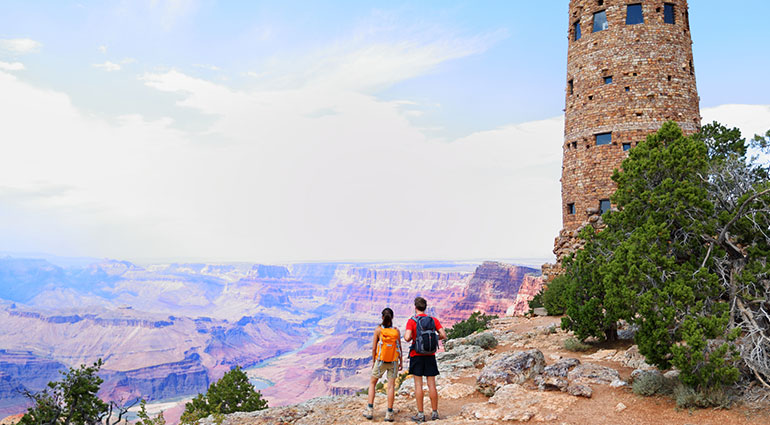 Discover Treasured Arizona Artifacts
Arizona is rich with Native American history, from the Palatki Heritage Site in Sedona to Montezuma Castle in Camp Verde. While not all experiences are currently available, you can still discover Arizona's history at outdoor archaeological sites.
Take a road trip up to the Meteor Crater outside of Flagstaff. This 550-foot-deep, bowl-shaped cavity was created over 50,000 years ago when an iron-nickel meteorite impacted the Earth. Now, the Meteor Crater & Barringer Space Museum is one of the most popular attractions in northern Arizona. You can experience the crater in an air-conditioned viewing area, outside on an observation deck, or via guided tours along the rim.
You can also visit more historic sites, such as Diamondback Gulch and the Honanki Heritage Site on a Sedona Off-Road Jeep Tour to Ancient Ruins via Vistana Signature Experiences Activities Powered by PlacePass.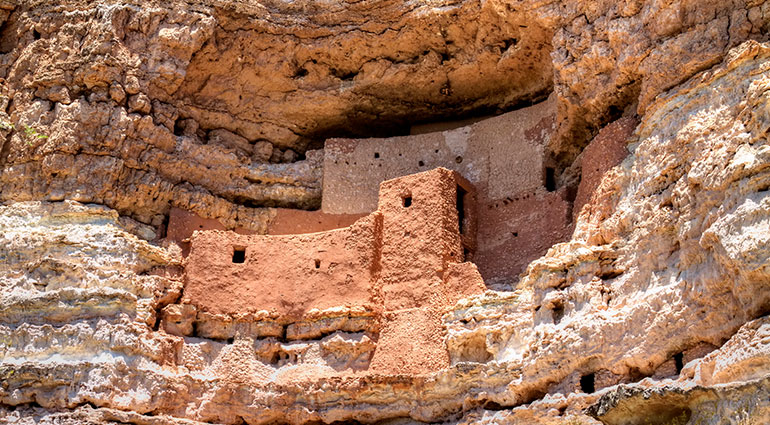 See the Saguaros in Tucson
While Phoenix and Sedona come to mind when planning an Arizona getaway, Tucson — just 2 hours from Sheraton Desert Oasis and The Westin Kierland Villas — offers foodie destinations and incredible outdoor adventures.
Saguaro National Park, named for the infamous saguaro cactus, offers two districts from which to explore picturesque Southwestern landscapes: the Tucson Mountain District, known for its incredible sunsets, and the Rincon Mountain District.
For a more relaxed adventure, visit Sabino Canyon, located at the base of the Santa Catalina Mountains. Here, you can picnic among the saguaro cacti or refresh in the Sabino Creek before boarding the tram to your next hike.
Planning to spend the day in the city? Reserve a space to explore on a Historic Bike Tour or embark on a Behind-the-Scenes Tour to hear a local's insight on Tucson's best spots via Vistana Signature Experiences Activities Powered by PlacePass.
As an Owner, you have the choice of two great resorts in Scottsdale: Sheraton Desert Oasis and The Westin Kierland Villas. Both of these resorts offer 1- and 2-bedroom villas with residential-style amenities, giving you more space — and more control over your environment.