Lowcountry Fun for One and All
Bring the whole family and explore the fun in Charleston.
Charleston is known for its waterfront charm, Southern hospitality, and period architecture. Rich history and a thriving culinary scene make this South Carolina city perfect for your adventures. Check out some fun and interesting activities perfect for everyone in your family, big or small.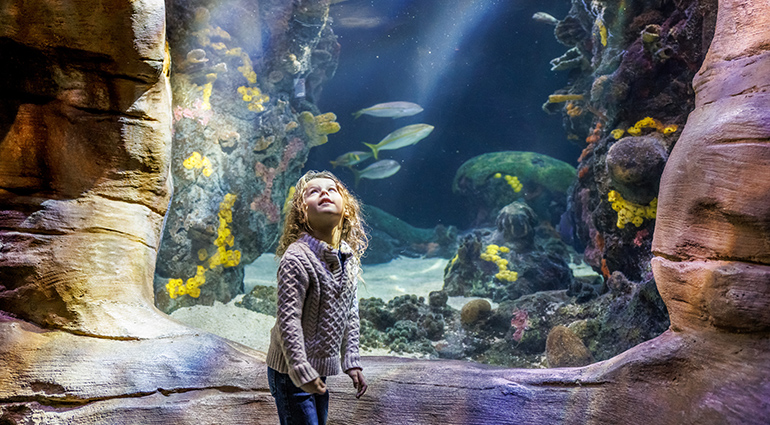 South Carolina Aquarium
Learn about local marine life in an accessible way. The aquarium's centerpiece is the Great Ocean Tank, a 385,000-gallon structure containing more than 700 animals. It also offers a variety of interactive exhibits, educational programs, and sea-life encounters. Kids can feed Atlantic stingrays, touch horseshoe crabs and sea stars, and observe real-life rehabilitation taking place at the Zucker Family Sea Turtle Recovery™ hospital.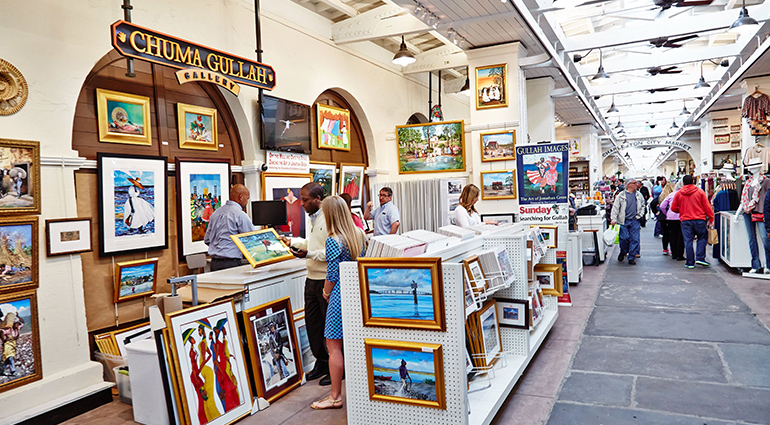 Local Shopping
You're never too old for a fun souvenir. Take your crew on a stroll down Meeting Street to the Charleston City Market, a historical building from 1841. Open seven days a week, the open-air market spans four city blocks and features more than 100 local vendors. You'll have your choice of handmade crafts, regional food, and gifts. It's topped by the Great Hall, where you'll find more shopping and dining options.
Be sure to take in a sweetgrass basket-making demo from resident Gullah artisans. Employing a technique that originated in West Africa, basket weaving is an area tradition over 300 years old. Originally made to separate rice on area plantations, these strong, supple baskets make for treasured keepsakes.
A night market is held on Fridays and Saturdays. Artists and artisans give live performances and sell everything from handmade jewelry and children's clothing to Gyotaku fish rubbings and other one-of-a-kind pieces.

Picnic Time
Buy local food from the market or stop by Toast! All Day® or Circe's Grotto off King Street for the makings of a picnic lunch at Marion Square. Named after General Francis Marion, a Revolutionary War hero who hailed from South Carolina, the 10-acre public park offers a large center lawn, plus plenty of shady spots around the edges. Host of the city's annual Piccolo Spoleto Arts Festival and seasonal 64-foot Holiday Tree of Lights, Marion Square also hosts the popular Charleston Farmer's Market on Saturday mornings.

Lowcountry for Kids
Kids eight and under will appreciate the Children's Museum of the Lowcountry, which includes a children's garden with seven organic beds, a gem-filled pond, and the tot-size Publix Market —allowing them to play "grocery store." The museum also features a life-size pirate ship, an expansive art room, and a large, padded infant and toddler play space for your tiniest family members.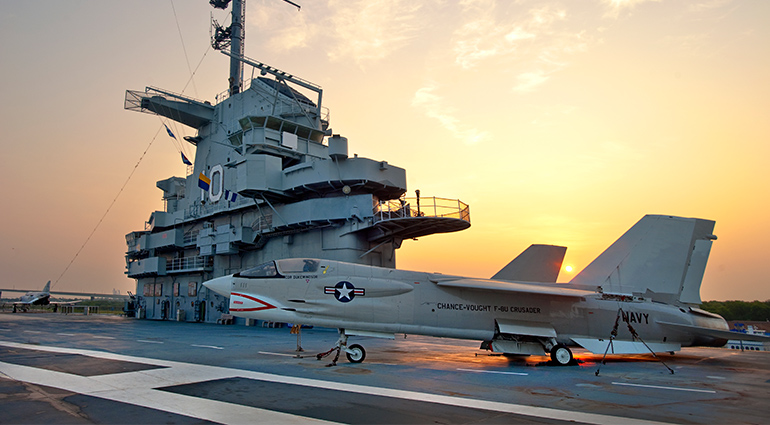 Naval History Lesson
Head to the Patriots Point Naval and Maritime Museum to tour the USS Yorktown, one of 24 Essex-class aircraft carriers. Built for the U.S. Navy in 1943, she became known as The Fighting Lady, receiving 11 battle stars and the Presidential Unit Citation for her service in World War II. Along with the Korean War, the aircraft carrier also saw action in Vietnam and later recovered the Apollo 8 astronauts and their capsule in 1968.
Decommissioned in 1970, the USS Yorktown is open for self-guided tours. The flight deck spotlights a collection of accessible aircraft, including an SH-3G anti-submarine helicopter and an F-14 Tomcat fighter jet. Kids can also try their hand at the flight simulator.

Where To Stay
The Lindy Renaissance Charleston Hotel
This unique destination hotel is in the heart of downtown, near this historic city's most entertaining experiences. Visit the sights of the Charleston Historic District before retreating to the hotel for a dip in the heated outdoor pool. When it's time to recharge your batteries, feel the energy of a workout in the fitness center or get your energy the old-fashioned way with a visit to Handy and Hot, a modern take on the American-style coffee shop.
Learn More
Enrolled Owners may convert their Club Points to Marriott Bonvoy® points to reserve accommodations at this hotel. Log in to your Owner website for more information.

By Vanessa Wolf and Tyler Bohlman