Need tips on how to plan a destination wedding? This guide is a good place to start.
Destination wedding planning is always a big undertaking, but this no-nonsense destination wedding guide is a good place to start in setting up your special day.
Choose a Meaningful Location
First things first. Every destination wedding needs a destination, and job one is to pick one that's meaningful to you. It could be a favorite park you both like to visit, or a local attraction that can host the kind of wedding you envision. And of course, there are those perennial destination wedding locations like Hawai'i, Cancún or Los Cabos with endless options for a scenic and memorable ceremony.
Know your Destination
Even if it's a place you're familiar with, visiting your destination well in advance and looking at it through "wedding eyes" can open up the possibilities, and expose potential issues. Taking one last walk-through and making final arrangements in advance can help a lot. Be sure to get to know what hotels or resorts,(like The Westin Lagunamar Ocean Resort) are available to host your special event and accommodate the guests that will come with it.
That Said… Complement the Destination
Thinking about the feel and vibe of the setting, and tailoring your dresses, suits, décor, and even entertainment accordingly is key. While it's great to have a laid-back wardrobe for a beach ceremony, that wouldn't fly at a wedding held at an ornate hotel ballroom, and vice-versa.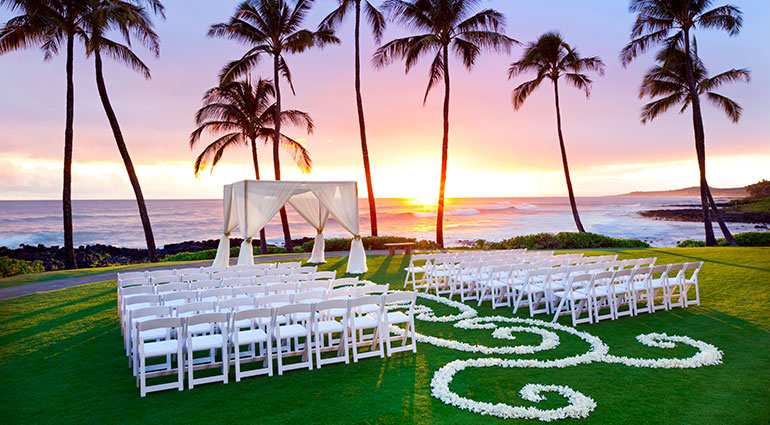 Think About Your Guests
They've come all this way to celebrate your vows with you… try to put them up in (or at least find and recommend) affordable local lodging. Often times, you can arrange block discounts with nearby hotels if you have a lot of guests coming. Or if you're staying at a vacation villa, know that you'll already have the extra space to comfortably accommodate some of your guests. Also, since you're probably asking at least a few guests to travel fairly far for this, be sure to give them a courtesy heads-up well in advance of your wedding, so they can be sure to have an open schedule to attend.
Timing is Everything
This might seem like a no-brainer, but when you have the ceremony is as important as where. Plan in advance to have it at the right time of year for the destination. Have that beach wedding in Florida in the spring or fall, when temps are near perfect, versus the sweltering summer. And have the beautiful lakeside Colorado wedding in the springtime versus the middle of winter, unless you want to provide snowshoes for the wedding party.
Get Help from a Pro
Most any wedding has myriad little details that can overwhelm even the most organized person; and a long-distance wedding even more so. It may at first seem like an unnecessary expense to hire a professional wedding planner, but for most people, it's well worth working it into the cost of a destination wedding. Not only do they help with making all the arrangements and assuring things come together smoothly, they can help you with the vision of the entire event itself, including local knowledge of the destination that you may not have on your own.
With a few of the right destination wedding planning techniques, your destination wedding can be the fun, memorable event you want it to be.