5 Things to See and Do in Mallorca
Visit Mallorca to experience the best of Spain.
The picturesque island of Mallorca is the Mediterranean at its best. The island has some of the clearest water and most beautiful beaches around — it also boasts a thriving food and wine scene, rich history, and plentiful shopping. And thanks to the Abound by Marriott Vacations™ exchange program, members of the Vistana Signature Network® (VSN) can experience this Spanish paradise for themselves when they elect to receive Club Points.
Marriott's Club Son Antem is conveniently located about 16 miles from the buzzing island capital of Palma de Mallorca. It's an easy drive through old medieval towns, sprawling vineyards, and those much-loved beaches.

Spend a day in Palma de Mallorca
In the capital city of Palma de Mallorca, art fans shouldn't miss the Fundació Miró Mallorca. This beautiful museum showcases 6,000 works by the Barcelona-born artist who made the island his home. History buffs will be wowed by the Moorish old town and Cathedral of Santa Maria of Palma — one of the tallest gothic cathedrals in Europe. Foodies can spend hours exploring squares lined with bustling tapas bars and the Mercat de l'Olivar, a food market with more than 100 stalls.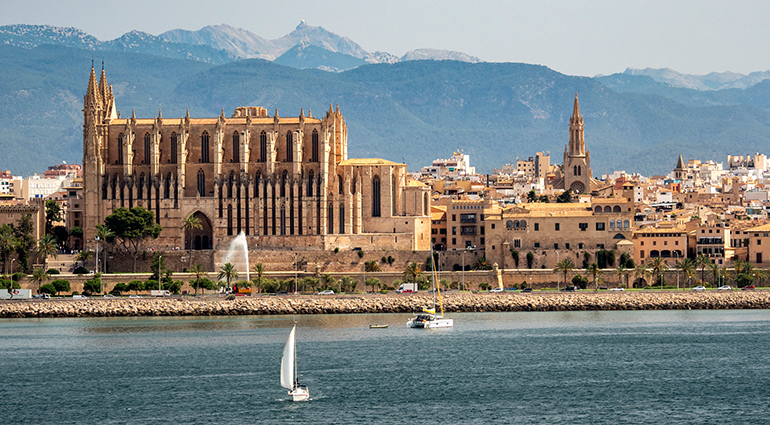 Enjoy a vintage train trip
From Palma, be sure to take the scenic train to the northern seaside port town of Sóller. The 18-mile trip transports you on a vintage wooden train dating back to 1912. You'll venture through the heart of the mountain range (the Serra de Tramuntana), complete with pristine pine forests, olive trees, and orange groves.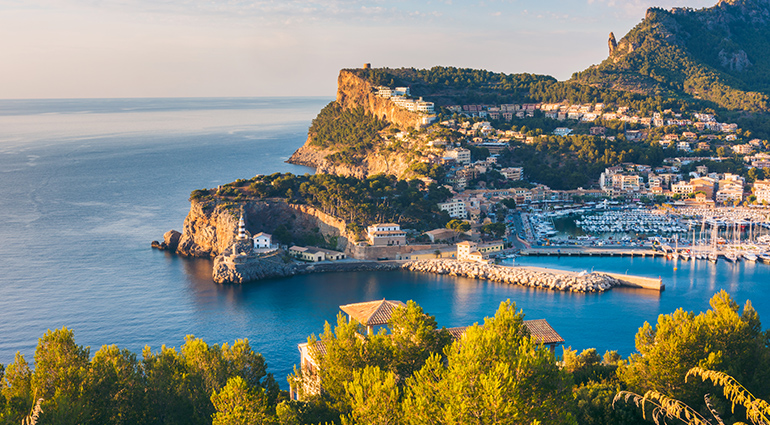 Sample local wine
For a spot of wine, Binissalem is the place to know. It's located where Serra de Tramuntana meets the southern plains. The little sandstone town is surrounded by vineyards and filled with bodegas where you can arrange a curated wine tasting or organize a guided vineyard tour. Can Ribas Vineyard, a family-run bodega on the outskirts of town, has been making celebrated wines since 1711 and offers tours, wine tastings, and dinners.

Visit a medieval town
Mallorca features several beautiful medieval towns and villages. However, Santanyí is particularly special. Located about 20 miles from Marriott's Club Son Antem, the village dates back 700 years to the Moorish era and is known for its pretty, honey-hued buildings.
Explore the warren of narrow streets and check out the array of small art galleries and boutiques. For a unique souvenir, don't miss the local salt harvested from the salt flats on the edge of the town, Salinas d'Es Trenc. Wednesday and Saturday are particularly good days to visit thanks to the bustling market where you can pick up local delicacies and crafts.

See the beautiful beaches
The southern tip of Mallorca, just under 20 miles from Marriott's Club Son Antem, is home to some of the island's best beaches. Es Trenc often makes best-beach lists — thanks to its four miles of soft white sand and calm turquoise waters. If you fancy a road trip, check out the beaches of Es Carbó and Cala en Tugores a little farther down the coast.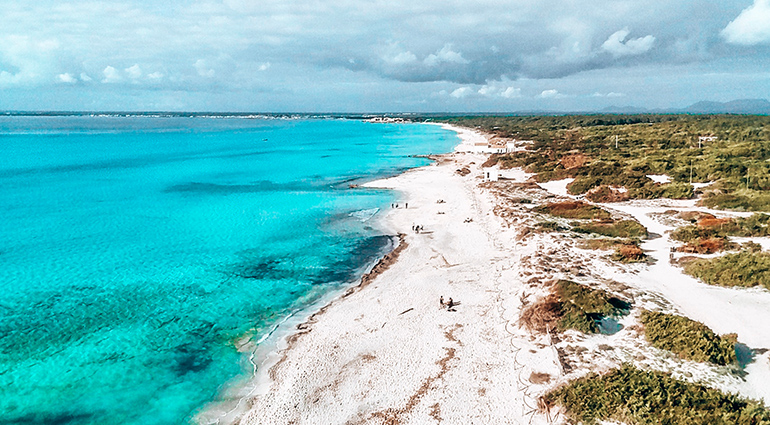 Marriott's Club Son Antem
Sitting near the area's most popular attractions, this resort is the perfect place for your Spanish getaway. Relax in spacious 2- or 3-bedroom townhouses equipped with modern conveniences like a fully equipped kitchen, washer/dryer, and more. Stay connected with friends back home with free Wi-Fi. You can also enjoy free parking and no resort fee. Enjoy everything the resort has to offer, including the indoor and outdoor connecting pool, relaxing spa, and fitness center. Spend some time in the sun and visit the Son Antem Golf Club. This on-site club features two challenging 18-hole courses and includes a driving range, putting green, club rentals, and a free junior's program.
Book Now
To learn more about booking a stay at Marriott's Club Son Antem and for more information about the Abound by Marriott Vacations exchange program, including answers to frequently asked questions, your new Owner benefit level, helpful videos, and a directory of Marriott Vacation Club® resorts, visit your Owner dashboard.

By Elizabeth Bennett and Tyler Bohlman