Feel the glamour of Palm Springs
Explore mid-century modern architecture and pass by famous homes during a trip to California.
Palm Springs has long been associated with a certain era of glamorous American celebrity. Frank Sinatra owned a home there, as did Liberace. Dean Martin's grandchildren were said to operate a lemonade stand outside their grandpa's Palm Springs house, selling cups of sugar water to tourists. But it's also a place where the stars' homes stood out for their dramatic mid-century modern style.
Mid-century modern denotes the architectural style that became popular after World War II — and Palm Springs may be its epicenter. Noted for its clean lines, large windows, and early use of post-and-beam framing (lessening the use of load-bearing walls and allowing for more open floor plans), mid- century modern design spread from America to cities around the world. Architect names like Albert Frey, Richard Neutra, and John Lautner are as important in Palm Springs as those like Sinatra.
Design All Around You
Examples of mid-century modern architecture and design can be found everywhere in Palm Springs and the surrounding area. Fittingly, the Palm Springs Art Museum Architecture and Design Center, designed by E. Stewart Williams (the architect behind Frank Sinatra's first area home), is a mid-century beauty and part of a cluster of like-minded buildings along Palm Canyon Drive, the city's main commercial thoroughfare. Several blocks away, the Five Hundred (named after its street address on Palm Canyon Drive) has retained much of its charm. Stop in at Ristretto, a coffee shop with lunch options, for a look inside.
For design-spotting from the car, neighborhoods like Twin Palms Estates, home of the famous Frank Sinatra House, and Sunmor Estates, which includes Palm Springs City Hall and St. Theresa Catholic Church, offer mid-century modern representations along each block. And some of the best-preserved designs, like Frey House II — which includes an in-home boulder to separate the living area from the bedroom — can be seen from the street and occasionally toured during Modernism Week, held in February.
Get the Inside Scoop
For a deeper dive into mid-century modern design, you can take a self-guided tour created by the Palm Springs Bureau of Tourism. The tour features public buildings, like the Palm Springs Art Museum and its firehouse, as well as a long list of homes built for celebrities of the era. If reading the directions from a website feels a little too, well, mid-century, there's also the Palm Springs Modern Committee's self-guided tour mobile app.
For those who want to see inside the homes — and to ask questions — the Mod Squad offers an Interiors Tour, as well as other themed experiences. And if you're interested in a particular architect or design feature, the Mod Squad can create a custom tour.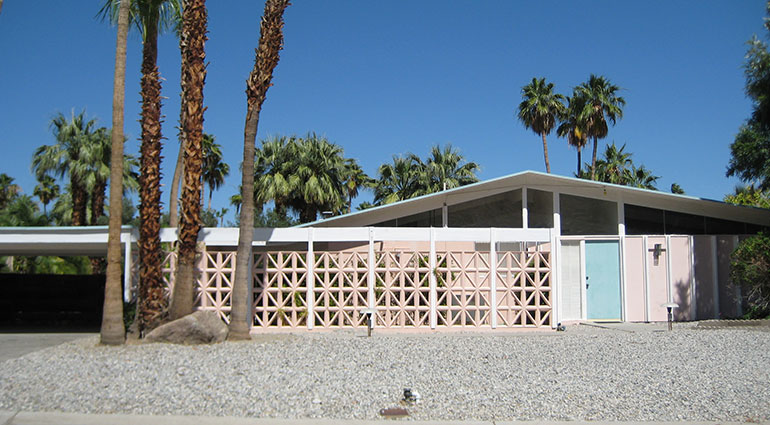 Where to Stay
Find relaxation at The Westin Desert Willow Villas, Palm Desert, or The Westin Mission Hills Resort Villas, Palm Springs, where you can refresh at the pool and enjoy family time.
To plan your fall vacation in Palm Springs area, visit your Owner Dashboard or call Owner Services.