The hub of Scottsdale's shopping, dining, arts, and style, Old Town is a must-do for a perfect time out—daytime, evening, or night.
Old Town Scottsdale (near downtown) and the close-by 5th Avenue Arts District are no-brainers to spend a stylish afternoon-into-evening. Typifying the city's easygoing, but sophisticated vibe, it's the ideal place to take five from your vacation itinerary, walk around and explore at your own pace.
Eat
From a quick bite while out exploring to a meal to remember, Old Town has so many dining options. Stop in to The Herb Box for brunch and lunch choices that are sweet, savory, inventive and always fresh For a memorable dinner, try Bourbon & Bones, one the area's many refined steakhouses, or EVO for contemporary Italian that is at once hearty and delicate; upscale and comfortable. With these, and so many more Old Town dining options within walking distance, it's easy to just follow your nose.
Saturday mornings, be sure to visit Scottsdale's Old Town Farmers' Market to grab fresh local produce to prepare back in your villa, along with a variety of local artisan breads, cheeses, jams, and more.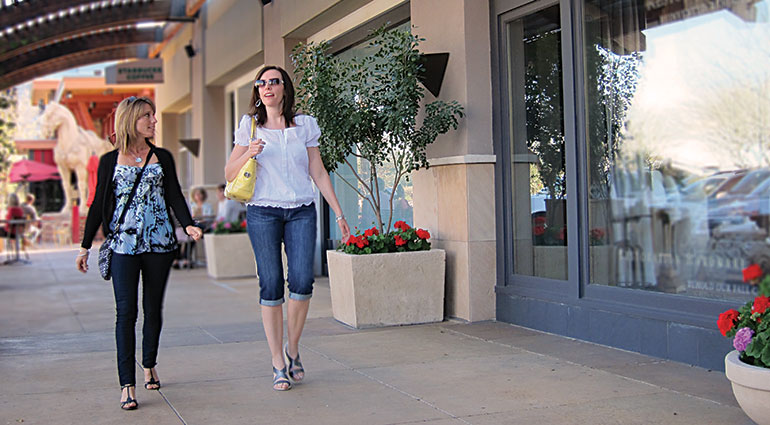 Shop
Whether you're looking for quirky, creative Southwestern souvenirs, or come across a unique piece of art you can't live without, the numerous shops and boutiques in Old Town are waiting. With a name like Kactus Jock, you know you're in for off-the-beaten-path gifts, souvenirs, and handmade goods. There you'll find everything from locally-made hot sauce to brilliantly colored metal sculptures, yard art and even a grow-your-own-cactus kit. Satisfy your sweet tooth in nostalgic style at Old Town Candy & Toys, with classic candies and more than 144 baskets and bins of delectable mix and match candy. And for creative takes on signature Southwest turquoise jewelry, pottery, rugs, art and more, Ortega Int'l Collection has an eye-popping selection.
See
Speaking of art, whether you're browsing with an eye to acquire a new piece or just enjoying seeing great works in a casual, easygoing environment, getting out and exploring Scottsdale ArtWalk will not disappoint. Thursday evenings (year-round, except Thanksgiving), this decades-old tradition opens up the many galleries for the public to wander into at leisure, seeing a mixture of usual collections and new openings. The breezy evening weather, lively restaurants, bubbling fountains, galleries and, of course, people watching, come together to create an amazing atmosphere for the popular event.
Stay
Perfectly situated nearby, The Westin Kierland Villas and Sheraton Desert Oasis make ideal home bases when visiting Scottsdale and the surrounding area. With all the comforts of home, along with resort style pools and spas, world-class golfing and more, you can explore all day, then return to your relaxing villa retreat.