Phoenix, Arizona has the perfect balance of big-city activities and southwestern recreation.
---
The knee-high, purple-tipped shrubs along our patio rustled at about 11:30 that first night in Phoenix.
My wife, Michelle, and I were multiple conversations into a personal happy hour, enjoying almonds, vegetables and hummus, and homemade evening cocktails. As we relaxed, we heard a rustling in the bushes. "What was that?" Michelle asked.
I leaned back in my chair and peered around the corner column for a look. Just as I eased out of my seat, a woman appeared from the shadows beyond our porch light. She put one index finger to her lips and used the other to point to a spot right in front of me.
"Javelinas," she whispered.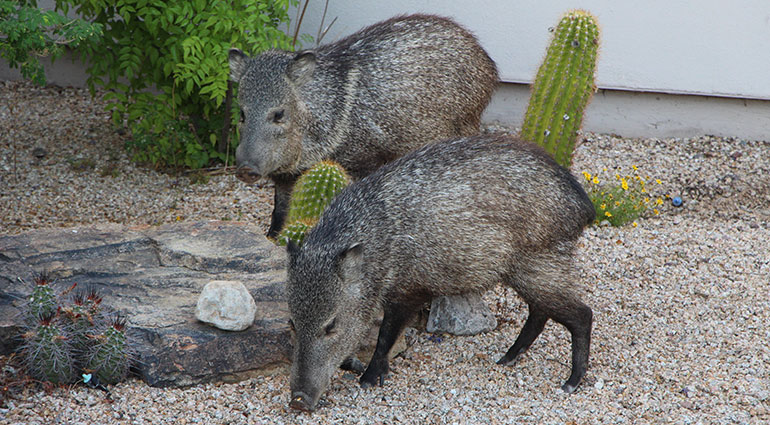 Citified Wildlings
The greater Phoenix area has a population of more than 4 million people. The downtown district, as lively as any in North America, is bolstered by the Phoenix Art Museum, performing arts venues such as the Herberger Theater Center and Symphony Hall, and stadiums for the local professional baseball and basketball teams. Even the suburbs here thrive. Tempe's Arizona State University is popular with college-bound kids, while Scottsdale and its myriad boutiques, art galleries, and restaurants, is virtually a rite of passage for sophisticated snowbirds from the north. In other words, Phoenix is a bona fide city.
And yet, here we were, at our resort, making acquaintances with two wild pigs. "Actually, they're part of the peccary family," our new friend Ashley explained. "I've been coming here for about 10 years and this is the first time I've seen them in person!"
"They eat the leaves," she said. "Lots of good succulent plants around the golf courses in town. I don't know what it is about them, but they absolutely fascinate me."
Michelle and I shared a smile; Ashley's exuberance was both endearing and infectious. I won't claim that seeing the elusive javelina was a life-changing event, but as the two wild creatures sauntered off toward the city looking for food, I realized I was witnessing exactly what has come to fascinate me about Phoenix as a whole: it's literally an urban jungle. Or, in this case, an urban Sonoran Desert.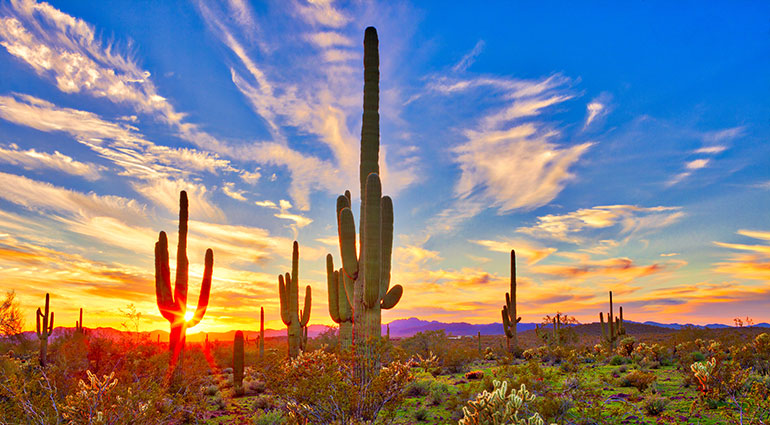 A Trail Less Traveled
Inspired by our encounter, the next morning we put our plan to stroll Scottsdale's arts and shopping districts on hold in favor of going for a hike. To our delight, according to the rental car's GPS system, the drive time didn't change. Neither did the general direction. Which served to further emphasize the fact that here in the Valley of the Sun, you can enjoy the great outdoors without having to go outside the city limits, though there are plenty of great day trips in the Phoenix area.
Summiting Camelback Mountain is easily the most popular trek in Phoenix. Show up most any morning of the week and you'll be in the company of fitness-minded locals out for a quick trail run, as well as visitors with Sonoran Desert guidebooks that detail the various types of local cacti: saguaros are the ones you see on all the postcards, the jumping chollas are the ones you'll be pulling out of your arms with tweezers if you get too close. But don't mistake popularity for simplicity. To reach the top, you'll have to take one of two trails that are each only about 1 1/2 miles long, but gain approximately 1,200 feet of elevation from start to finish.
We wanted a longer walk — and, admittedly, a location we knew would be less crowded — so instead of Camelback, we drove to North Mountain Park, where two 2,000-plus-foot peaks, North Mountain and Shaw Butte, provide more than 20 miles of self-propelled recreation.
"Great morning for a hike," a man said as soon as we stepped out of our car. He was just finishing.
"Which trail did you do?" I asked.
"Have you hiked here before?"
"We've done Camelback on a different trip, but never here."
"Oh, this is a great spot, definitely feels much more like you're out in the middle of nowhere," the man said. He didn't waste any time turning and standing shoulder-to-shoulder with me so we were both looking the same direction down the trail.
"Take this until you get to the first fork," he continued. "Turn right and you'll be on the Shaw Butte loop. It's my favorite. About five miles long from right here, challenging enough, but not too much. You'll get some good elevation gain at the beginning, and then circle around to where you can see the city before coming back down a narrow, rocky part of the path. A little bit of everything."
The topography of the trail matched the description perfectly, and after two miles or so of mostly uphill effort, I was ready for a break. "Let's just go a little farther, around that big bend," Michelle said, motioning to what appeared to be a dramatic change of direction ahead.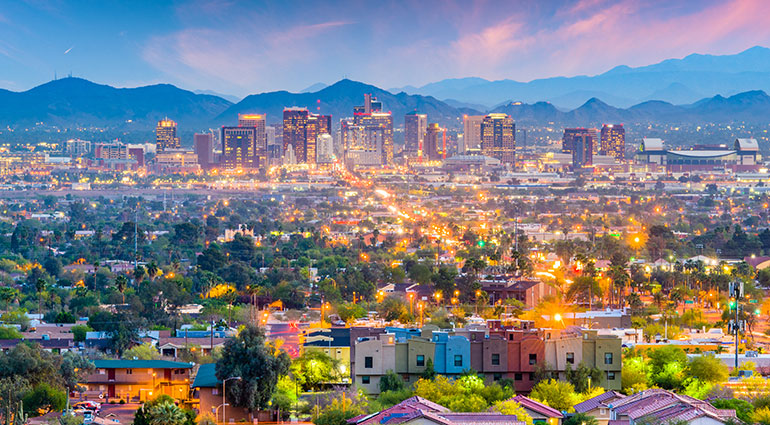 Until then, our views had consisted primarily of the desert hillside and its sparse assortment of ironwood trees and ocotillo plants, but when Michelle turned south and emerged from behind a large outcropping, she stopped abruptly. All of a sudden, an unmistakably urban grid — busy avenues and residential neighborhoods and office parks — spilled from the bottom of Shaw Butte.
"Wow, we really are still in the city," Michelle said. "Downtown's right there. It's crazy."
Agreed. Since leaving the North Mountain Visitor Center parking lot, every step we took felt as though we were moving deeper and deeper into a desolate desert wilderness. And yet, downtown Phoenix, with its theaters and museums, was right there. The edges of Scottsdale, where I still planned to play amateur art collector and professional epicurean, began on just the other side of the next bluff over.
"How much farther do we have?" Michelle asked. "Now I'm getting hungry."
I took one last look at the buildings on the horizon and smiled reminiscently. We were still three miles from the end of the Shaw Butte loop, but we had already gone full circle in terms of our vacation. Like the javelina we spied 12 hours ago, we were wandering toward the city, looking forward to a tasty meal, which, in an urban Sonoran Desert like Phoenix, is just as easy to find as a great hike.
Start planning your Arizona Vacation Today.
By: J.B. B., a paid contributor
This article originally appeared in the Fall 2013 issue of the North America edition of Interval World magazine, published by Interval International®, Inc., an indirect subsidiary of Marriott Vacations Worldwide Corporation. Any re-use of this content, or any portion of this content, is strictly prohibited. All rights reserved.