See the Unique Side of Phoenix
Enjoy these charming Phoenix attractions.
Phoenix is known as an ideal spot to soak up the sun, play a round of golf, or get pampered at the spa. But if you're looking to try something with plenty of local culture and family fun, there are plenty of options available. Here are some unique — and affordable — ways to make the most of your Phoenix area vacation while staying in nearby Scottsdale at Sheraton Desert Oasis or The Westin Kierland Villas.
Indoor Fun
Musical Instrument Museum
The Musical Instrument Museum (MIM) contains over 8,000 instruments from more than 200 countries and features special exhibits and concerts throughout the year. Sections popular with kids include the Experience Gallery, where you can try out a host of instruments, and the Mechanical Music Gallery, which features instruments that play themselves.
Insider Tip: The museum's Café Allegro is known for its menu of globally inspired fare featuring local ingredients.
Arizona Science Center
If you're looking for a fun and educational escape for the kids, head to the Arizona Science Center in Downtown Phoenix. There are four levels of hands-on exhibits designed to spark creativity and an interest in science at an early age. The Dorrance Planetarium, one of the largest in the country, offers several daily showings that highlight the wonders of the sky.
Insider Tip: Many school groups visit in the morning, so plan to go after 1 p.m.
Mystery Castle
Phoenix's Mystery Castle was created as a love letter from a father to his little girl. As a child growing up in the 1930s, Mary Lou Gulley begged her dad, Boyce Gulley, to build her a castle that wouldn't wash away like sandcastles in the ocean. She suggested that the desert would be the ideal location, and Gulley went about creating the Mystery Castle, which boasts 18 rooms, 13 fireplaces, parapets, and many other nooks and crannies to explore. Unfortunately, Gulley died before the family could move in, but Mary Lou did eventually live in the castle, giving tours until her death in 2010. Today, visitors can tour the unique castle from October through May.
Insider Tip: Be sure to bring cash, as credit cards are not accepted.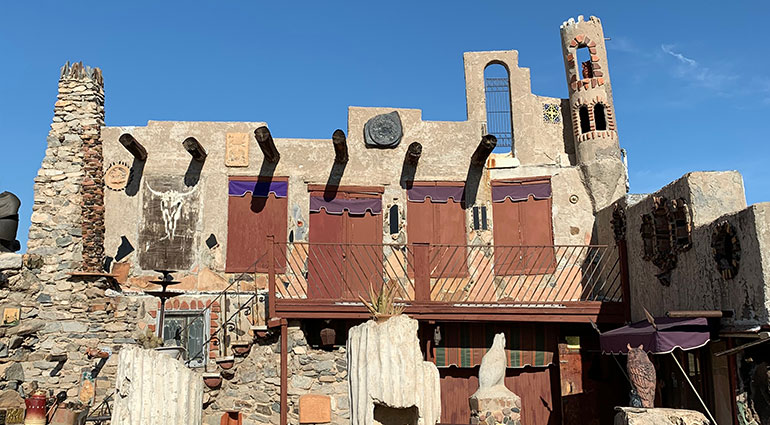 Heard Museum
The Heard Museum spotlights the history and culture of American Indians through traditional and contemporary art. The permanent collection boasts over 40,000 pieces of fine art and objects, including Hopi katsina dolls, Navajo and Zuni jewelry, Navajo textiles, and Southwestern ceramics from prehistory to the present.
Insider Tip: Take advantage of free admission the first Friday of the month from 4 p.m. to 8 p.m., except for March.
Phoenix Art Museum
The Phoenix Art Museum features more than 19,000 objects in nine focus areas including American and Western American art, Latin American art, fashion design, photography, and more. The fashion collection is one of the most unique in the world, with more than 6,000 items depicting 500 years of fashion history.
Insider Tip: "Pay What You Wish" on Wednesdays from 3 p.m. to 9 p.m. Or enjoy free admission the first Friday of the month from 5 p.m. to 9 p.m.

Great Parks and Outdoor Attractions
Desert Botanical Garden
The Desert Botanical Garden offers 140 acres to explore native flora and fauna. You'll walk through trails landscaped with more than 50,000 desert plants and soaring red rocks. Don't miss the Butterfly Pavilion showcasing thousands of live butterflies.
Insider Tip: Admission is free the second Tuesday of each month. Reservations required.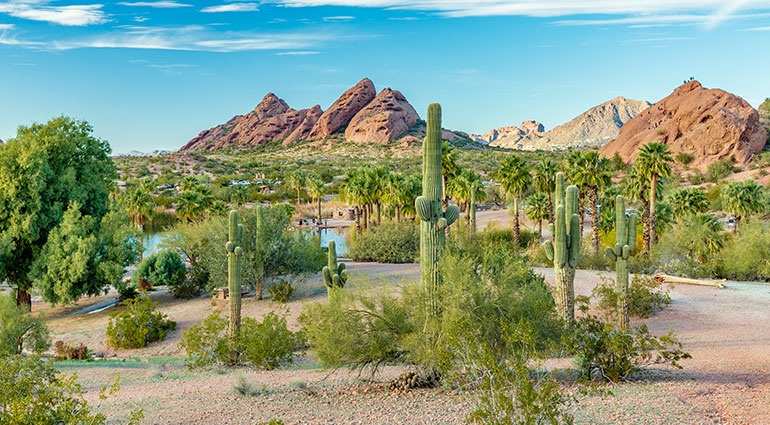 Hike Camelback
If you're looking for a free activity that will get your heart pumping, hike iconic Camelback Mountain. The Echo Canyon Trail is a steep and rocky 1.23-mile trek to the summit. This is not a hike for inexperienced hikers or children. However, if you're fit and adventurous, it's a must-do, with stellar views of the city as your reward.
Insider Tip: Bring more water than you think you need and avoid hiking during the heat of summer.
Ride the Rails
The McCormick-Stillman Railroad Park is a great destination for train buffs of all ages. Take a ride on the Paradise & Pacific Railroad or hop on a vintage carousel from the 1950s. The park also boasts a free museum, shops, and playgrounds.
Insider Tip: Individual rides are $3 each, but you can purchase an all-day wristband to enjoy the fun again and again.
Family Hike
Enjoying the beauty of the desert is a must and hiking the family-friendly, 4.2-mile Lost Dog Wash Trail is the perfect way to do it.
Insider Tip: A "passport" at the trailhead provides clues to a kids' scavenger hunt for specific flora and fauna along the way.

Take a Break
Soda Jerk Co. Milkshake Bar
This retro 1950s milkshake harkens back to the days when soda fountains served up photo-worthy treats like the Sweet Tooth cotton candy-flavored milkshake.
Lux Central
Take a break in this large, independent coffee bar featuring all your favorite caffeine jolts, along with hard-to-resist pastries. The cafe also serves beer and wine.
LDV Winery
Arizona has a burgeoning wine scene. Wine tasting at LDV provides a sample of the warm-climate grapes that thrive in the desert, including three of the winery's current offerings.
With so many budget-friendly attractions to explore in Phoenix, the only hard part will be choosing which you want to visit on your next trip to the Valley of the Sun.
Reserve Now
Plan your Arizona getaway at:
Story by Dena Roche