Savor the Great Outdoors
From miniature golf to the sandy shores of the Grand Strand, Myrtle Beach is an ideal family getaway.
Myrtle Beach offers a prime coastal location to spend time with family in the great outdoors. Whether you're looking to jump into active pursuits like surfing and jet skiing, relax by the pool or Atlantic Ocean, or get in a round of golf, you'll find it here. Your headquarters for fun in the sun resides at Sheraton Broadway Plantation, which offers outdoor pools, a lazy river and Splash Cove kids' pool with waterslides, and a 24-hour fitness center. This home base puts you just moments from the shops, restaurants, and family attractions at Broadway at the Beach and is about a 10-minute drive from the heart of Myrtle Beach.
Plan your next visit around these outdoor attractions and events:
Boardwalk Fun
Whenever you visit Myrtle Beach, you'll want to spend time on its famous boardwalk. Along the 1.2-mile stretch, you can explore everything from restaurants and snack stands to rides and attractions, such as the SkyWheel® Myrtle Beach, a 20-story Ferris wheel with private gondolas.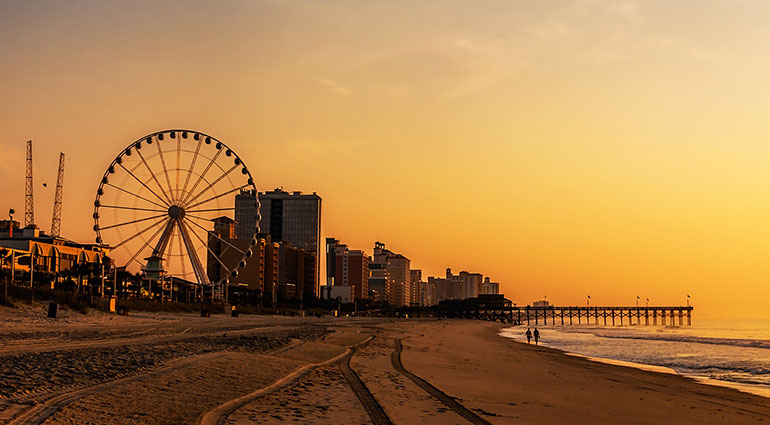 Pool, Beach, Golf, Repeat
Aside from your resort pool, you can also pursue aquatic adventures, such as surfing or paddleboard lessons, kayak excursions, and jet ski rentals. On land, try everything from a Segway® to an ATV, find adventure at one of 50 themed miniature golf destinations, or hit the links at nearly 100 designer golf courses. As an Owner, you can reserve Myrtle Beach adventures via Vistana™ Signature Experiences Activities Powered by PlacePass.
SOS Spring Safari
This 11-day event from April 15–25 showcases the official state dance — the Carolina Shag — known as the "swing dance of the South." There's plenty to see, from live music to tea parties, culminating in the event's main attraction — the parade, set for April 24, 2021, on North Myrtle Beach Main Street.
World-Famous Blue Crab Festival
Now in its 39th year, this celebration commemorates a long-held culinary tradition. At this two-day festival (May 15–16, 2021), you can sample classic dishes like blue crab gumbo, browse local crafters, sample traditional fair treats, and listen to live music.
Carolina Country Music Festival
Postponed from last fall, this outdoor music jamboree features over 30 of the biggest names in country music on four stages spanning some 18 acres. This year, from June 10–13, the family-friendly lineup features Luke Combs, Eric Church, and Jake Owen, plus area native — and Hootie & the Blowfish front man — Darius Rucker.
Vistana Signature Experiences Owners with StarOptions® can book a resort villa at Sheraton Broadway Plantation. If you are a Vistana Signature Experiences Owner with Week(s), you can place an exchange request with Interval International®.