Flavors from Mexico, at home
Make travel-worthy meals in your own kitchen.
Not traveling right now? You can still taste your favorite vacation flavors at home. Gather ingredients to cook pork osso bucco, cochinita-pibil-style. Chef Lucio Miss from Oceano at The Westin Lagunamar Ocean Resort shares his upscale version of this recipe.
Cochinita pibil is a traditional Mexican slow-roasted pork dish from the Yucatán Peninsula, the region where The Westin Lagunamar Ocean Resort is located. This dish is traditionally prepared by marinating the meat in an acidic citrus juice, adding annatto seed for a vivid burnt-orange color, and roasting the meat in a banana leaf. In this version, Chef Miss uses pork osso bucco — pork shanks — which may be difficult to find in the United States. You may be able to order fresh pork shanks from your butcher. Do not use cured pork shanks, or ham hocks. If you cannot find fresh pork shanks, you may substitute a 3 to 5 pound pork shoulder.
The dish marinates overnight in your refrigerator, then cooks an a 300-degree oven for five hours on the day when you plan to enjoy it. It's excellent served with rice and pickled red onions. You may also use shredded, tender meat in tacos or quesadillas with fresh, grated cotija cheese.
PORK OSSO BUCCO, COCHINITA-PIBIL-STYLE
Yield: 4 generous servings
Ingredients:
4 pieces of pork osso bucco (fresh pork shanks), or substitute a 3 to 5 pound cut of pork shoulder
Marinade:
3 ounces of red achiote paste (available from Latin markets)
10 ounces of bitter orange juice (You may substitute with 5 ounces of fresh-squeezed orange juice combined with 5 ounces of fesh squeezed lime juice.)
6 garlic cloves, peeled
1 teaspoon of cumin
1/2 teaspoon of ground black pepper
1/2 teaspoon of allspice
1 banana leaf (optional, available from Latin markets)
1 teaspoon of salt
Pinch of ground cloves
3 bay leaves
Picked red onion condiment:
1 thinly-sliced red onion
Juice from 1 fresh lime
1 sliced habanero pepper or jalapeño pepper (Use rubber gloves when handling the pepper.)
Directions:
Prepare the marinade by placing the bitter orange juice (or the combination of five ounces of fresh-squeezed orange juice and five ounces of fresh-squeezed lime juice) in a blender. Add the achiote paste, peeled garlic, salt, pepper, cinnamon, cumin, cloves, and allspice to the blender. Blend until smooth.
Cover the pork shanks (or pork shoulder) with half of the mixture. Set it in the refrigerator to marinate overnight. Reserve the remaining marinade for later.
When you are ready to begin cooking the pork, place it in a heavy, covered pot with the remaining marinade and the bay leaves. Cover it with the banana leaf and then add the lid to the pan. Place it in the oven at 300 degrees Fahrenheit for five hours, or until the meat is tender and falling off the bone.
Meanwhile, take the thinly-sliced red onion and toss with a pinch of salt and the fresh-squeezed lime juice. Add the sliced habanero or jalapeño pepper for a spicy, colorful garnish.
Serve and enjoy.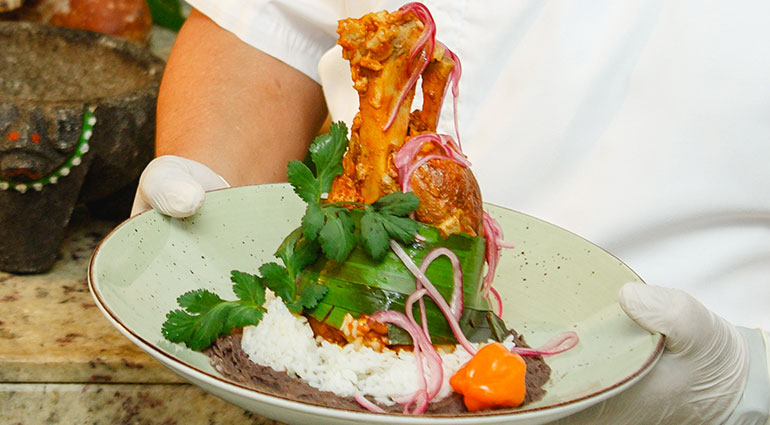 The next time you stay at The Westin Lagunamar Ocean Resort in Cancún, let the chef cook this recipe for you while you relax and take in the stunning ocean views at Oceano.