Pro golf tips for playing two of the Coachella Valley's best golf courses.

Barry Clayton, PGA Pro
Director of Instruction at The Westin Golf Academy
Guest Contributor
Take On Pete Dye
Well, at least his course. This par 70, 6700-yard game challenger is located onsite at The Westin Mission Hills Golf Resort & Spa, with much of the front nine winding around the resort villas. "It's a typical Pete Dye, meaning hard," says Clayton. "To golfers, that's part of the fun." The beautifully carved design includes lots of sand and water, along with railroad ties outlining many of the tee boxes and water hazards.
Hole 2: Desert Pines
"Good luck on this shot!" says Clayton, who suggests keeping the ball down the left side off the tee as to miss the huge fairway bunker down the left side of the hole. Your approach also has to be good to clear a giant bunker right of the green with out of bounds close left.
Hole 7: Punta Cana
The longest hole on the front nine, #7 is another one to really watch out for. "There's a long carry to the fairway, but the hole is just getting started," says Clayton. "You need a good shot to land on this green." On your way, you're faced with a huge lake hard left of the green, so your bail out is right into deep grass bunkers.
Pete Dye Resort course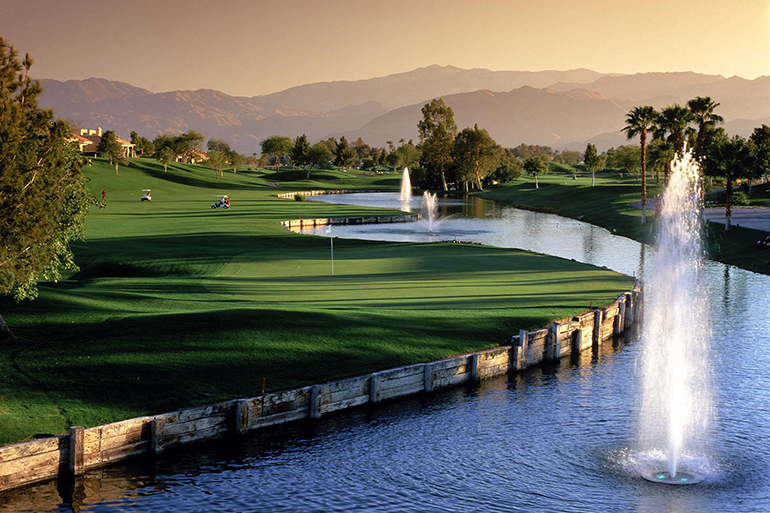 Hole 14: French Lick
The back nine is easier than the front, but this long par-4 hole with water in the landing area will definitely get your attention. "Stay right to stay dry," advises Clayton. Then you are faced with a shot over a lake to a green surrounded by bunkers and water. "Long is your only miss here."
Hole 18: Sawgrass
Water, water, all around. That's what you'll find at this course's final, signature hole. The entire left side of this par 4 is water so stay right, but not too far as there are bunkers that way. You'll need your best shots for last, as the green itself is surrounded by water.
Relax With Gary Player
A par 72 at 7200 yards with relatively flat greens compared to the resort course, the Gary Player Signature course is your choice for more relaxed play surrounded by some really exquisite views. "It's just beautiful to the eye and much easier than our Dye course," Clayton explains. A quick ride on the Westin shuttle takes you to this course, which includes its own golf shop and range.
Hole 5: Broadway Flyer
Like the Player-bred English derby racehorse winner of this hole's namesake, #5 impresses. Just be sure to choose the correct club for this downhill par 3 over a lake. "Long is in bunkers," warns Clayton, "and short is wet." But no matter how you hit, you'll be rewarded with a gorgeous long view of the desert floor behind the green.
Hole 9: Black Knight
Another front-nine beauty, the Black Knight (Player's own nickname) brings you back to the clubhouse and has a great view of the Chocolate Mountains off the tee. "Get on the green here in 2 strokes and you're really doing something," says Clayton. A long tee shot is needed and then your shot to the green must stay right as a lake edges the left side of the green.
Gary Player Signature course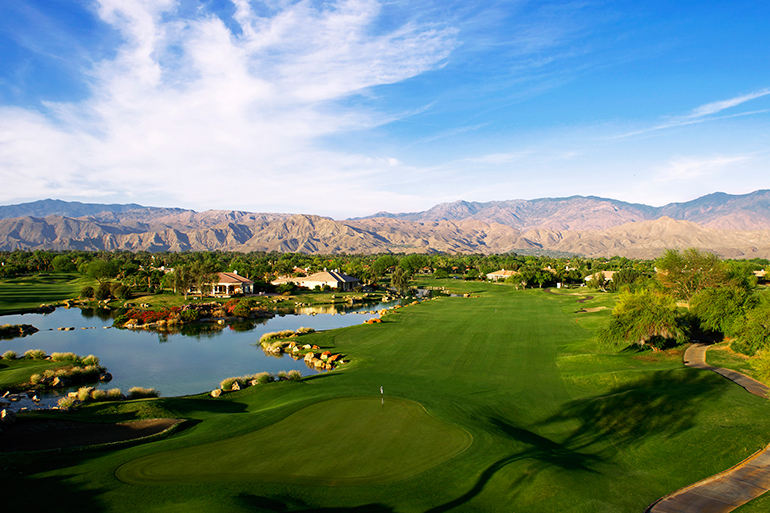 Hole 11: The Afrikaan
This 3 shot par 5 is a nod to Player's home country of South Africa. "On the back nine, holes 11 and 18 really show the true character of the course," says Clayton. Going for the green in 2 is not advised, as you have to clear a lake on your shot to the green. Stay down the left side of the hole and then choose your club wisely on the approach to this three-tiered green. Water is short of this green, so take enough club and make a great swing.
Hole 18: 59
"This hole is all about the tee shot," says Clayton. Named for that rare, legendary low score, which Player himself achieved in the 1977 Brazilian Open, the closing hole here has water up the entire right side of the hole, but if you play left you'll have an easy approach to the green. Once you're on the fairway, pick your club and make a great swing to close out your round.
Swing By For A Daily Golf Clinic
Even learning is play with Clayton and fellow instructor David Curtis guiding you. Whether you're a beginner or a well-practiced player, The Westin Golf Academy can help you get more out of your game. Just show up at the Pete Dye range located right at the resort any day of your stay to take any of the two daily clinics, only $20 per class. A popular choice for resort Owners and guests, the clinics are every bit as fun as they are helpful. Choose from a 9 a.m. "Tempo Tuner" for your swing and a weekly schedule of specific clinics at 2 p.m. as follows:
Monday – Putting
Tuesday – Chipping
Wednesday – Pitch Shot
Thursday – Bunker
Friday – Short Irons
Saturday – Fairway Woods
Sunday – Full Swing
Ready to Book Tee Times? Your Concierge Can Help.
Just give us a call to secure your tee time on both the Pete Dye and Gary Player Signature courses.