The best kid-approved Maui activities and things to do in Hawai'i to make the most of your family vacation.
Think Maui is only for honeymooners? After visiting the island with my family, we discovered so many things to do in Maui, I think it's the perfect place to bring kids. Here's how we enjoyed fun in the sun with a full itinerary of Maui activities for everyone.
When I first mentioned that I was heading to Maui for spring break with my 8-year-old son, I got a bit of side eye from my sisters — both had honeymooned on the tropical Hawaiian island and thought it was a little too adult and romantic for a third-grader.
But Maui turned out to be a kids' paradise, thanks to its miles of picturesque beaches, abundant water activities, family-friendly things to do and the locals' love of little ones everywhere we went. My husband, son and I discovered things to do in Maui with kids around every bend, from the top of a dormant volcano to the bottom of an ocean crater.
In fact, we had such a great experience on our first trip that we recently returned for a second family vacation. These are a few of our favorite Maui activities.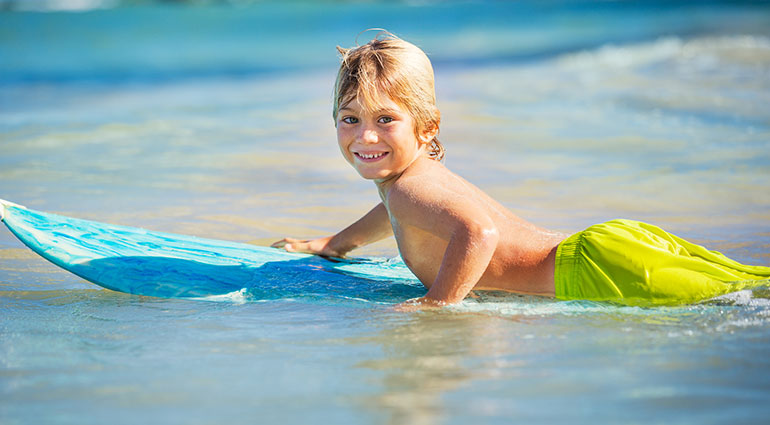 Family Fun on the Water
During my family's first trip to Maui, my son Aidan and I learned how to stand-up paddleboard. On our most recent trip, Aidan was ready for a bigger challenge, so he set off to conquer the waves with surfing lessons on Kā'anapali Beach. Since each new surfer pairs up with an experienced guide who helps them read the surf, it's perfect for children. I relaxed and took pictures from the sand while Aidan learned to navigate the waves.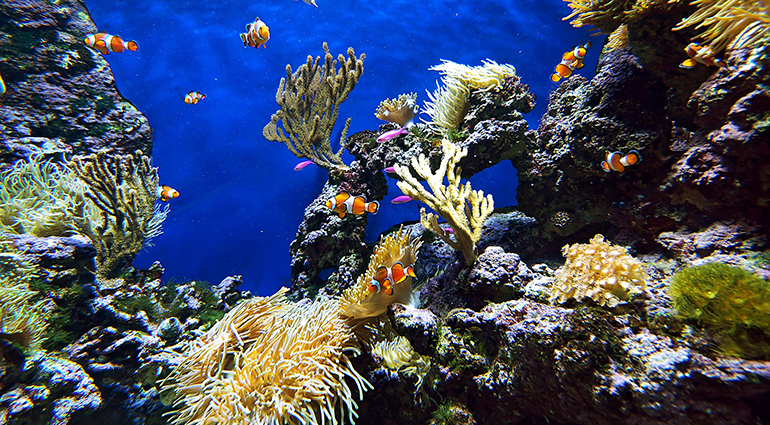 Diving In
On our earlier visit, we spent time snorkeling near the shore, spotting colorful reef fish and using waterproof cameras for some child-friendly fun. Now that Aidan's a stronger swimmer, we tried a new family water activity: snorkeling the famed Molokini Crater, a protected reef formed by an underground volcano.
On the hour-long boat ride to the snorkeling paradise, our guides from the conservation organization Pacific Whale Foundation explained reef ecology to the kids on board. At the crater, we saw a rainbow of tropical fish, a massive moray eel, and two sleeping reef sharks down below, not to mention numerous whale sightings on the way.
Back on dry land, our trip ended at the Maui Ocean Center, also known as the "Aquarium of Hawai'i." We enjoyed the chance to see even more marine life (like Maui's famed green sea turtles). It's also a great option for children not yet ready to swim with their faces in the water.
The Hawaiian Lei
Whether given to others or placed in a sacred location, the Hawaiian lei symbolizes the islands' culture of love and friendship. The lei is as old as the Hawaiian Islands themselves, having been brought over with ancient Polynesians arriving from Tahiti.
Traditionally, the lei is made from found items in nature — such as bones, shells, feathers, seeds, nuts, fresh flowers and other foliage. Each piece used to make the lei reflects some aspect of Hawaiian culture or life.
Early Hawaiians wore leis to beautify themselves and show appreciation for the world around them. They were also used to show rank or status among the community, and they signified a peace agreement between chiefs.
Leis today are similar to those of the past; each major island has its own representative color and flower, and they're still often made from found materials.
Leis are also often tailored specifically to the recipient — all while infusing a bit of the maker's mana (life force) into the gift. It's thought that when someone makes a lei, a part of that person goes into it; so, in presenting a lei, you are giving a part of yourself.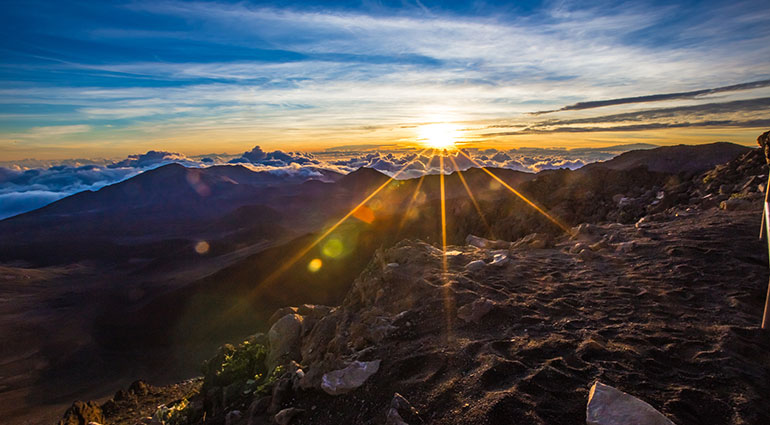 On Top of the World
One of our most exciting family adventures was the journey to Haleakalā National Park, where a dormant volcano rises to more than 10,000 feet. Although watching the sunrise at the peak is a popular activity — Haleakalā translates as "house of the sun" — we left the 3 a.m. wake-up call to people who don't need as much sleep as growing kids.
Instead, we drove up after breakfast, when the crowds had dispersed and the weather had warmed up a bit. We stopped at the information center and picked up a free Junior Ranger guide, a booklet that gave us a self-guided tour of the flora and fauna on short hikes of the scenic park, with questions for my son to answer along the way. When we returned at the end of our explorations, Aidan was sworn in as a Junior Ranger by a park ranger, complete with badge — an unforgettable souvenir!
Quick Tip:
For a delicious child- and adult-approved treat, stop for a shave ice drenched in multihued syrups and topped with unique Hawaiian add-ons like mochi and red beans.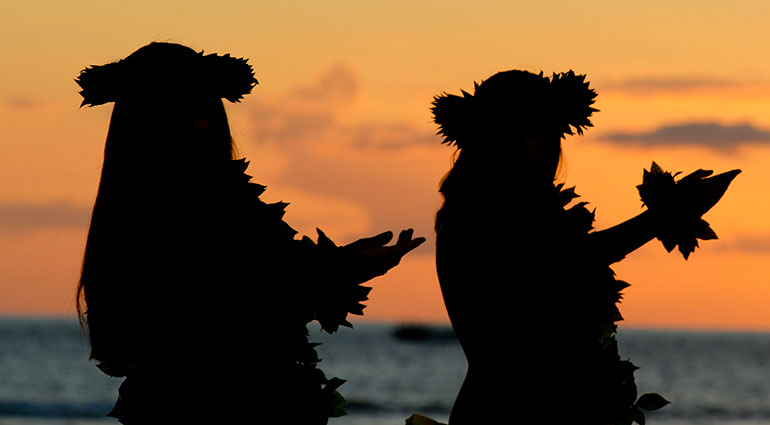 Aloha Lū'au
Another highlight is attending a traditional lū'au, which provides an entire evening of family-friendly fun, not to mention a delicious dinner. Before the show, we watched the spit-roasted pig unveiling and visited traditional craftsmen (as a souvenir, Aidan chose a wooden turtle with his name in Hawaiian carved on the spot). We also learned a few hula moves and notes on the ukulele.
During the show, we chose child-friendly seating right on the floor in front of the stage, and the fascinating performance of authentic hula and live music mesmerized us all. Kids were treated to tribal temporary tattoos and special tropical drinks, too.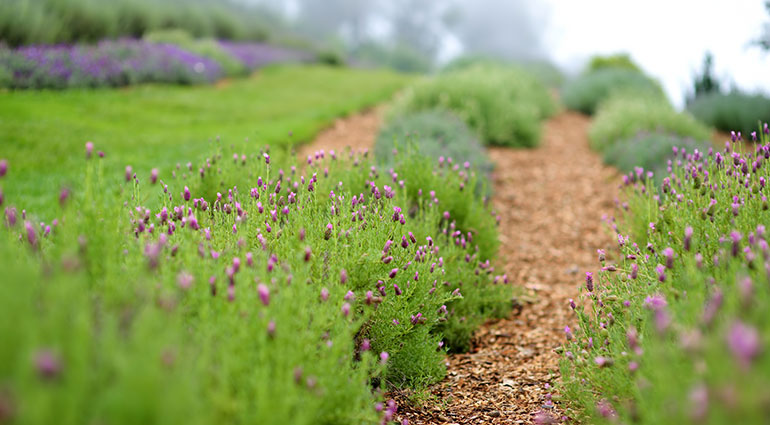 Scavenger Hunt
In Upcountry Maui, we found one of our favorite excursions: Ali'i Kula Lavender Farm. The lush gardens offer spectacular views of the island of Maui and plenty of space to spread out and explore. We took a guided tour around the floral walking paths, but Aidan was most interested in the free scavenger hunt. We searched the scenic grounds to discover hidden stamp pads that we used to fill a treasure hunt card. The reward? Free lavender cookies back at the café, where we also indulged in lavender scones drenched in lavender honey — a sweet way to wrap up our Maui adventures.
Plan these activities and more for your Maui getaway
Contact your Personal Concierge today.
By Melissa K., a paid contributor