Five breakfast recipes from The Westin Lagunamar Ocean Resort.
Watermelon Cheese Picks
Prep time: 10 minutes
Serves: 4
Ingredients
2 pounds watermelon
1 pound panela cheese (fresh white cheese)
½ cup fresh raspberries
¼ cup fresh blueberries
1 can peaches in syrup
Directions
Cut watermelon and cheese in one-inch dices. Stack a watermelon cube, cheese cube, raspberry and blueberry, and spear with a bamboo pick. Using a blender or food processor, blend peaches with a little of their syrup. Present three skewers per plate and serve with a shot glass of peach sauce.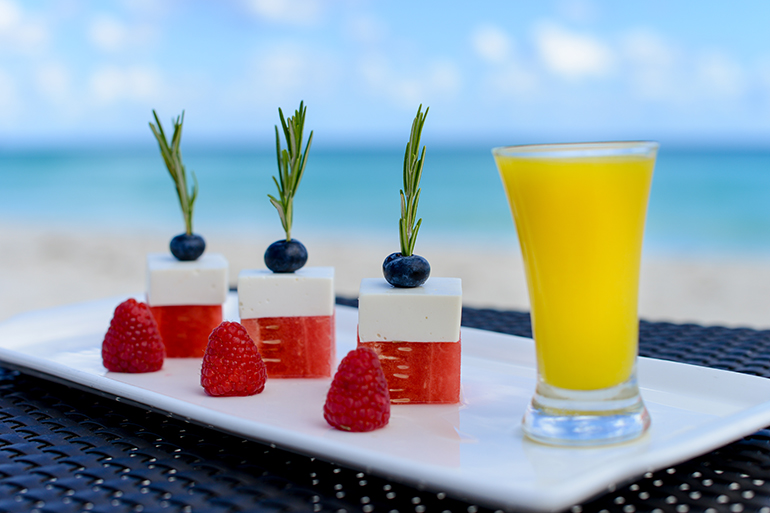 Walnut French Toast with Orange Mascarpone Cream
Prep time: 25 minutes
Serves: 4
Ingredients
2 cups milk
4 eggs
1 tablespoon vanilla extract
¼ cup walnuts
¼ teaspoon cinnamon
Pinch of salt
12 slices of whole grain bread
½ cup mascarpone cheese
½ cup heavy whipping cream
1 tablespoon orange marmalade
1 tablespoon sugar
1 cup fresh berries
Directions
Mix milk, eggs, vanilla extract, walnuts, cinnamon and salt in a blender and pour into a bowl. Dip bread slices in mixture. Cook in preheated saucepan until golden brown. Meanwhile, stir the mascarpone cheese, whipping cream, orange marmalade and sugar in a bowl until creamy in consistency. Pile three slices of French toast on each plate, top with mascarpone cream and sprinkle with berries.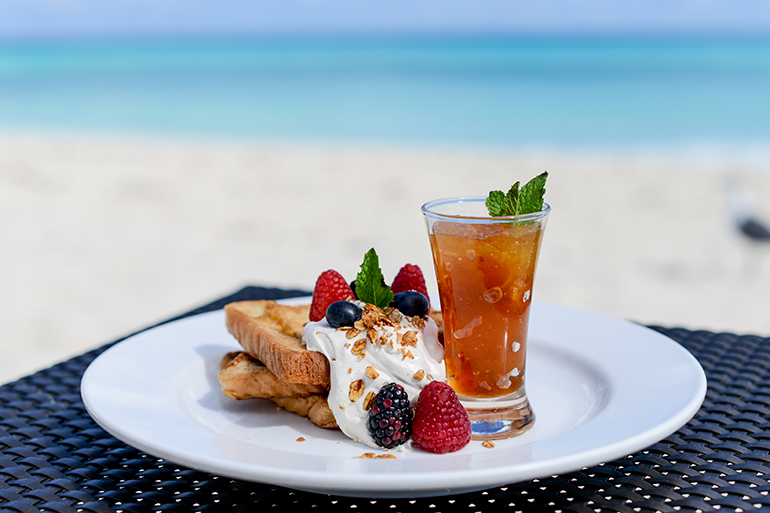 Smoked Salmon and Cream Cheese Omelets
Prep time: 25 minutes
Serves: 4
Ingredients
12 eggs
½ teaspoon salt, divided
½ pound smoked salmon
½ pound cream cheese
2 cups arugula leaves
1 cup cherry tomatoes, halved
1 ounce olive oil
Directions
Beat eggs with half of the salt. Slice salmon in strips. Cut cream cheese in four even bars. Spray a small saucepan with vegetable oil and heat to medium. For each omelet, add a quarter of the eggs. Once the bottom has set, flip over. Add a quarter of the salmon and one bar of the cream cheese to the top, and fold eggs over until fully cooked. In a bowl, mix arugula leaves and cherry tomatoes; season with olive oil and remaining salt. Top each omelet with arugula mixture and serve.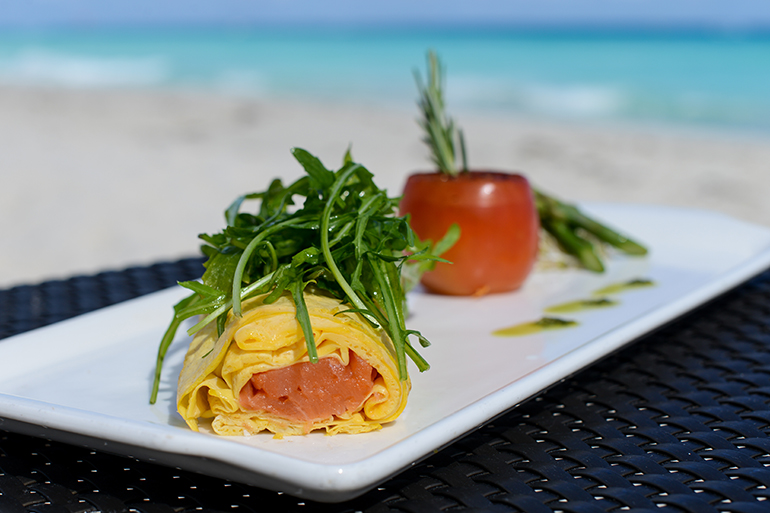 Breakfast Parfaits
Prep time: 10 minutes
Serves: 4
Ingredients
2 cups granola
2 cups plain yogurt
2 cups fruit of your choice, such as bananas, blueberries, strawberries or mangos, fresh or thawed, if frozen
1 tablespoon maple syrup
Directions
Line up four bowls. Evenly divide the yogurt in the bottom of each bowl. Spoon the granola on top. Add fruit and drizzle with syrup to taste.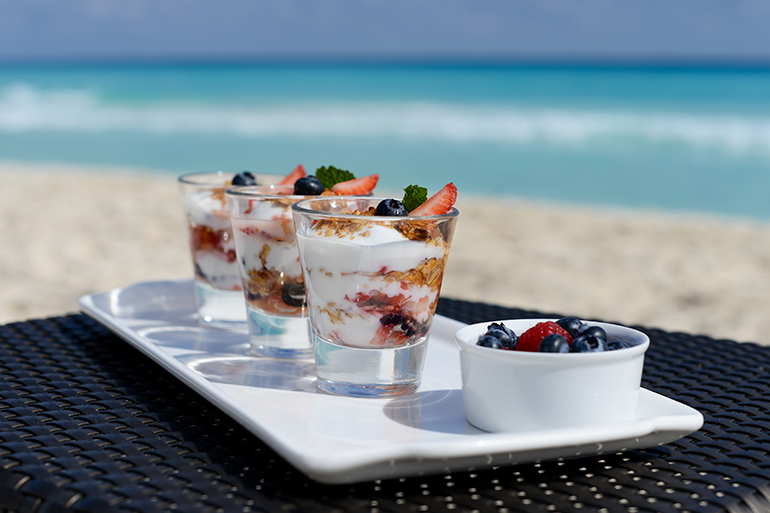 Fresh Fruit Symphony
Prep time: 10 minutes
Serves: 4
Ingredients
½ pineapple
½ honeydew melon
1 pound watermelon
1 pound papaya
8 strawberries
1 kiwi
1 cup cottage cheese
2 tablespoons agave honey
Fresh mint leaves
Directions
Clean and slice fruits and divide on plates. Spoon the cottage cheese on top. Drizzle with honey and garnish with mint leaves.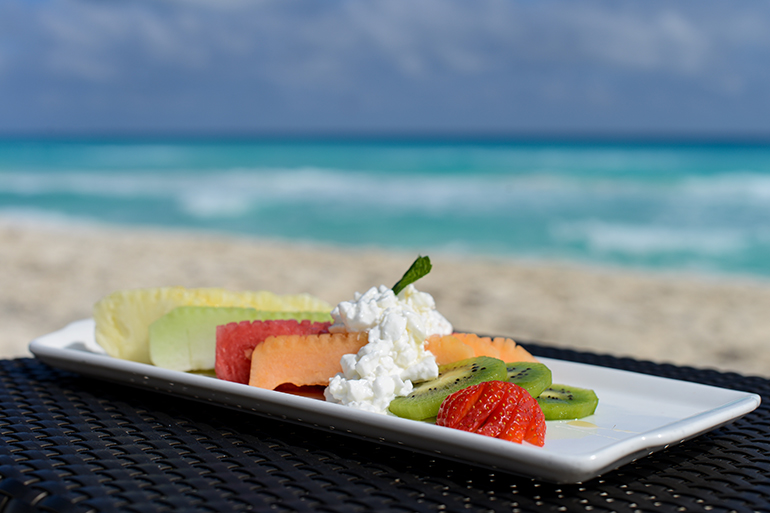 Book your Cancún getaway
Reserve your villa vacation today.