Reserve a table in Orlando
Explore Orlando dining outside of the theme parks, where you'll find hearty Italian, authentic Thai and Cuban offerings around the city.
From fine dining in near the theme parks to speakeasy cocktails on Restaurant Row, these restaurants are bringing their A-game. Be sure to reserve a table on your next vacation to Orlando.
Restaurant Row
Christini's Ristorante Italiano
Don't be surprised if Chris Christini, owner of this upscale AAA Four-Diamond restaurant, greets you at the door or stops by your table to check on the meal. He takes pride in his establishment, with an emphasis on top-notch service and quality northern Italian cuisine, including homemade ravioli, prime filet mignon and the signature veal chop.
This hidden gem is a bit hard to find — the entrance is disguised as a tucked-away lone elevator. Enter, push the green button, and when the doors open, you'll be transported to a prohibition-themed spot. In true speakeasy style, their specialties are craft cocktails (called "elixirs") like Manhattans, smashes and fizzes, plus homemade, locally sourced fare, like Cape Canaveral rock shrimp, Bolognese pasta and Neapolitan pizza.
More edgy than traditional, this Mexican joint features a vibrant atmosphere, thanks in part to the 225 varieties of tequila on the menu. In addition to the namesake tacos, the menu features handmade corn tortillas, tableside guacamole service and modern takes on classic dishes.
Voted one of the top restaurants in Orlando, this family-owned establishment has been a staple among locals since 1988. House specialties include jumbo lump Cajun crab cakes, Florida grouper in pecan butter, rack of lamb in rosemary au jus and center-cut filet mignon with a peppercorn cognac sauce.
A cozy sushi bar that takes its rolls seriously, treating their innovative creations as works of art. Their pride shows in the signature offerings and welcoming atmosphere.
Winter Park
Up for a drive? Trust us: The renowned restaurants in the nearby town of Winter Park are about 30 minutes from the theme parks — and worth the trip.
Chef owners (and James Beard Award semifinalists), James and Julie Petrakis, are passionate about locally sourced cuisine, evident in their classy gastropub. In addition to handmade pastas and charcuterie, the ever-changing menu highlights fresh Florida seafood and seasonal offerings from local farmers. Don't miss the year-round Canaveral shrimp and grits and the brewed-on-site craft beer.
The atmosphere alone is enough to book a table at this refined-but-not-pretentious restaurant. The inviting lakefront setting is perfect for pre-dinner cocktails in Adirondack chairs or a lovely meal al fresco. The menu is seasonal, and includes house specialties like jumbo lump crab cakes, miso-glazed Atlantic cod and center-cut filet mignon.
Bulla Gastrobar makes waves in the Winter Park dining scene with its take on Spanish cuisine. The restaurant's festive vibe and energy complement dishes like churrasco skirt steak, seafood paella, and wide selection of small plates, along with inventive cocktails from the full bar. A worthy stop for brunch, lunch, dinner or anytime tapas.
This spot's decor is rustic yet modern, while the daily changing seasonal menu puts a fresh twist on classic dishes. Homemade pastas like sweet potato gnocchi, fresh paninis with house-cured meats and pizzas topped with inventive ingredients like sage pesto and spiced acorn squash are just a few items you can expect during your visit.
Celebration
This quaint town near Walt Disney World® is the perfect spot to take a walk and enjoy a meal.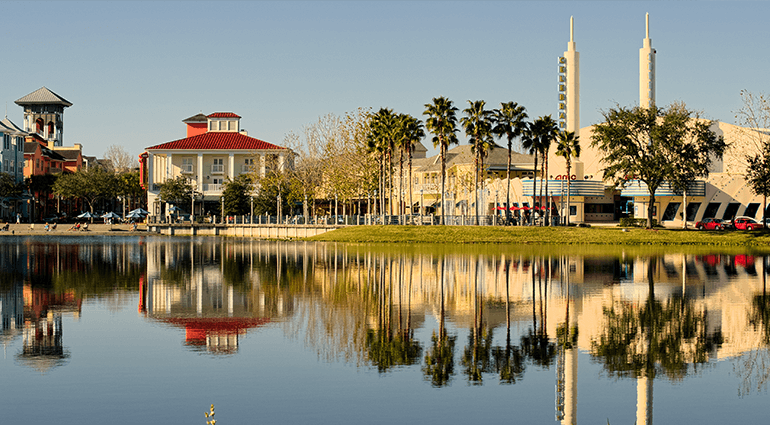 The Celebration Town Tavern is ideal for both families and sports fans alike. This New-England-style space serves steak and seafood as well as Boston-style offerings like chowder, fish and chips, Maine lobster roles and more. If you're seeking a laid-back vibe with plenty of menu options, this is a must-visit after a day at the theme parks.
One of Florida's oldest restaurant chains, this family-run business serves Spanish-Cuban cuisine in an elegant Mediterranean setting. Opt to begin your experience with Sangria, prepared tableside to your liking. You can either order tapas to share or select from an extensive menu of hearty entrees sure to satisfy after a day exploring Orlando. And don't miss out on warm, cinnamon-dusted churros for dessert.
Craving something quick and easy? Drop by Upper Crust Pizza. This counter-service space offers specialty pizzas, subs and stuffed calzones for takeout, so you can enjoy dinner lakeside.
Established by the Thai Ministry of Commerce to encourage visitors to enjoy Thai cuisine, Thai Thani offers an extensive menu with chicken, beef, pork as well as spicy dishes with noodles and fried rice. Hand-carved tables, tropical plants and imported antiques add to the dining experience.
How to Get There
Vistana™ Signature Experiences Owners with StarOptions® can book any length of stay at an Orlando resort. Resorts feature spacious recreation areas and villas with studios, 1- and 2-bedroom options. Most villas include kitchen and laundry facilities to give you more dining choices and control over your environment.
If you are a Vistana Signature Experiences Weeks Owner, you can place an exchange request with Interval International®.
Resorts include:

Marriott Vacations Worldwide Corporation ("MVW") and its affiliates and subsidiaries, make no warranty, express or implied, as to the condition, capacity, performance or any other aspect of the activities, events or services provided by third-party vendors. Some of the programs and products offered may be provided by PlacePass, which may not be owned, developed or sold by MVW.
Please visit IntervalWorld.com for complete details on exchanging with Interval International.
Some amenities may not currently be available or limited due to COVID-19. For the most accurate updates on resorts and amenities, visit the Resort Updates Hub.