Visit a Brand-New Bali Resort Soon
Make your reservations now at Indonesia's newest jewel.
Envision your dream Bali escape.
Your ownership can take you to a rejuvenating tropical retreat at Marriott's Bali Nusa Dua Terrace, a brand-new Marriott Vacation Club® resort in Indonesia that you'll soon be able to enjoy as part of the Abound by Marriott Vacations™ exchange program. This Indonesian oasis puts you right in the middle of thriving marine biodiversity and spiritual escapes.
Serenity awaits in your well-appointed accommodations, where spa-like amenities complement touches reminiscent of the local surroundings. Marriott's Bali Nusa Dua Terrace offers spacious 1-, 2-, and 3-bedroom apartments, each with a private plunge pool and daybed.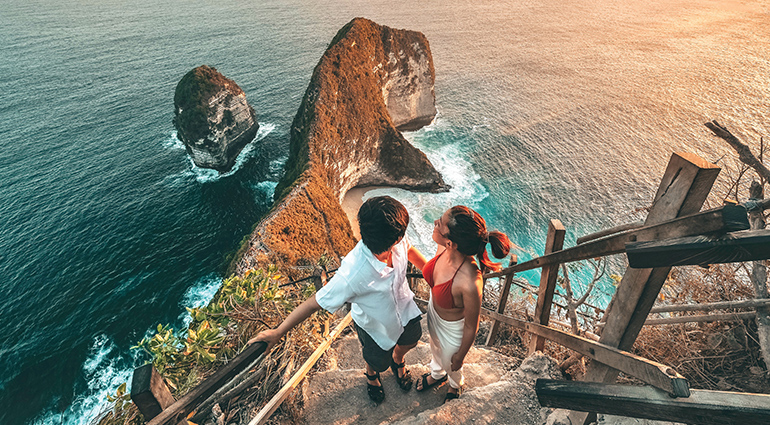 Explore the island's abundance, including shopping, golf, and nearby Nusa Dua Beach, a well-maintained white-sand beach along the warm waters of the Indian Ocean. You can also visit Bali's many spiritual sites in Ubud or immerse yourself in local culture at Garuda Wisnu Kencana (GWK) Cultural Park.




If your idea of relaxation is to take advantage of your resort's amenities, then get ready to enjoy everything the resort has to offer. Relax poolside on comfortable deck chairs or feel the water wash over you as you rest on an in-pool chair.




Don't let your fitness miss a beat as you stay healthy and active with a visit to the lap pool or fitness center. Rejuvenate your mind and body at the full-service spa and choice of restaurants located just next door at the Renaissance Bali Nusa Dua Resort.
Enjoy local and international favorites at Atomic 17 and Backstage and drink an expertly crafted cocktail from R Bar. For more region-specific food, try Lion X for Chinese, Nusantara by Locavore for Indonesian, and Tanah Liat for delicious seafood.


Marriott's Bali Nusa Dua Terrace
Members of the Vistana Signature Network® (VSN), which is now affiliated with Abound by Marriott Vacations™, will be able to use Club Points to reserve accommodations at Marriott's Bali Nusa Dua Terrace for future stays. Log in to your Owner website for more information.

To explore more Abound by Marriott Vacations, including answers to frequently asked questions, your new Owner benefit levels and Club Point election value, helpful videos, and a directory of Marriott Vacation Club resorts, visit your Owner website.

By Tyler Bohlman