Make This Hawaiian Island Your Next Culinary Destination
---
While I expected to find double rainbows and breaching humpback whales on my recent trip to Kaua'i, I didn't anticipate the breathtakingly delicious meals. From shave ice to poke bowls, discover Kaua'i dining options that should put the Garden Isle on the top of your foodie must-visit list.
During a recent trip to the Hawaiian island of Kaua'i, the local cuisine was one of the biggest highlights, on par with sailing the Nāpali Coast and off-roading in a tropical rainforest. Kaua'i's dining scene — a combination of rural and refined — flavors inventiveness. But it's the island's natural resources that set its food apart: seafood at the trendiest, most over-priced restaurant in New York City can't compare to the fresh ahi poke served on plastic plates from a market in Kapa'a.
So head to Kaua'i and trade in your droopy desk salad and subpar evening sushi for the world's best seafood — and the island's delectable signature dishes.
---
Gaylord's at Kilohana
When I arrived at Gaylord's for dinner on my first night in Kaua'i, it was as though I'd imagined the bucolic setting into existence. Everything was staged to perfection: string lights adorned the indoor/outdoor dining area in the historic plantation home, and meadows unfurled in every direction. The farm-to-table menu was equally beyond belief — the kitchen sources from the sustainable farmlands surrounding it. As a nightcap, I enjoyed learning how to make my own Mai Tai during an on-site Kōloa Rum tasting.
QUICK TIP:
Before dinner, ride the Plantation Railway through fields of pineapple and bananas, and commune with the goats, donkeys and horses that call Kilohana Plantation home.
The Shops at Kukuiʻula
For live music and local delicacies, check out the Kaua'i Culinary Market on Wednesday afternoons at The Shops at Kukuiʻula in Poipu. The line for the homemade pasta tends to be long (and it usually sells out), so I made sure to arrive early — and it undoubtedly lived up to the hype.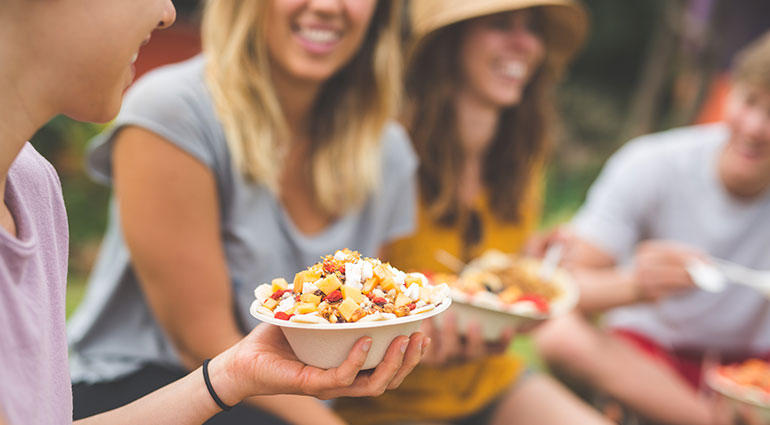 Aloha ʻAina Juice Cafe
Aloha ʻAina Juice Cafe is what every organic café in Los Angeles wishes it could be. Even I, an avowed skeptic of the green juice movement, couldn't stop gushing over my açaí bowl. The cafe has two locations in Līhu'e and Puhi — and both serve up the same delicious juices, smoothies and yes, açaí bowls, made with mouthwateringly fresh ingredients.
Merriman's Fish House
Merriman's makes the best Mai Tais on the island. (Trust me, I did my research.) But it also boasts a stunning view of the rolling green hills of Koloa. Part of a multi-island Hawaiian chain, Merriman's serves incredible regional cuisine — with an emphasis on freshly caught seafood — so don't be surprised when your dinner makes eye contact from your plate.
QUICK TIP:
Want to stay in and experience great Kaua'i dining without leaving the comfort of your resort? Enjoy locally sourced ingredients combined with globally influenced techniques and beachfront views at Rumfire Po'ipū Beach; or the exceptional island-inspired menu at Nanea Restaurant & Bar.
Pono Market
The small town of Kapa'a is at the center of Kaua'i's growing foodie scene, thanks to little gems like Pono Market. Sitting at a picnic table outside, I had my first (and certainly not my last) poke bowl. The native Hawaiian dish of diced, raw fish and vegetables has become quite the rage on the mainland — a sign of Hawaii's increasing culinary influence. But there's nothing quite like enjoying poke in a local island setting like this one. Don't judge your meal by its presentation: the paper plates and plastic utensils may remind you of grocery store sushi, but this market is light years ahead of your local deli.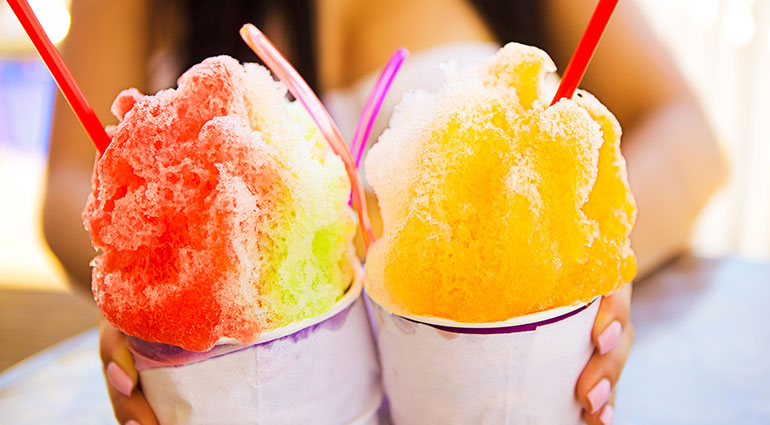 Wailua Shave Ice
The line for the Wailua Shave Ice truck — which is just down the road from Pono Market — snakes down the sidewalk. The dessert made with local fruit is a favorite of visitors and locals alike. It originated in 7th-century China and was imported to Hawai'i by Japanese immigrants. Today, it's emblematic of the growth of the island's street food culture.
Plan Your Kaua'i Dining and Activities
Contact your Personal Concierge today.
By: Katherine P.M., a paid contributor