See a different side of The Garden Isle with a visit to this hidden gem.
When staying at The Westin Princeville Ocean Resort Villas in Kaua'i, a brief detour to visit this special place makes for the perfect morning activity — letting you experience a side of the island precious few get to see.
Aloha and namaste! Just a short drive from The Westin Princeville Ocean Resort Villas, at the end of a scenic mountain road, lies Kaua'i's Hindu Monastery, one of the island's most surprising, best-kept secrets, and a great visit to add to your itinerary.
The monastery was founded in 1970, created as a sacred place for meditation, reflection, worship, the training of monks, and as a religious resource for the Hindu world. Its natural beauty is breathtaking. And though the monks live and meditate there, it is open daily and welcoming to visitors.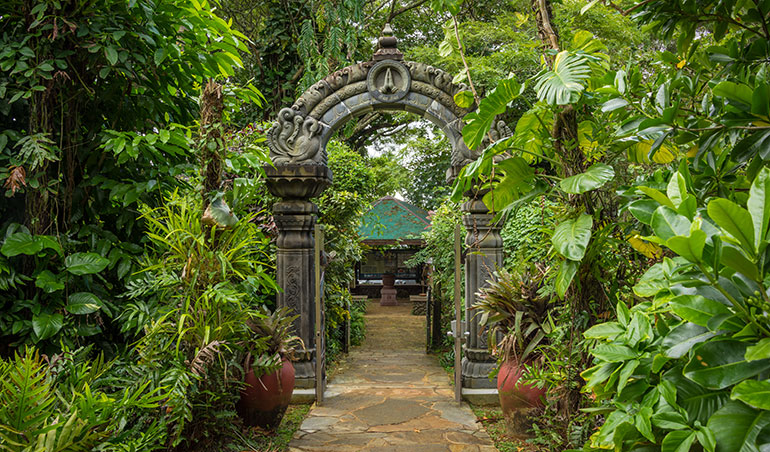 The tropical trees sway in the breeze as you pass under an intricately sculpted archway on the path to the monastery grounds. Discover a large multi-armed, multi-faced statue of the god Shanmuga Kartikeya, surrounded by a giant banyan tree canopy. As you explore the grounds you'll also find beautiful temples, a relaxing meditation pool, and a history of the monastery on plaques at the visitor's center, all surrounded by lush gardens and sweeping views of the island's waterfalls and greenery. You'll feel like you're in a different world.
Self-guided tours are always an option, as well as a weekly tour guided by a resident monk or spiritual leader.
This destination is the definition of peace and serenity on this beautiful island, a unique way to get in touch with the spirit of Kaua'i, and an experience well worth the visit.
Plan this and more unforgettable Kaua'i adventures today
Contact your Personal Concierge.