It's time to get back on the road — and back on vacation.
Consider a road trip for your next vacation and save on your rental car with Owner discounts from Avis and Budget.
If you prefer to skip the airport experience, but still want to travel, consider a drive-to destination. You'll enjoy more flexibility in your travel plans — you can stop to take in sights along the way and also take your preferred route at a time that works best for you and your family.
As a Vistana™ Signature Experiences Owner, you can save up to 35% off Avis and up to 30% off Budget car rental base rates*.
Let's get to planning your next vacation:
East Coast Adventures
If you want to travel along the Atlantic Coast, you may enjoy a getaway to Vistana Beach Club. While en route to this Jensen Beach resort, you can enjoy beaches, state parks and landmarks along the way.
If you seek adventure, map out a few stops to Florida's state parks. At the St. Lucie Inlet Preserve State Park on the northern end of Jupiter, you'll find snorkeling, scuba diving, fishing and plenty of wildlife. The nearby Seabranch Preserve State Park is another off-the-beaten path option for exploration with four miles of trails.
While Daytona Beach and Vero Beach are popular spots for tourists, you can embark on a journey to hidden gem beaches on the way to your resort. Just north of St. Augustine, you'll find Vilano Beach on the Matanzas Inlet. This secluded spot is known for its breaking surf waves and laid-back vibe. Nearby, you'll also find the Castle Otttis landmark. If your adventures take you by Orlando, make a stop at Cocoa Beach or Canaveral National Seashore to spend time in the sand. And instead of setting up a towel and umbrella at Vero Beach, consider instead a day trip to the Sebastian Inlet, known its fishing pier and dune-backed, undeveloped beach.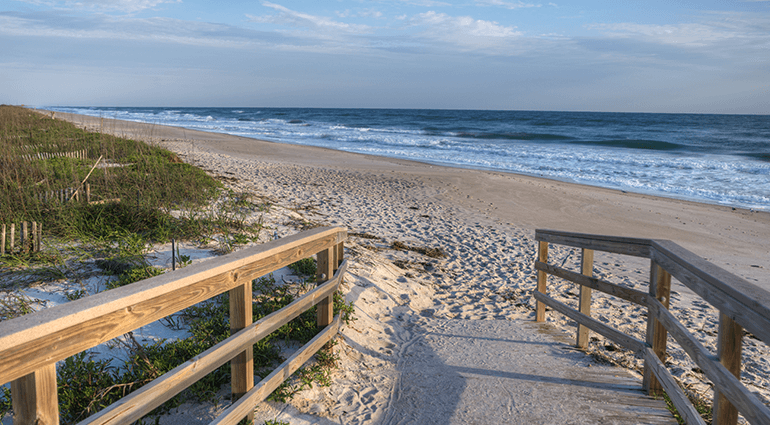 Your East Coast Accommodations
Vistana Beach Club rests on the sands of Florida's Treasure Coast. Surrounded by natural beauty, this resort is located near world-class golf courses like the PGA Village™ at Sheraton PGA Vacation Resort, Port St. Lucie, miles of smooth sand and the Florida Everglades. You'll have plenty of room for the whole family — villas offer up to 1,100 square feet of space for up to six adults — and a lot to do nearby.
Western Escapes
As you travel to your Scottsdale accommodations at Sheraton Desert Oasis, there are many natural spaces for you and your family to explore. You can traverse the canyon of Tonto National Bridge State Park, where you'll see the falls that splash more than 180 feet over the world's largest natural travertine bridge. If you're traveling East to Scottsdale, you can stop at the Kofa National Wildlife Refuge. This spot was originally established to protect desert bighorn sheep, but you can also see saguaro cacti and Gila monsters.
Once you get closer to Scottsdale, the Cholla Trailhead at Camelback Mountain will take you to an advanced mountain trail with rocky terrain, steep climbs and incredible summit views. Grand Canyon National Park is also nearby, where you can explore millions of years of geological history and catch a breathtaking sunset over the Colorado River.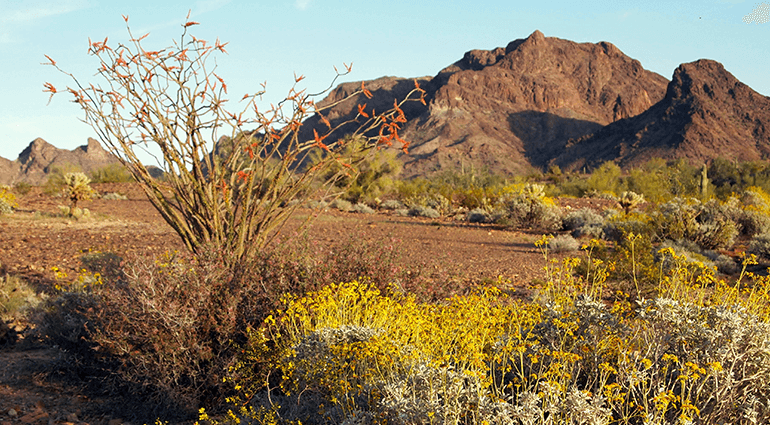 Your Western Accommodations
The picturesque beauty of the Sonoran Desert is just outside your doors at Sheraton Desert Oasis. Here, you'll enjoy stylish villas situated near golf, shopping and entertainment. Villas come equipped with separate dining and living areas, so you and your family can spread out and relax during your desert getaway.

*Discount is available to Owners and is subject to Avis Terms and Conditions and Budget Terms and Conditions. Actual discount will vary based on factors such as time of year and location of rental.
The savings of up to 35% applies to Avis base rates and is applicable only to the time and mileage charges of the rental. The savings of up to 30% applies to Budget base rates and is applicable only to the time and mileage charges of the rental. All taxes, fees (including but not limited Air Conditioning Excise Recovery Fee, Concession Recovery Fee, Vehicle License Recovery Fee, Energy Recovery Fee, Tire Management Fee, and Frequent Travel Program Fee) and surcharges (including but not limited to Customer Facility Charge and Environmental Fee Recovery Charge) are extra.
Some amenities may not currently be available or limited due to COVID-19. For the most accurate updates on resorts and amenities, visit the Resort Updates Hub.