Quality Time With Family
Bring the whole family for fun.
Whether traveling with young kids, teens, tweens, grandparents — or some other mix of generations — a family vacation that everyone will love is well within reach. All you need is a little space, a little planning, and comfortable villa resort options from Sheraton® Vacation Club and Westin® Vacation Club.
With so many families spending time apart, reconnecting in person is sure to be the highlight of the trip. Special moments like these may only come once a year, so be sure and follow these tips to make the best of your time together.

Decide on the Details
Before heading on vacation with your group, set up a time to chat about the details. Start with the big questions: Are you planning a driving-distance road trip or a fly-in destination? Do you want mountains, beaches, or cities?
Once you've chosen the perfect destination, determine what's happening each day: Does it involve daily downtime or full-adventure days? Are you eating out every night, or is everyone taking a turn cooking in the villa's fully equipped kitchen?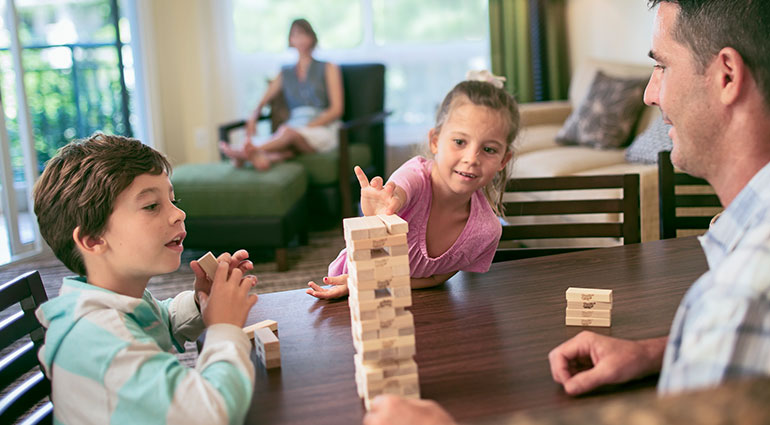 Pick the Perfect Space
Once you've decided on the type of trip your family group envisions, it's time to pick a Sheraton Vacation Club or Westin Vacation Club resort where the family can spread out and grow closer.
To take advantage of the entire family being together, reserve a three-bedroom villa. Not only will these bedrooms provide room for everyone in the group, but with the addition of sleeper sofas, the entire family can stay together. Most villas also include full-size dining tables and separate living and dining areas — perfect for family games and late-night chats. Plus, you can give family dinners a whole new meaning and take advantage of the fully equipped kitchen in most villas by coming together to make a group meal everyone can enjoy.

Prepare to Pivot
Come prepared with fun-for-everyone activities to enjoy without leaving your resort.
For some fun in your villa, ask each person to bring an item to contribute to a "treasure" box, so you'll have a range of puzzles and games from which to choose. Other ideas include cooking competitions, a DIY taco or pizza night, a movie marathon with homemade snacks, and crafts that can be scaled up or down for every skill and interest.
You can also check with your resort to see the fun activities happening around the resort itself. Some options include pools and water playgrounds, tennis and basketball courts, fitness classes, golf courses, and — at many family-friendly properties — kids' clubs and activities just for junior travelers.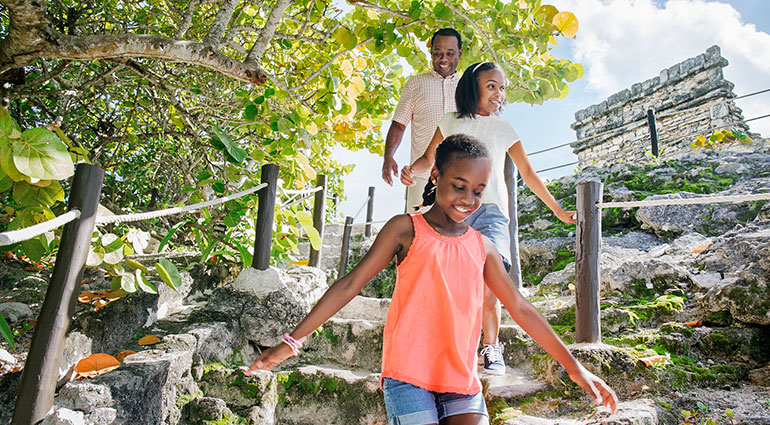 Explore the Great Outdoors
National and state parks, beaches, mountains, lakes — they're all spacious enough to accommodate large groups and are often free or low cost, so traveling with a large crew won't break the budget. Plus, these gorgeous natural areas provide plenty of options for picnics and alfresco meals in picture-perfect settings.

Book a Private Tour
Make a stop at the Concierge and take advantage of traveling with a group to book private tours and guides. Planning one extra-special day or night on the calendar builds excitement during your trip and inspires great memories. With a large family group, this option will create a VIP atmosphere and plenty of memorable experiences that won't cost more than individual admissions.

Allow for Different Vacation Speeds
Everyone has a different idea of what makes the best vacation, so try to arrange for different speeds to keep everyone happy. That might mean early morning yoga and visits to nearby attractions for those who love an itinerary, and daily downtime for napping and reading for the more relaxed members of your group. Everyone can come together for a sunset drink or dinner to share their experiences.

Capture the Memories
Being together with your whole family is truly a special time that you'll all want to savor long after your trip is over. Be sure to designate someone to snap photos during your vacation, or consider hiring a local professional for a unique keepsake image. You can also create an annual tradition of snapping a photo in the resort lobby or by the pool in the same pose. And don't forget to capture all the trip highlights to share with each other in group messages or social media posts to help inspire the next great family vacation.

Plan for Next Year
Just because you're on vacation now doesn't mean you can't plan for your next family reunion. With a variety of villa resorts from which to choose, you can visit a unique destination for your next big get-together. To make every family adventure special, look for a resort location different than the one you're staying at now. Had a relaxing beach vacation? Look for an energizing city escape. Spent your trip hiking the mountains? Try finding a destination with a theme park or a variety of activities.

Explore Resorts
To explore resorts and reserve a stay at a Sheraton® Vacation Club or Westin® Vacation Club villa resort, visit your Owner Dashboard.

Story by Melissa Klurman