Take in the spirit, history, and flavors of the island with a visit to this historic vineyard and winery.
When you think of Maui, you naturally envision relaxing days and active adventures on one of the world's consistently top-rated islands. But one thing you might not think of is enjoying delicious Maui-grown wine on the very island where it's created.
When visiting The Westin Kā'anapali Ocean Resort Villas, The Westin Kā'anapali Ocean Resort Villas North, or The Westin Nanea Ocean Villas, the island's very own winery — MauiWine— is the perfect Maui sojourn… something unexpected, different, and delicious to do on "The Valley Isle."
Situated literally on the southern slopes of Haleakalā Volcano, MauiWine and its Ulupalakua Vineyards are nourished by the rich volcanic soil, temperate climate and long growing season, making for a family of exceptional wines farmed, crafted and bottled on Maui. The staff of MauiWine believes in more than just creating delicious wine; they believe in being stewards of the land, imparting to visitors a sense of place, and embodying the spirit of Maui in every bottle.
Their family of wines include crisp citrusy whites, light-bodied reds, sparkling wines made using the traditional champagne method, and even their signature pineapple wines — made with locally grown Maui Gold Pineapples.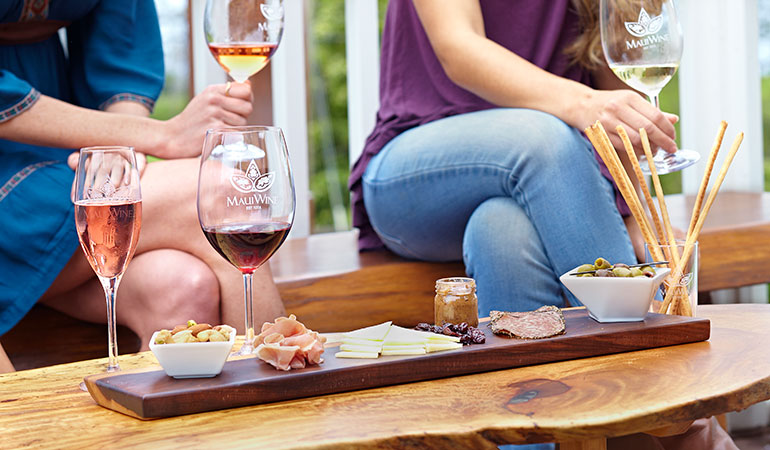 Touring the vineyards and plantation, of course, includes opportunities for tasting these varieties in unique surroundings.
Featuring historical photos, periodicals, journals and a timeline of important milestones from 1841 to present, explore the newly restored History Room, located inside King's Cottage, former residence for King David Kalakau'a, the last reigning monarch of Hawaii.
The Old Jail Tasting Room, named after a period when it was used as a holding place for wrongdoers awaiting transport, opens after a yearlong historical restoration. Previously closed for more than 20 years, it offers an exclusive tour and elevated tasting experience of MauiWine's limited production wines.
A visit to MauiWine is a pleasant detour from your typical itinerary, and a unique way to gain a greater understanding of the island and its culture — all while enjoying its delicious native wines. And don't forget to bring a bottle back as a perfect souvenir to enjoy at your villa.
Plan this activity and more for your Maui getaway
Contact your Personal Concierge today.