Join fellow bon vivants for an evening of innovative takes on Hawai'i's most captivating libations and delicious dishes.
The Westin Nanea Ocean Villas
is proud to introduce
"In the Spirit,"
a special monthly event series celebrating local agriculture, cuisine, and island-inspired cocktails.
Held at the resort's signature restaurant, Mauka Makai, the series features specialty food pairings led by executive chef Ikaika Manaku and handcrafted cocktails designed by the restaurant's expert mixologists in a fun, social setting complete with live music.
"This unique experience will bring both visitors and residents together to enjoy a taste of the creative mixology program and innovative cuisine we have here at Mauka Makai," said Ricky Hamasaki, the resort's Assistant Director of Food and Beverage. "We're also proud to further highlight our valued partnerships with local farmers, brewers and distillers."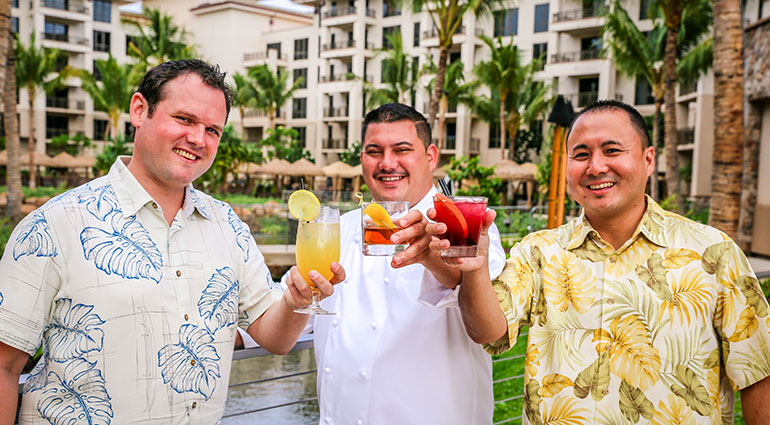 The series kicked off with "In the Spirit" of Vodka & Potatoes, featuring a menu of savory, "spud-inspired" dishes including Vodka Ginger-Cured Hamachi, Maui Venison Sweet Potato Fritters and more. Halloween saw a scary-good event at the "Moonshine & Monster Mash," pairing some of Hawaii's once-forbidden spirits with tempting dishes.
Continuing the series, 2018 has much more in store, including events like "In the Spirit" of Gin & Chilies (featuring Maui's own Fid Street Gin & local peppers) in January, and February's "In the Spirit" of Beer & Pupus (featuring local craft beers and native savory and sweet snacks) just to name a few.
This unique cocktail and culinary series is an ever-changing way to get together with others and enjoy some of Maui's best, most inventive cocktails and cuisine — creating a festive, memorable evening during your stay.