The Benefits of Ownership in Paradise
See how ownership helped create vacation memories.
Nancy and Chuck Ford have a canvas for daydreaming that manifests in salty waves of cerulean, azure, teal, and sapphire. But it's not a dream.
Their little slice of heaven is real — and it's known as The Westin Lagunamar Ocean Resort in Cancún, Mexico.
The Fords make their year-round home in Simsbury, Connecticut. However, the now-retired couple often visit their home-away-from-home.
Nancy, 66, and Chuck, 72, discovered their jewel of the Yucatán Peninsula in 2010 when they were on a vacation trip to The Westin Kierland Resort & Spa in Scottsdale, Arizona. There they purchased their first Vacation Ownership Interest week at The Westin Lagunamar Ocean Resort. Nancy said what appealed to them the most was its flexibility.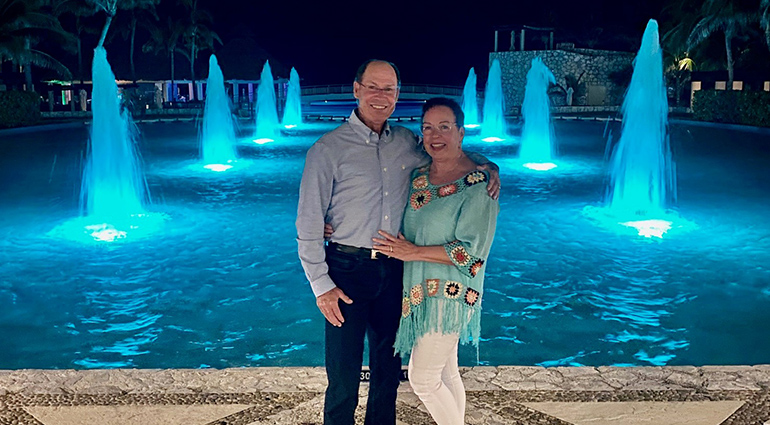 But what sold them on Cancún was the property itself and the warmth of the associates. In fact, during their first trip, they decided to add to their ownership.
"We've met so many great people there," Nancy said. "They're so welcoming and gracious."
The Fords adore the resort so much that they visit for a month at a time — usually in October and November. They've made lifelong connections with many of the associates on the property.
All three of their adult daughters and their husbands have been with the Fords to Cancún.
"We're so blessed that we can do this," she said. "Our children love to vacation with us — and now our grandchildren do, too!"
Nancy explained how her ownership opened doors for her and her family to visit new places.
"I would never have considered going out of the country," she explained. "But it opened so many doors."
The Fords used their StarOptions® to travel to Europe — from Venice and Florence in Italy to destinations in Germany and the U.K.
"We did ultimately start taking more time off once we got our timeshare," Nancy said. "And then we could force ourselves to go on vacation."
They've been to The Westin St. John Resort Villas in the U.S. Virgin Islands, Harborside Resort at Atlantis on Paradise Island, Bahamas, and traveled domestically. Nancy recalled trips to Sheraton Broadway Plantation in Myrtle Beach, South Carolina, and enjoying Independence Day parades and festivities at Sheraton Steamboat Resort Villas in Steamboat Springs, Colorado.
They've also used their StarOptions for other things, including Exclusive Owner Events and airline miles for their entire family — 14 people — to go on vacation.
But it seems there's one place that always calls them home to its tranquil waters and powder-white beach. With its natural brilliant sights and sounds, anchored by the largest infinity pool they've ever seen and a swim-up bar, The Westin Lagunamar Ocean Resort is their go-to destination. And why wouldn't it be? It's a AAA Four Diamond rated resort and a 2019 Tripadvisor® Certificate of Excellence winner. Studio, one-, and two-bedroom villas comfortably accommodate up to eight adults in up to 1,140 square feet, all with balconies overlooking the stunning Caribbean Sea.
"We always have plans for our next stay, so we know when we're going back," Nancy said.
For the Fords, their ownership was a win-win to go to incredible destinations and stay at amazing resorts.
Nancy summed it up this way: "For us, it has been one of the best decisions we have ever made."
How to Book
Book a stay at The Westin Lagunamar Ocean Resort in Cancún, Mexico.

Story by Janet Brindle Reddick