Welcome to a land full of adventure and excitement. A place where beasts roar, mermaids sing, candlesticks talk and elephants fly. A place where you can be surrounded by thick forests and roaring waterfalls in one moment…immersed in the golden age of the circus in the next.
Welcome to the new Fantasyland® — the largest expansion in Magic Kingdom® history. In this enchanted realm, you'll experience Disney storytelling like never before as you enjoy amazing new attractions and interact with characters in ways you never dreamed possible.
Enchanted Forest
Just beyond the walls of Cinderella Castle is a vast, realm overflowing with incredible, family fun and magic. Here, you can venture through lush landscapes, discovering roaring waterfalls and two new castles along the way.
Seven Dwarfs Mine Train
Grab your lantern and your map and get ready to hold on. It's time to go deep and ride into the mine "where a million diamonds shine" on the Seven Dwarfs Mine Train. It's the rockingest, rollingest train ride ever. In this first-of-its-kind ride system, your ride vehicle swings left and right as you go up and down and over, reacting to every hairpin twist and turn of the track.

Seven Dwarfs Mine Train, ©Disney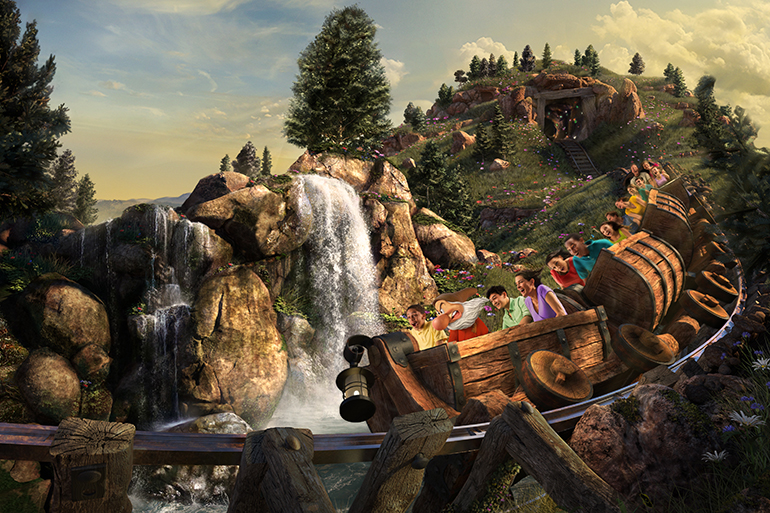 Under the Sea~Journey of The Little Mermaid
Become part of Ariel's world as you enter Prince Eric's stunning castle, board a giant clamshell and experience the amazing attraction that is the Under the Sea~Journey of The Little Mermaid. During this musical adventure, you'll discover a world teeming with color and characters, while enjoying high-energy songs and incredible effects that take you inside scenes from the animated classic. So pack up your dinglehoppers, tune up your snarfblatts and enjoy the ride of your sea life.

Under the Sea~Journey of The Little Mermaid, ©Disney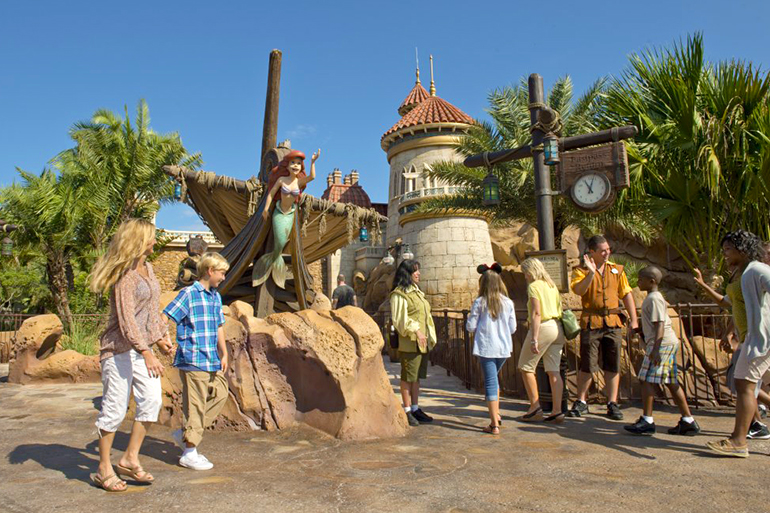 Ariel's Grotto
Everyone's favorite undersea princess can be found in her new home. Ariel's Grotto is nestled in a picturesque cove along the rocky shoreline of the Under the Sea~Journey of The Little Mermaid attraction. Here, Ariel is happy to meet with her human friends, signing autographs and posing for pictures, as everyone who visits gets to experience part of her world.
Enchanted Tales with Belle
Take a trip through the world of Beauty and the Beast during the captivating, new Enchanted Tales with Belle storytelling experience. The adventure begins in Maurice's workshop, where a magical mirror becomes your doorway to an unforgettable adventure. After stepping through the mirror, you'll find that you've been transported to Beast's magnificent library, where Belle and Lumière invite you to become part of a lively retelling of the "tale as old as time."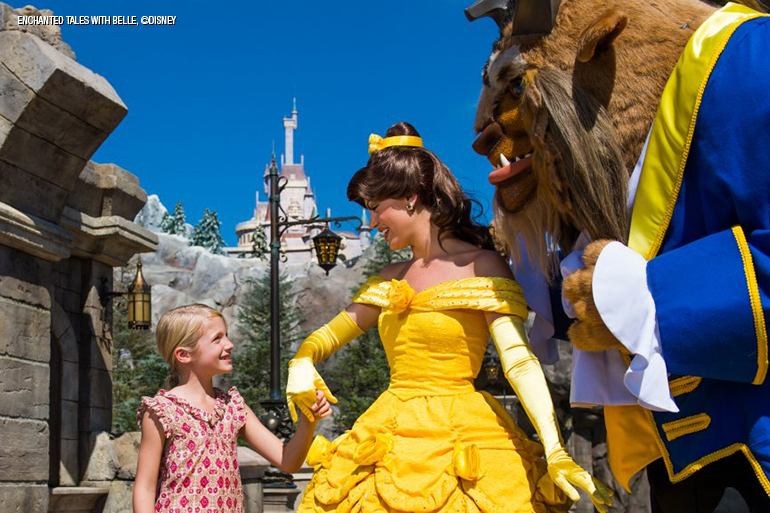 Be Our Guest Restaurant
From the mysterious gargoyles watching over you to the grand mural that transports you to a fantastical French valley, the new Be Our Guest Restaurant promises to immerse you in the story of Beauty and the Beast like never before. You'll be able to feast in one of three incredible dining rooms right in the middle of Beast's Castle: the elegant Ballroom with domed ceiling; the mysterious West Wing, complete with the enchanted rose in its jar; and the Castle Gallery, featuring a statue of Belle and the Beast as well as photos of the castle and staff before the wicked curse.

Be Our Guest Restaurant, ©Disney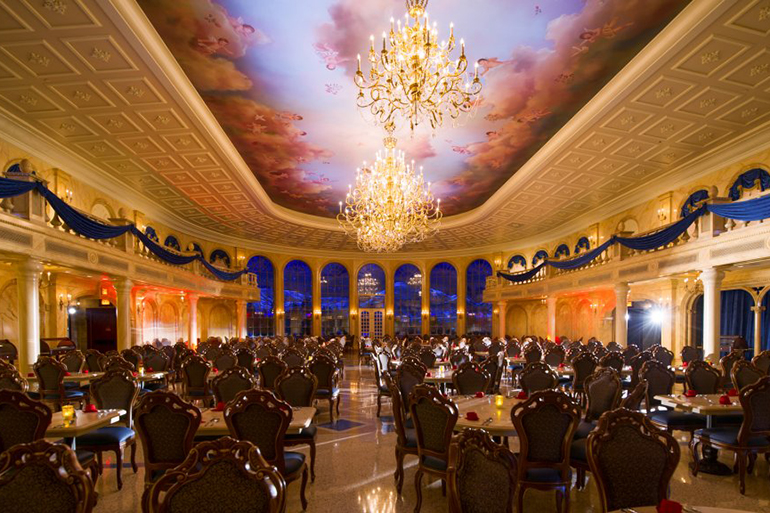 Belle's Village
Not far from Beast's Castle, you'll discover the charm of Belle's Village. Come enjoy the quaint buildings and casual atmosphere of this area that features great shopping at Bonjour Village Gifts, refreshments and fun at Gaston's Tavern, and a grand fountain depicting Gaston himself in a heroic, manly pose with Lefou at his feet.
Gaston's Tavern
Nestled in Belle's Village, you'll find the manliest of manly places to sit down and grab a quick snack and drink, Gaston's Tavern. Inside this rustic, wooden watering hole, you'll find décor that reflects Gaston's love of all things masculine as you kick back and enjoy a refreshingly frothy mug of his sweet signature beverage.
Storybook Circus
This colorful corner of Fantasyland® bustles with big top tents, lots of classic Disney Characters and beloved Walt Disney World® attractions.

Storybook Circus, ©Disney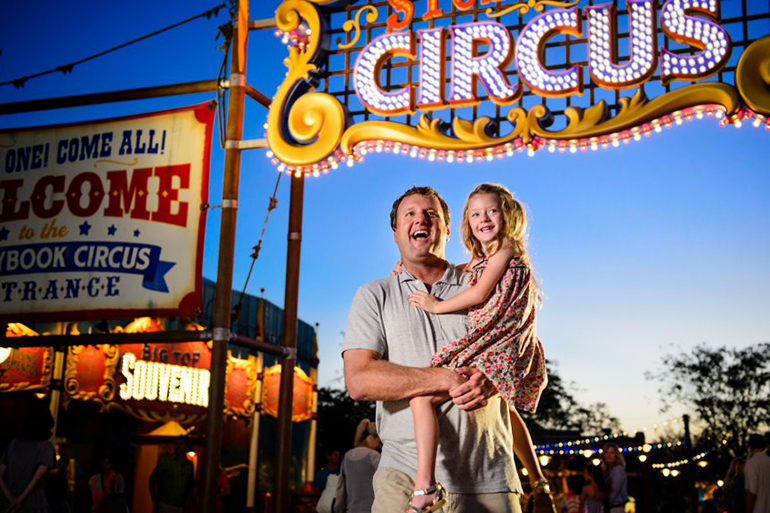 The Barnstormer featuring the Great Goofini
In the grand tradition of classic air shows, get set to twist, turn and fly high above Storybook Circus aboard The Barnstormer featuring the Great Goofini. Run by none other than the Great Goofini himself, this captivating, kid-friendly coaster takes you on an exciting flight.
Dumbo the Flying Elephant
Step right up and celebrate the golden age of the circus as you enjoy not one…but TWO Dumbo the Flying Elephant® attractions. Complete with a big top tent filled with interactive fun for everyone, this fantastical flight will send you on a magical ride high in the sky over Storybook Circus.
Casey Jr. Splash 'N' Soak Station
Little ones can have a big splash of fun at the new Casey Jr. Splash 'N' Soak Station. At this colorful, circus-themed play area near Fantasyland® Train Station, water squirts from playful monkeys, elephants, camels and from Casey Jr. himself when he lets off billows of cooling "steam."

Casey Jr. Splash 'N' Soak Station, ©Disney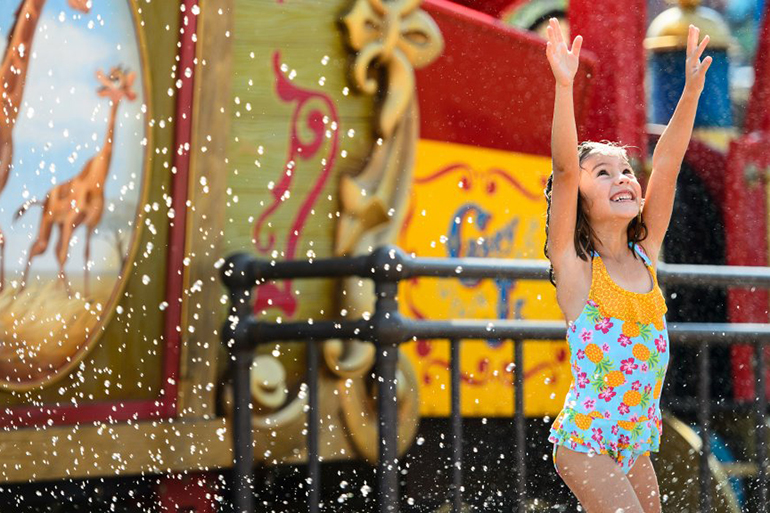 Visit Disneyworld.com for more info.
© As to Disney artwork, logos and properties: ©Disney
Need Tickets? The Vacation Services Desk Can Help.
Just give us a call for exclusive discounts on tickets to top Orlando attractions.
BOOK YOUR ORLANDO VACATION
More space. More amenities. More fun. Reserve a villa and start planning the perfect vacation today.