Immerse yourself in one of Orlando's — and the galaxy's — most anticipated theme-park lands.
At Star Wars: Galaxy's Edge, you can lose yourself in the world of Star WarsTM — fly the Millennium Falcon, hand-craft your very own lightsaber, bring a playful droid to life, and argue with Stormtroopers. You can even sip blue milk, Luke Skywalker's favorite drink.
The immersive experience visitors will find at Star Wars: Galaxy's Edge, is the most massive and technologically advanced expansion ever in any Disney Park.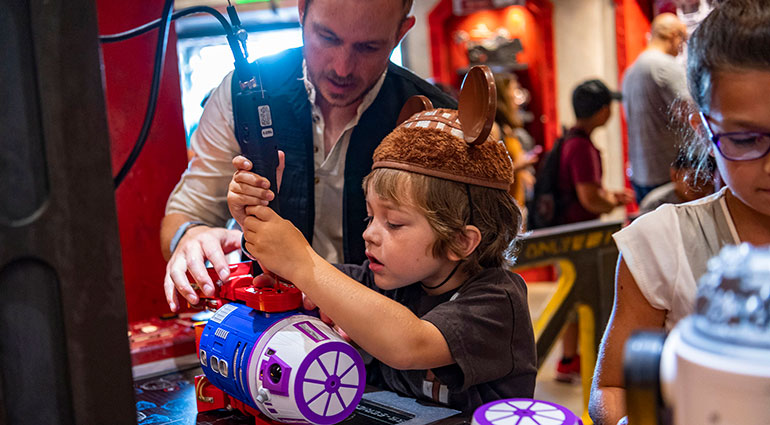 Matt Stroshane, photographer, Disney Parks ©Disney © & TM Lucasfilm Ltd.
The setting is the remote planet of Batuu, which sits at the very edge of the galaxy in the Star WarsTM universe. You spend your time in a town called Black Spire Outpost, its walkways teeming with Stormtroopers and spies, droids and Rebels. While there, you can construct a custom droid at the Droid Depot or build a personalized lightsaber at Savi's Workshop. Purchase required. Reservations may be required. Or tap your foot to cosmic music while savoring a Bespin Fizz or Fuzzy Tauntaun at Oga's Cantina, and use your phone to decipher coded messages and see hidden secrets inside mysterious crates.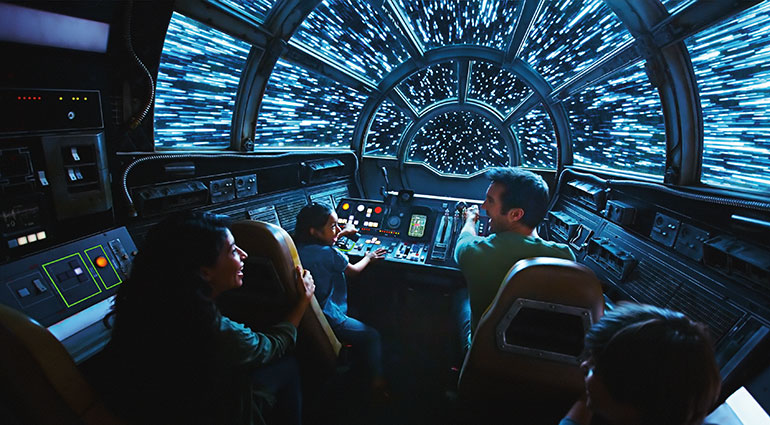 Disney Parks ©Disney © & TM Lucasfilm Ltd.
Deep-Space Adventure
Millennium Falcon: Smugglers Run, the signature ride at Star Wars: Galaxy's Edge, lets you take the controls of the most famous starship in the galaxy. As Star WarsTM fans know, the Millennium Falcon was piloted initially by Han Solo with help from his first mate, the wookiee Chewbacca. Entering the full-size Falcon, you find yourself part of a six-person flight crew that virtually "flies" the starship, which responds in real-time based on the actions of its crew. Two people are chosen to be pilots, two are gunners, and two are engineers. Pilots face the front windshield and fly the Millennium Falcon with a steering wheel; when prompted, they launch the vessel into hyperspace. Gunners sit behind the pilots and shoot virtual blasters at the bad guys. Behind the gunners sit the engineers, who fix problems on the starship by pushing buttons when prompted. Each crew member gets scored on how well he or she did during the flight.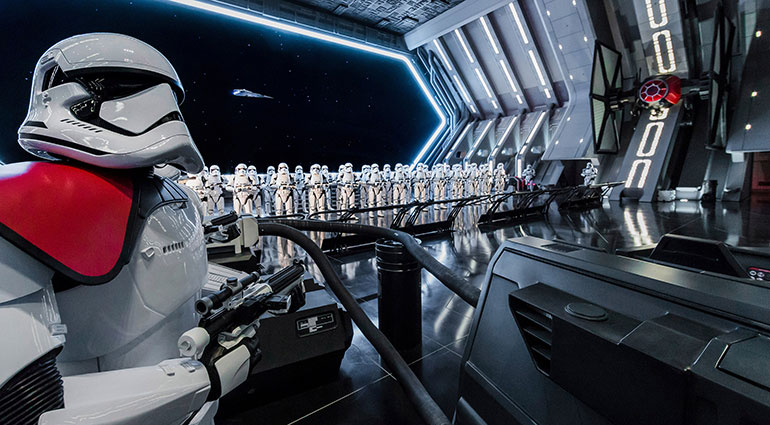 Joshua Sudock, photographer, Disney Parks ©Disney © & TM Lucasfilm Ltd.
Coming in December
A real game-changer of an attraction is set to open at Star Wars: Galaxy's Edge on December 5, 2019. Star Wars: Rise of the Resistance will take you aboard a transport shuttle where a Star Destroyer captures you. You'll end up in the middle of a climactic battle between the First Order and the Resistance. The attraction, which will take nearly 30 minutes to experience, features three different ride systems, a hangar full of Stormtroopers, and two towering AT-AT walkers.
You can visit Star Wars: Galaxy's Edge at Walt Disney World® Resort, inside Disney's Hollywood Studios®.
Start Planning Your Orlando Adventures
Contact your Personal Concierge today.
As to Disney artwork, logos and properties: ©Disney © & TM Lucasfilm Ltd.