A vacation can expand our horizons and bring out the kid in all of us, as Owner Ling L. recently discovered when she traveled with her family of three generations to Maui.
Ling, her husband and 9 year-old daughter, along with her parents and parents-in-law (ranging in ages from 76 to 84), planned to spend a week at The Westin Kā'anapali Ocean Resort Villas in Maui, Hawai'i. "All four grandparents are most comfortable staying close to home and following their everyday routines," says Ling. "For them, weekly drives to the big Asian supermarket are considered excursions."
As the trip drew closer, the grandparents' anticipation turned into worry and anxiety. Growing up in rural China, they definitely weren't seasoned travelers. "Their lives for almost 80 years were about struggles and sacrifices," says Ling. "They immigrated to America in search of better lives and flew across the Pacific Ocean, but never touched the water. They never even sat on the beach."
Ling tried to reassure them, describing all the exciting things to do in Maui like climbing a volcano and driving the road to Hāna. She explained how the villa accommodations would feel like home with a full kitchen, and how fun it would be to barbecue by the pool. But they still worried over Maui's lack of Asian grocery stores and how they would be without their favorite foods. "At the airport, I noticed that their luggage was relatively light but their carry-on bags were heavy," Ling remembers. "Between the four of them, they had packed five pounds of rice, two dozen meat buns and bags of instant noodles!"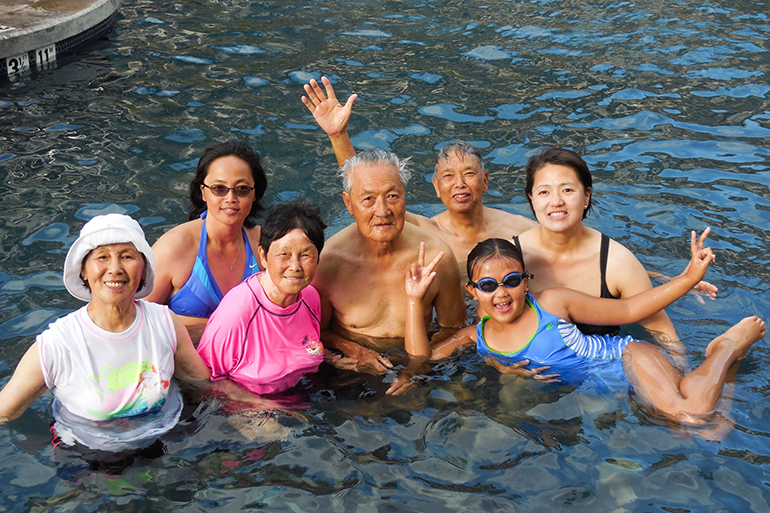 Thanks to the amenities at The Westin Kā'anapali Ocean Resort Villas, it was easy to cook the food they brought, even dining al fresco under a starry sky on a breezy Hawaiian evening. Plus, they didn't just stick to Chinese food, trying (and loving) local Hawaiian delicacies like poi. Ling purchased swimsuits for them, which were put to good use in the pool, and her mother went into a hot tub for the first time, delighted to find it helped soothe her backaches.
After hiking up the Haleakalā volcano, they pretended they were standing on the moon's surface, and while on the road to Hāna, they asked if that was what a rainforest looks like. Ling remembers, "When they saw the first beautiful sunset, all their chatter stopped suddenly and they stared in awe and silence."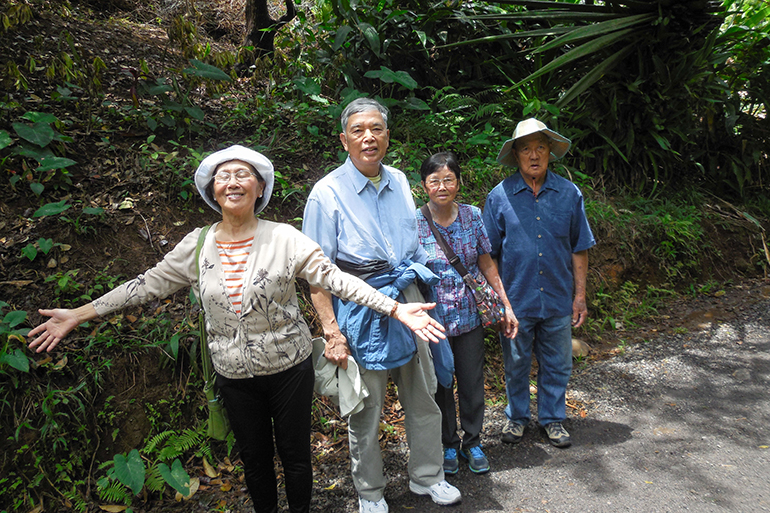 A highlight of the trip was when the family went to the beach, the first time the grandparents had ever been. Ling recalls the memory fondly: "It was incredible to see these four octogenarians sitting on the sand letting the waves wash over them. Their initial anxiety about this trip had disappeared completely. At that moment, there were only screams of excitement as they played in the sand and ran from the waves. There was only laughter and joy and feeling like a kid again."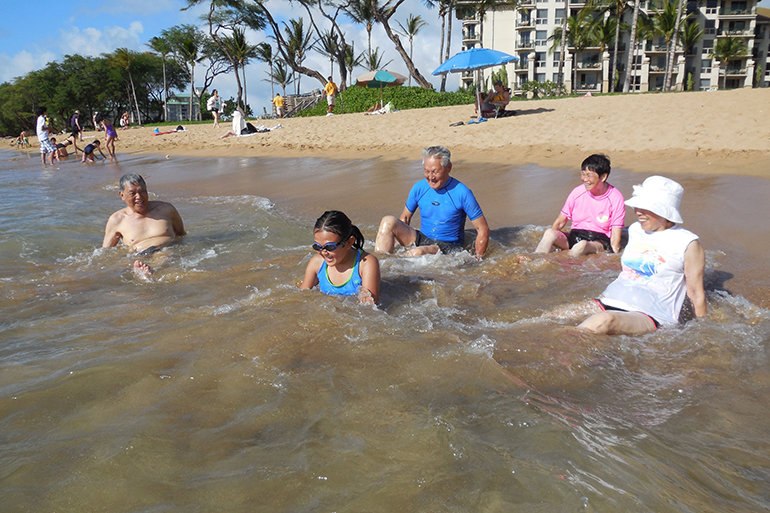 A vacation allows everyone the chance to break free from their comfort zones, as Ling experienced with her parents. "At first I was worried that this trip would be like taking fish out of water. However, I discovered even the most routine-bound, traditional seniors can embrace the freshest experiences."
BOOK YOUR MAUI VACATION
More space. More amenities. More fun. Reserve a villa and start planning the perfect vacation today.