Stress-Free Suitcases
Learn the best ways to pack for your next vacation.
There are a lot of things to love about vacation. Often, packing is not one of them.
Make packing for your next resort vacation an easy, streamlined experience with these travel tips.
Plan, Then Pack
As you consider your vacation timing, let the packing planning begin based on your itinerary and the forecast. Ask yourself some key questions about what you really need to pack and/or buy for your destination.
If you're staying at The Westin Princeville Ocean Resort Villas in Kauaʻi, Hawaiʻi, you'll know that in addition to a new bathing suit and your favorite resort wear, a rain jacket is a must for the famed Garden Isle.
Staying at Sheraton Steamboat Resort Villas in Steamboat Springs, Colorado, over the summer? Don't bring the thermal gear, spring for a hoodie or light jacket for those cool mountain evenings.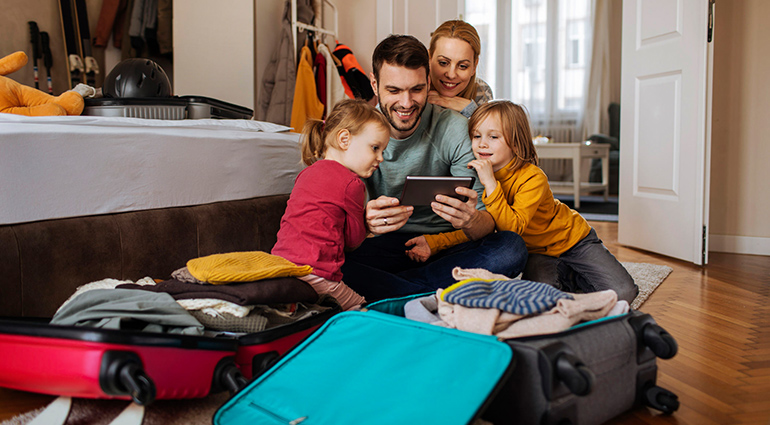 Make Your List
Now that you've done some legwork, it's time to make a packing list. Writing everything down helps prevent luggage from getting weighed down — just stick to what's on the list and try to avoid those "just in case" items. Plus, you'll feel a sense of accomplishment when you check things off as you pack.
Research the Resort
Before filling your bags with heavy items from home, check out all the amenities your villa offers.
Items such as hairdryers and irons take up valuable suitcase space and are often provided in your villa. Taking advantage of your villa's fully equipped kitchen — with dishes, flatware, and a dishwasher — will take the stress out of planning for dinners. Plus, your in-villa washer and dryer means you can pack lighter. Your villa resorts provide all the comforts of home.
Taking a vacation should be relaxing and fun. Don't let packing your suitcase take away from the excitement of your next adventure.

Packed? Book Your Stay
To reserve a stay at a resort in the Vistana Signature Network®, visit your Owner Dashboard.

Story by Melissa Klurman and Tyler Bohlman