Take a Quick Trip
Now, you can vacation for 7 nights or fewer via discounted Interval International Getaways.
As an Owner, you have access to Getaways through membership with Interval International®. Getaway Weeks are discounted 7-night resort stays that you can purchase from Interval, which are available to enjoy without exchanging your vacation ownership. They're an added benefit to being an Owner and an Interval member.
But what if you only want to get away for a few days? Now, you can purchase Getaways of fewer than 7 nights in some of the world's most popular destinations.* This newly launched feature allows you to enjoy all the comforts of home while taking additional short breaks throughout the year.
Getaways of fewer than 7 nights are available to all members of Interval International. And like weeklong Getaways, Interval Gold® members will receive a $25 discount, and Interval Platinum® members will receive $50 off all Getaways of 4 or more nights. And if you're in your first year of Interval membership, you'll enjoy an additional $25 off Getaway bookings of 4 or more nights. Pricing is based on the length of stay and the size of available villas or accommodations. For great deals, look for the special-offer indicator.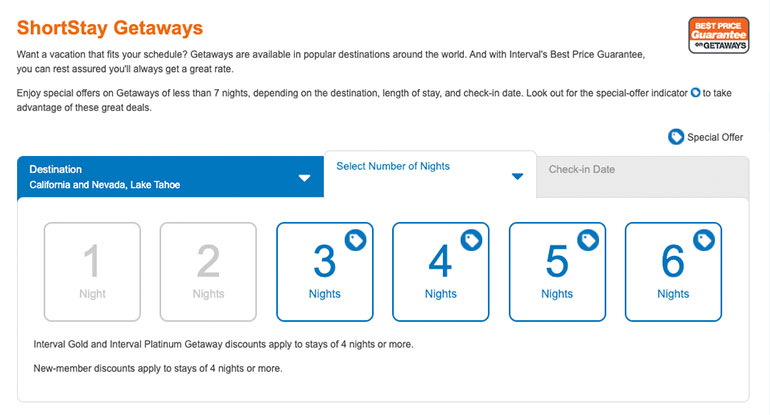 To search availability and purchase a Getaway of fewer than 7 nights, sign in to intervalworld.com and select ShortStay Getaways under the Getaways tab. Here, you can browse a selection of featured resorts or search by your desired destination. You can even surprise your loved ones with the gift of a vacation by purchasing a Guest Certificate.
Many of the destinations available for weeklong Getaways will also be available for fewer than 7 nights, and bookings will be available on short notice — or months in advance — so you can take short breaks that fit your schedule. And all Getaways, regardless of length of stay, are backed by Interval International's Best Price Guarantee.
Sign in to intervalworld.com to search availability and purchase Getaways of 7 nights or fewer.