Phoenix Shows its True Colors
Enjoy all the colors of the desert with amazing murals in Arizona's largest city.
In Phoenix, the thriving and vibrant street art scene offers a glimpse into what makes the fifth-largest city in the United States tick. While murals are found in all parts of Phoenix, most are in downtown and the arts district, known as Roosevelt Row. The area stretches from McDowell Road south to Van Buren Street and from Central Avenue west to Seventh Avenue.
This vibrant locale is the perfect spot to not only take in the Phoenix art scene, but also sample delicious local foods, drinks, and shops. Check out this small sample of the unique art you'll find along your journey.

Salt River Pima-Maricopa Mural
111 W. Monroe St.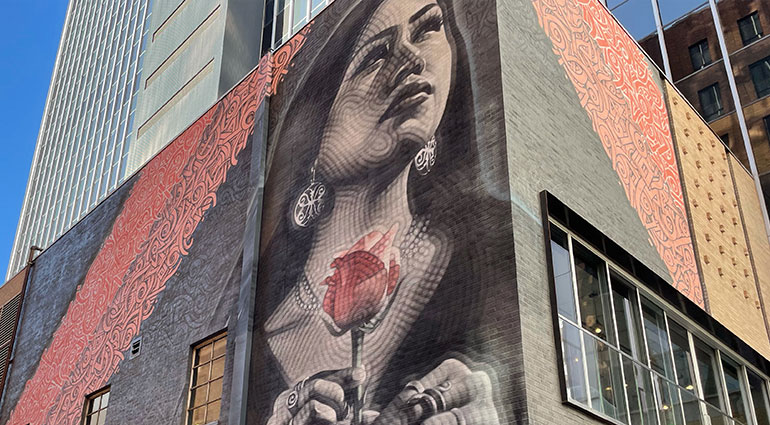 Unveiled in April 2021, this 45-foot mural depicts a young woman from the Salt River Pima-Maricopa Indian Community holding a rose. It's the work of two of Phoenix's best-known street artists — Miles "El Mac" MacGregor and Thomas "Breeze" Marcus.
The mural on the south wall of a historic building showcases El Mac's signature portrait style, incorporating repeating contour patterns and Breeze's interlocking geometric shapes.
Take a break: The Hidden Track Cafe and Bodega, in the building where the mural is painted, serves artisan-style coffee and specialty drinks like horchata iced coffee.

Mural Alley
1st Street and Garfield Street
Less than a mile away is Mural Alley — commonly called 1 ½ Street. It's at the heart of the Roosevelt Row district but can be hard to find. Even locals will tell you it's hidden in plain sight.
Need directions? Head to The Churchill, an open-air food and boutique pavilion. When you walk behind the building, you'll see a dozen works by local artists, extending the length of the alley. It features motifs from Arizona's iconic landscapes to her indigenous roots.
Take a break: Inside The Churchill, you can browse State Forty Eight, a local shop selling fashion-forward apparel proclaiming Arizona's position as the last state admitted to the contiguous United States.

Open Arms
1st Street and Roosevelt Street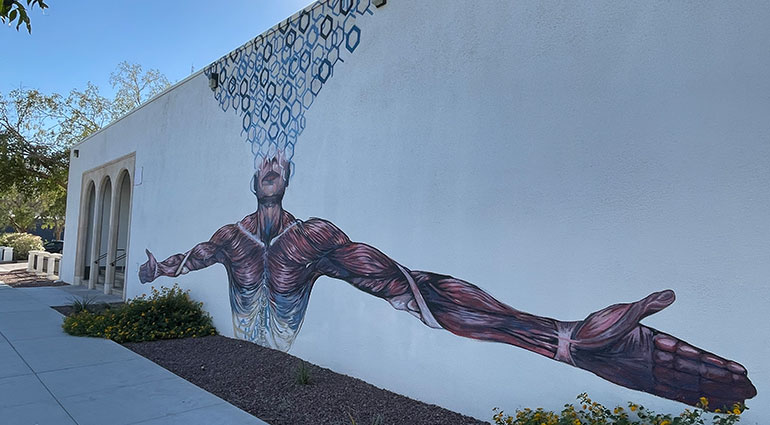 Just over a block away is the nondenominational Roosevelt Community Church, site of the appropriately named Open Arms mural. Attributed to local street artists Bishop Ortega, Larry Valencia, and Anthony Vasquez, the mural's name — and location — speaks to its message of welcoming and inclusiveness.
Take a break: Head a block away on Roosevelt Street to Carly's Bistro, which features soups, sandwiches, and salads for lunch or light dinner in a friendly, artsy environment.

The Theodore
110 E. Roosevelt St.
Just around the corner is a craft beer, wine bar, and bottle shop called The Theodore, which serves some of Arizona's top brews. Outside, you'll find the Theodore mural painted by Tato Caraveo. The artist puts a surrealist spin on the 26th U.S. president, Theodore Roosevelt.
During his nearly two terms in office in the early 20th century, Roosevelt's leadership made a big impact on Arizona. He signed an executive order for the Grand Canyon to become a national monument, and supported the National Reclamation Act, which led to the construction of the Roosevelt Dam.
Take a break: Venture inside The Theodore and sample local brews, like the Hoppy Amber Red Ale from Tombstone Brewing Company or the Stoic Javelina Rosé from Prescott's Stoic Cider.

La Musa
2nd Street near Portland Street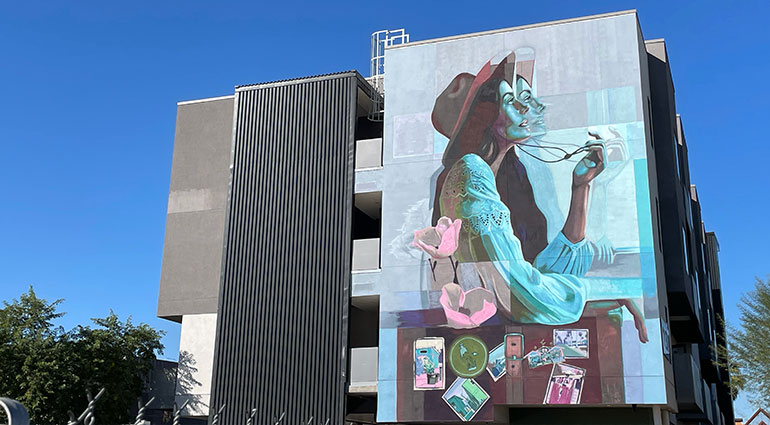 Two blocks north on 2nd Street, check out La Musa mural by Clyde Graffiti on the side of the En Hance Park Condos. This mural, depicting a woman looking for her next adventure, suitcase in tow, is sure to touch the hearts of all travelers.
Take a break: Relax in nearby Margaret T. Hance Park or visit the Japanese Friendship Garden inside the park.

Phoenix
2814 N. 16th St.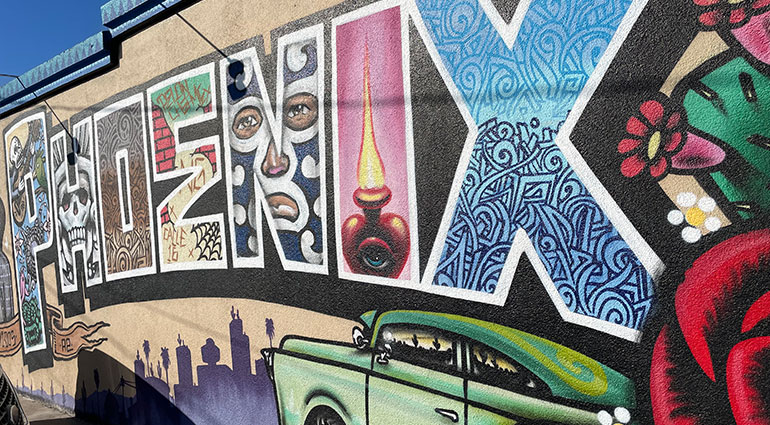 For the final stop, drive 2.5 miles to one of the city's most recognized murals. The mural on the wall of Barrio Café is a colorful collaboration between several of the city's top street artists. Open since 2002, the restaurant has garnered rave reviews, and its founder-chef Silvana Salcido Esparza has been nominated for a James Beard Award.
Take a break: Barrio Café is a must-stop for authentic Mexican dishes like chiles en nogada or cochinita pibil.

Reserve Now
Plan your Arizona getaway at:
Story by Dena Roché
Contributions by Tyler Bohlman
Photos by Dena Roché