This incredible festival fills the entire weekend with fun events, awe-inspiring sights, once-in-a-lifetime photo ops, and an all-around festive atmosphere.
Colorado's summer months reveal an expansive, unspoiled landscape just as beautiful as any time in the winter. And July brings one of the area's most famous traditions: The 37th Annual Hot Air Balloon Rodeo.
The Rodeo
It's the main event, and it's something you've just got to see for yourself. Imagine the sight of dozens upon dozens of hot air balloons—some themed, all festive—ascending and filling the sky with color, framed by shimmering Bald Eagle Lake and ruggedly beautiful mountains as a backdrop. And since these pilots enjoy some fun competition, you'll see aerial contests like dipping into the lake and raising back up to the sky. The Hot Air Balloon Rodeo is one of Steamboat's most iconic events, and an absolute must-see.
Art in the Park
Nearby West Lincoln Park hosts this great companion event to the Rodeo. Art in the Park features over 150 artist-vendors, live entertainment, delicious food and drink, and an interactive children's art area. After the morning's breathtaking balloon liftoff, it's the natural next stop and the ideal place to find one-of-a-kind gifts and souvenirs, all in a beautiful riverside setting.
Hot Air Balloon Glow
As evening falls, the legions of hot air balloons will show off their colors in a whole new way—the Hot Air Balloon Glow. This nighttime balloon launch lights up the night sky in a breathtaking display just as amazing as the Rodeo before it, punctuating the sky with a constellation of new stars: the glowing balloons themselves.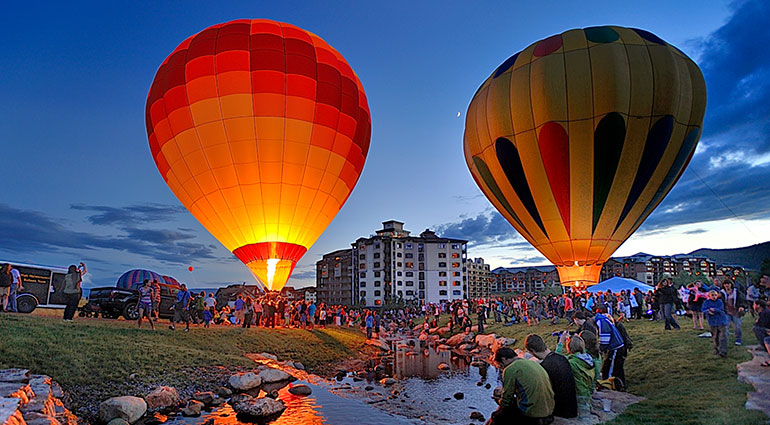 During the festival, Sheraton Steamboat Resort Villas makes the perfect home base; and a relaxing retreat with amenities and activities of its own. Unwind in the warm, soothing waters of the resort's hot tubs. Play a round at the nearby Rollingstone Golf Course—one of Colorado's best. Or relax beside the climate-controlled outdoor pool and enjoy a perfect Steamboat summer.
What: The 37th Annual Steamboat Springs Hot Air Balloon Rodeo
When: Saturday, July 14 & Sunday, July 15, 2018
Where: Steamboat Springs, CO
Other Events: 44th Annual Art in the Park Festival; Balloon Glow Event
Where to Stay: Sheraton Steamboat Resort Villas
Start planning your Steamboat vacation today
Contact your Personal Concierge.