Take advantage of a true once-in-a-lifetime experience — swimming (safely) with the largest fish on earth: the giant whale shark.
Staying at
The Westin Lagunamar Ocean Resort
creates the perfect opportunity to swim side-by-side with these gentle giants. Your Concierge can arrange this unforgettable excursion for you and your family — an absolute must-do!
Swimming with whale sharks in the wild is definitely a rush, and unlike anything you've ever experienced, but it shouldn't be scary. These massive fish peacefully swim along near the surface, feeding on plankton they filter from the warm Caribbean waters. This gives you the chance to swim along with them up-close, taking in their larger-than-life beauty (often measuring 32 feet or longer). Unforgettable!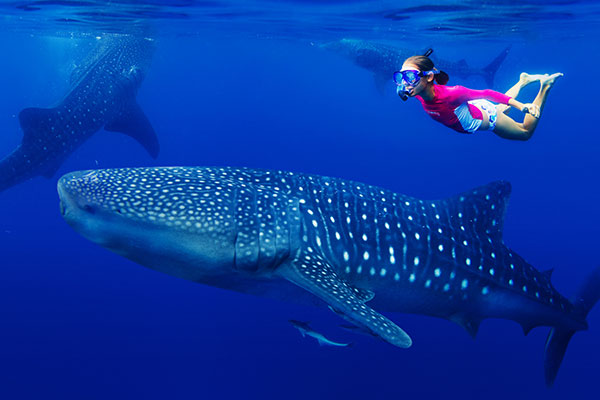 After orientation and instruction, experienced guides will take you just north of Cancún to the waters where whale sharks congregate in greater numbers than anywhere else on the planet. Truly bucket-list worthy, swimming with the giant whale sharks is the ultimate Caribbean nature experience, and one you won't forget.
Book soon, as these popular excursions can fill up fast.