Use this itinerary to plan your dream vacation on Hawai'i's Garden Isle.
From coastal cliffs to canyon depths, magical mountain waterfalls to lush green valleys, Kaua'i's larger-than-life beauty awaits you around every corner of this incomparable Hawaiian paradise.
Day 1: Acclimate to Aloha
After settling in to your soothing villa at The Westin Princeville Ocean Resort Villas, immerse yourself in the resort's tropical surroundings. Warm breezes sway palm trees over your head as you sip a Mai Tai poolside or enjoy relaxing spa services in a secluded pāpaʻi. Yep, this is about as perfect as it gets.
Celebrate your first evening with an exquisite five-course food and wine "tasting journey" of locally sourced cuisine at the resort's acclaimed Nanea Restaurant and Bar. By now, your blissful Polynesian paralysis should really be setting in.
Day 2: Fly Over Waterfalls
Kaua'i is nicknamed "The Garden Isle" for good reason. It's the least developed of the Hawaiian Islands, with much of the island inaccessible by car or foot. That's why a helicopter tour is a breathtaking must.
Be awed by the majestic cliffs (pali) of the Nāpali Coast, then soar over the "Grand Canyon of the Pacific," the exquisitely carved Waimea Canyon. Flying inland, gaze upon the iconic green lavish landscape made famous in films like Jurassic Park, complete with cascading waterfalls and vivid rainbows. This is one of those experiences you'll never forget.
We recommend seeing Kaua'i by air at the beginning of your stay to gain perspective of our island's geography. This will help you plan ahead on what you many want to re-visit by land.
Grab a boxed lunch in Lihue and head over to nearby Makua Beach for afternoon swimming amid the same mountain scenery seen in the film South Pacific. Ready to barbecue Hawaiian style? Pick up fresh fish and other princely provisions at the resort's market on your way back in, or have them pre-stocked in your villa kitchen before your arrival. Then grill and go to enjoy a laid-back dinner on your villa's open-air lanai.
Day 3: Sail Away or Play
Drink up the warm sun and ocean breezes with a relaxing day out on the water. Inclusive 5- to 7-hour boating excursions take you down the dramatic Nāpali Coastline, dotted with sheer, green cliff faces and hidden sea caves, enchanting waterfalls and timeless lava tubes. Sail across the channel to a forbidden island for spectacular swimming, snorkeling or scuba diving.
Rather be out on the greens? Opt for a game amid gorgeous environs at the Makai Golf Club. You might also choose to take a rewarding tour of the resort. Or get in the pool for an easygoing introduction to SCUBA. Then make your own fresh flower lei to help get your aloha on for dinner out on the island.
Nāpali Coast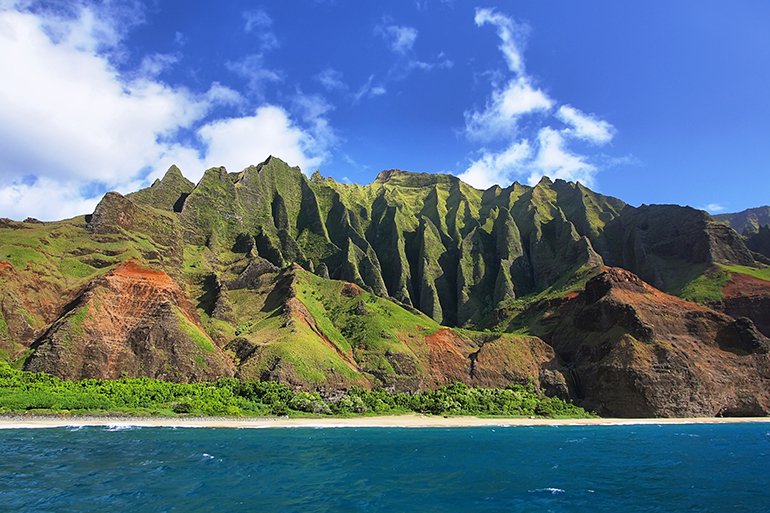 Day 4: Float Your Own Boat
Reserve early for this popular family adventure: tubing Kaua'i's historic plantation canals. Learn about the island's sugar plantation era before hopping into a tube for your leisurely adventure. Float down open channels, fun flumes and magical tunnels that were hand built circa 1870 as an elaborate irrigation system for the former Lihue Plantation.
In the afternoon, drive to a convenient roadside stop for Wailua Falls. This is the distinctive two-stream falls featured in the opening credits of the long-running TV show, Fantasy Island. Returning to the North Shore, laze or take a surfing lesson along Hanalei Bay, voted by "Dr. Beach" as one of the best beaches in U.S.
Contact Your Westin Concierge To Plan Your Vacation
Our experienced, on-site Concierge Team is ready to assist you. Email us to make your Kauai activities reservations today, or call 1-888-692-3807.
Day 5: Head West
Bike it or hike it: Either way, you'll find more dramatic beauty on Kaua'i's West Side. Pedal down Waimea Canyon starting at sunrise (and 3,600 feet above sea level). From the elevated Kōke'e State Park, you can traverse miles of excellent hiking trails through wet, exotic forests to view lookouts of the well-carved canyon or verdant North Shore valleys below.
On your way back, stop at "Kauaʻi's biggest little town," Hanapepe, where plantation-style historic buildings house charming shops, local eateries and art galleries. Ready for more lounging around a secluded Hawaiian lagoon? Go to the North Shore's end at Kē'ē Beach. The spot is beautiful but also untamed, so be sure to check for current conditions before getting into the water. After dinner, cap your day with a wine tasting or mixology class at Nanea Restaurant and Bar.
Waimea Canyon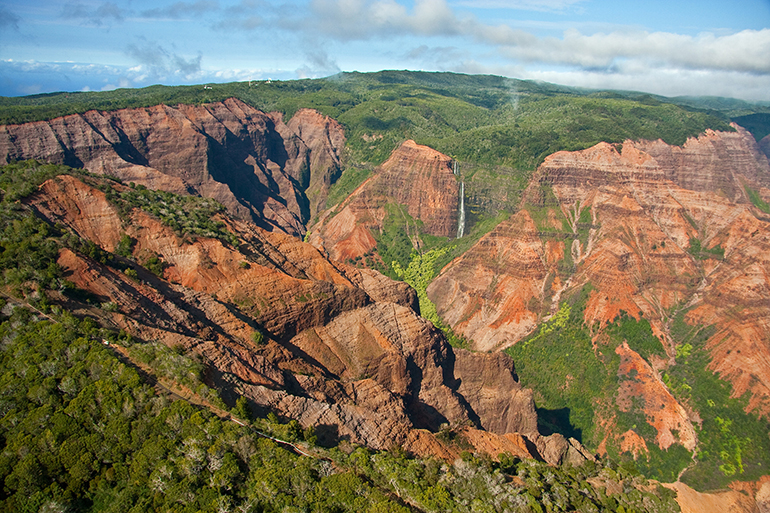 Day 6: Paddle Through Paradise
You'll discover the only navigable rivers in all of Hawai'i on Kaua'i. The 20-mile long Wailua River winds around magical sites like the sacred Fern Grotto, Opaekaa Falls, and the aptly named Sleeping Giant mountain ridge. The scenic river can be explored by kayak, outrigger canoe or boat tours. Before heading back to the resort, browse elegant island shops in nearby Kapaʻa Town.
What better way to spend your last night on Kaua'i than at a traditional Hawaiian lu'au? Feast like royalty beneath a balmy, star-filled sky. Be mesmerized by pulsating drums beckoning ancient spirits, while hula and fire dancers tell stories to soulful Hawaiian and Tahitian chants.
Day 7: Go North Before You Go Home
Soak up more energizing sun in the morning. Try sunrise yoga overlooking the Pacific or a nature walk reflecting on your week in paradise.
Time-permitting on your way to Lihue Airport, swing by Kilauea Point, the northernmost cusp in all Hawai'i. Take an illuminating look at Kaua'i's seafaring history. The well-preserved Kilauea Lighthouse is encompassed by 200 acres of national wildlife refuge, where you can spot rare sea birds and even Hawaiian monk seals.
Kilauea Lighthouse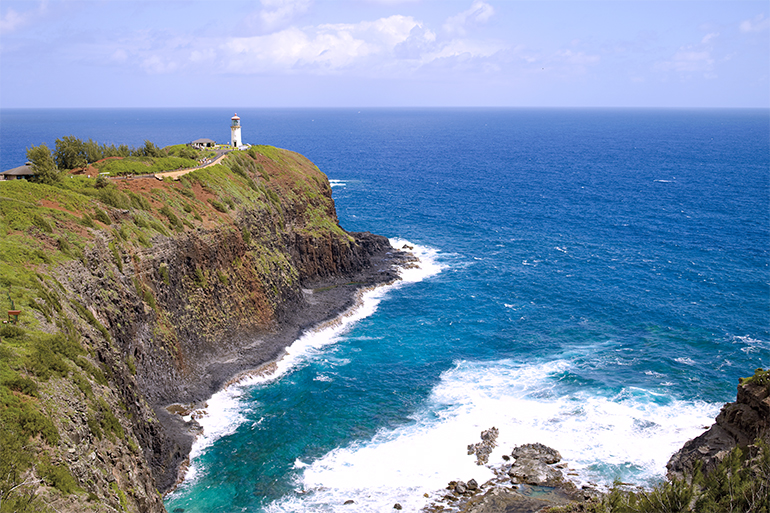 Plan your Kaua'i adventures today
Contact your Personal Concierge.