Fun things to do on The Garden Isle, from a local's point of view.
Picnic on Po'ipū Beach
Po'ipū is a favored local gathering place, especially for families. Set on the southern coast of Kaua'i, Po'ipū State Park offers a beautiful lifeguarded beach well suited for swimming and snorkeling. It's complemented by great facilities that invite you to stay for the day, although islanders go there for a scenic lunch break, too.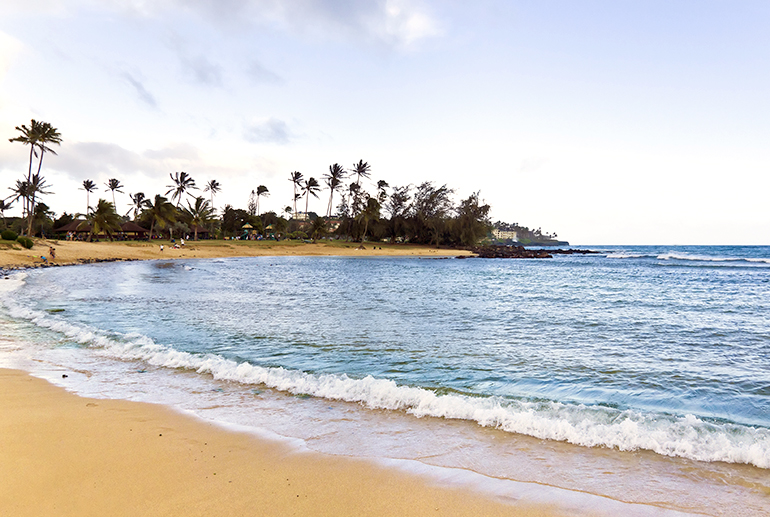 Flores recommends the nearby Kōloa Fish Market, where you can grab and go to the beach with plate lunches of fish, raw poke or other Hawaiian foods, as well as great pies and desserts. Hang out like the islanders, enjoying your plate lunch at one of Po'ipū's pavilions or picnic tables.
Explore Native Flora
Visiting a botanical garden is a picturesque way to get up close and personal to Kauaa'i's natural beauty, while learning about local culture and history. Flores suggests touring Limahuli Garden and Preserve on the north shore, which was named the best natural botanical garden in the United States by the American Horticultural Society.
Set in a lush tropical valley between the Makana Mountain and Pacific Ocean, strolling the gardens will give you a glimpse into the past: learn about plants native to Hawai'i, plus those transported from neighboring Polynesian islands, and see lava rock terraces built by Limahuli's early inhabitants which still house thriving taro plants. Opt for a guided or self-guided tour through the grounds and be sure to bring bug spray, suntan lotion, a hat for shade and an umbrella.
Hike the Cliffs on Kalalau Trail
The most frequented hiking spot for tourists is also where locals go for full-day recreation and exercise. A challenging 11-mile trail spans the island's rugged northern coastline from Kē'ē Beach to Kalalau Beach.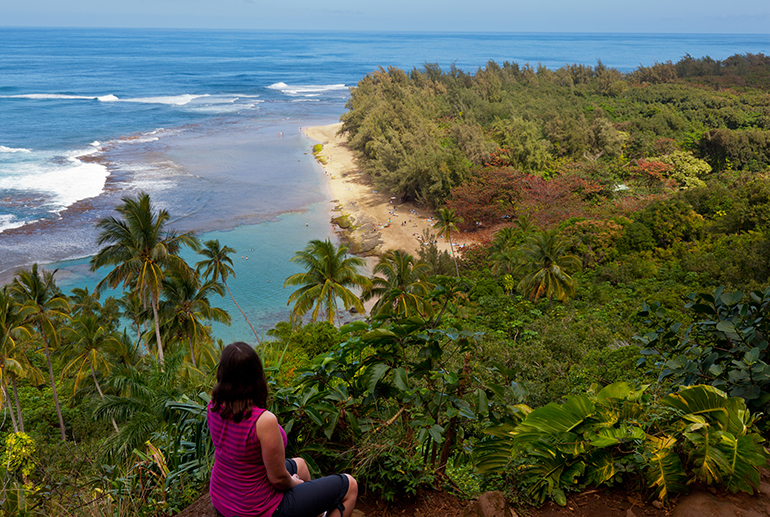 Kalalau Trail offers rare, stunning vistas of the Nāpali Coast. Traverse untouched mountains and secluded valley terrain only accessible via foot. The cliffs reward travelers with breathtaking elevations carved by streams that still flow to unexpected waterfalls. Those seeking different stunning perspectives on this legendary landscape without the trek can opt for an unforgettable helicopter or boat ride. Before you head out, be sure to check with your Concierge to find out the conditions of beaches and hikes for the day.
Nosh on Authentic Fare
When in Hawai'i, sampling taro — a staple of the native Hawaiian diet — is a must. Flores recommends the Hanalei Taro & Juice Co. for a new twist on the classic, featuring unique taro offerings like hummus, veggie burgers, mochi cake and fruit smoothies.
Find the lunch wagon daily in Hanalei, which also serves traditional Hawaiian delicacies like laulau, kālua pig, poi, lomi salmon and kulolo. The farm-to-table menu varies by season and all food is sourced from local farms, including the owner's own sixth-generation, family-run rice mill and taro farm. Daily specials may include dishes like roast pork with gravy, shoyu chicken, furikake baked fish and kālua tacos.
Plan these and more Kaua'i adventures today
Contact your Personal Concierge.