The best places to snorkel, where to spot whales, must-see dive sites and more.
Aloha to this water-lover's paradise. Unspoiled Hawaiian beaches and swimmable Pacific waters edge a quarter of Maui's 120-mile coastline. So for aquatic adventures as vibrant as the island's underwater wildlife, just look makai (toward the sea).
Snorkeling
Maui's southwest coast on the leeward side of the island offers ideal conditions for shore-to-reef snorkeling. With Hawaiian trade winds blowing from the northeast and the island of Lāna'i acting as a buffer to the west, the warm channel of 'Au'Au (meaning "to take a bath") provides a calm, clear haven for sea life and swimmers alike. The sheltered strands of North Kā'anapali Beach offer some of Maui's healthiest reefs, with three pristine reef systems to be explored. The one-mile stretch between Kahekili Beach Park and Pu'u Keka'a (Black Rock) offers more great options.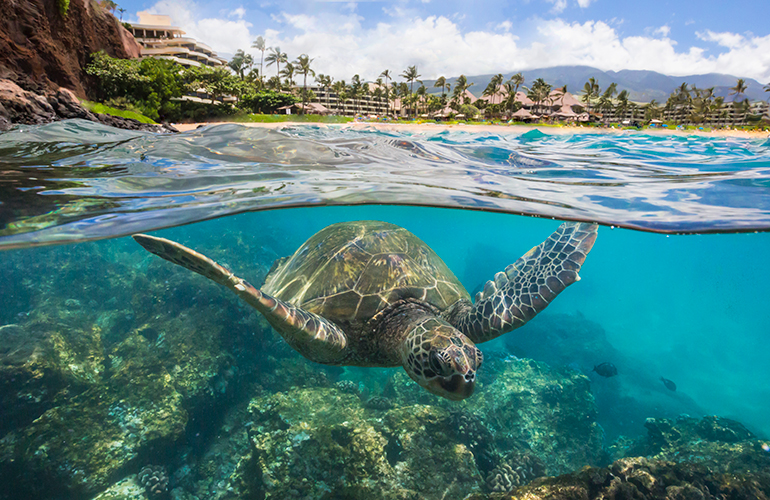 Diving
Go on a dream dive off the southern coast of the island of Lāna'i in Manele Bay, known for its abundance of spinner dolphins. Kick your fins through the Cathedrals, dramatic sea caverns named for their intricate lava-formed lattices, high ceilings and incoming rays of light. The signature crescent-shaped islet in the ʻAlalākeiki Channel between South Maui and Kaho'olawe, Molokini Crater offers striking biodiversity and up to 150-foot-visibility within its protective rim. More experienced divers can traverse the stronger backside of the crater and its 200-foot underwater cliff.
Whale Watching
Whale watching in Maui is a BIG deal. Spotting even one of these 50-foot, 40-ton behemoths in its natural playground is mesmerizing. As part of these gentle giants' annual migration, they travel from Alaska to give birth and breed in Maui's warm, welcoming waters. During the island's official protected season, December 15 through April 15, locals often call the 'Au'Au Channel "whale soup" for its thousands of humpback whales, breaching and spurting. If you do take a whale-watching excursion, you may well experience what's affectionately dubbed a "whale mugging." That's when happy humpbacks come so close to your boat you have to stay where you are (can't move by Hawaiian law), marveling at the free show of their intimate interactions.
Contact Your Westin Concierge To Plan Your Vacation
Our experienced, on-site Concierge Team is ready to assist you. Email us to make your Maui activities reservations today, or call 1-888-641-8210.
Paddling Adventures
Paddling in any form is a workout on the water with clear visuals of the reefs and, in the winter months, breaching whales. A good way to learn about Hawaiian culture is by a tour in an authentic outrigger canoe, where adults and kids as young as five can paddle together, along with an expert steersman to guide the expedition. A more recent innovated water activity in Hawai'i, stand-up paddle boarding is challenging but doable even for beginners. Another upside: parties can stay together more easily than surfing. Guided sea kayaking lets you navigate to magical Maui places not easily accessible by larger boats.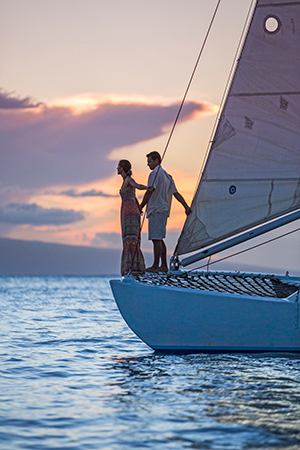 Sunset Sailing
Trust us: A Maui sunset on the sea is one experience you'll want to check off your bucket list. Cruising on an elegant catamaran or yacht towards the pink and orange western horizon, you'll feel as if you're sailing to the edge of the universe. Sip mai tais as you sail between the islands of Maui, Molokaʻi and Lāna'i. And keep an eye out — you might just spot spinner dolphins and flying fish jumping around the boat.
Surfing
If it's your first time hanging ten, opt for lessons at the beaches in Kā'anapali, Lāhainā and Kīhei where more beginner-level swells can be found. More seasoned surfers can head to Honolua Bay and Ho'okipa Beach to ride the big waves, at their peak during the winter months. (Ho'okipa Beach is also a renowned destination for windsurfing and kitesurfing.) Just east of Ho'okipa is Maui's most famed surfing spot, Pe'ahi, nicknamed "Jaws" for its massive swells.
Fishing
Warm weather and shallow waters make for abundant fishing right from shore. Whether whipping, dunking or slide baiting, you can cast from the beach without a license. Go before sunrise or right after sunset for best biting. One favorite local fishing spot is Big Beach at Makena State Park, on the South Maui coast. For deep-sea Pacific fishing, scores of charters depart from Lāhainā Harbor daily to offshore hot spots, where you might catch anything from mahi mahi to big-eye tuna (ahi) to wahoo.
Book your Maui getaway
Reserve your villa vacation today.