The Innovative resort's environmental efforts have been recognized with this special designation.
---
The Westin Nanea Ocean Villas, located on Kā'anapali Beach in Maui, has been awarded the Gold New Construction Leadership in Energy and Environmental Design (LEED) certification.
The LEED rating system was specifically designed by the U.S. Green Building Council to guide the development of more sustainable buildings. It also distinguishes those that minimize the impact on their natural surroundings.
From the start, leadership sought to create a more sustainable resort and gladly pursued this certification, as it directly aligns with one of their core values: to operate responsibly through ongoing sustainability efforts. To meet LEED guidelines, much thoughtful planning went into the development of The Westin Nanea Ocean Villas, which opened in April 2017.
The Westin Nanea Ocean Villas received high marks for the following LEED categories:
Sustainable Sites – focuses on the sustainability of the environment surrounding the building
Water-Efficient Landscaping – considers water holistically, looking at indoor, outdoor and specialized uses, and metering
Energy and Atmosphere – addresses energy-use reduction, energy-efficient design, and renewable energy sources
Materials and Resources – focuses on minimal impacts in the use of building materials
Indoor Environmental Quality – rewards green buildings with good indoor environmental quality
Innovation and Design Process – recognizes innovative building features and sustainable building practices and strategies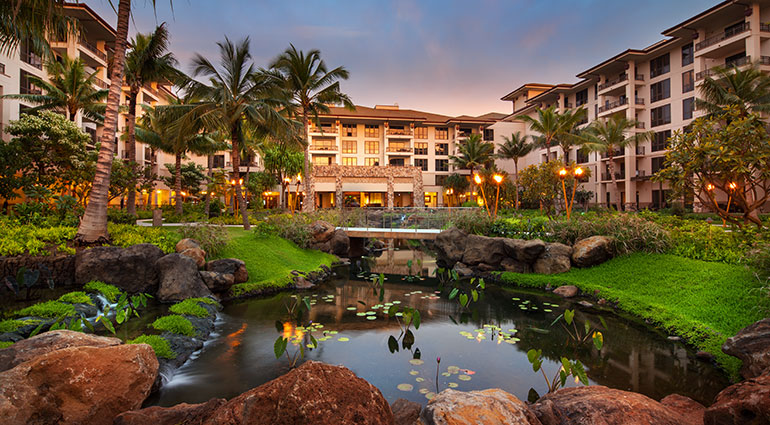 One of the notable LEED features is the resort's expansive koi ponds, which are deeper than those found at neighboring resorts. They were purposefully designed for water diversion, a key element of the property's storm management program. They serve double duty as both beautiful koi ponds and retention basins that hold and filter excess stormwater runoff from the surrounding area. This helps protect the coastline from potentially harmful pollutants, so it can be enjoyed by generations to come.
Also recognized is the resort's use of cutting-edge, energy-efficient equipment and technologies — like using heat rejection to replace the need for chillers and cooling towers — which emit harmful greenhouse gases and consume a lot of electricity. And the native, water-efficient landscaping found within this lush 16-acre property supports the naturally occurring ecosystem, requiring less irrigation and reducing potable water usage by 65 percent.
Dedicated to Sustainability
Learn more about The Westin Nanea Ocean Villas as it further develops these and other LEED-recognized efforts to continue to be a top sustainable resort.