Experience one of the world's most awe-inspiring sights: seeing majestic humpback whales up close.
Follow alongside these gentle giants as they dive and glide through shimmering Hawaiian waters.
Every year, over 10,000 humpback whales make the long trek from the cold, nutrient-rich waters of Alaska to the warm comfort of the North Pacific Ocean. To native Hawaiians, a sighting of the legendary creatures is a signal of the winter season. And to locals and visitors alike, it means exhilarating opportunities to experience the beauty of these magnificent mammals close up — an unforgettable highlight to any Hawaiian vacation.
The team of island experts at The Westin Nanea Ocean Villas, The Westin Kā'anapali Ocean Resort Villas, and The Westin Kā'anapali Ocean Resort Villas North knows the best spots for whale-watching in the winter season. (December 15 – April 15).
"Although we can see whales from the shore here in Maui all winter long, experiencing the thrill of seeing them up close on a whale-watching tour should not be missed," says Marc Rosenkrans, Concierge Supervisor at The Westin Kā'anapali Ocean Resort Villas. "Last winter, I went out with my wife and son on one of the catamaran tours and we were so close to a mother and her calf that we could feel the mist when the mother spouted!"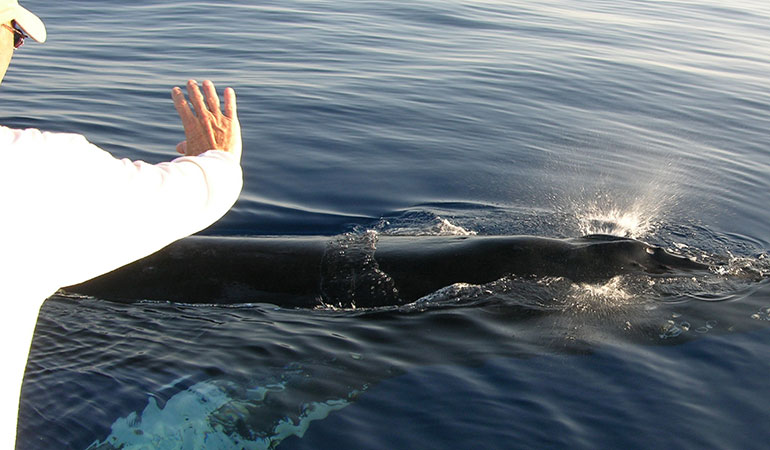 Gemini Charters
Departing in early morning and again in the late afternoon, this immersive catamaran adventure lets you experience the whales in their natural habitat. Learn from professional marine naturalists and listen to live "whale songs" from Gemini's hydrophone. It's not only captivating but also relaxing, offering a complimentary bar and Continental breakfast or island-style appetizers catered by The Westin Maui Resort & Spa.
Teralani Sailing Adventures
With departures throughout the day, including during the striking Hawaiian sunset, Teralani Sailing Adventures has an award-winning fleet of luxurious catamarans. Dine on delightful cuisine and beverages as you soak in all that is Maui. Catch a glimpse of impressive humpbacks as they spout on the surface and take acrobatic dives.
Maui Adventure Cruises
For a closer look at the humpbacks, hop aboard an Explorer Super Raft and get on ocean-level with the massive whales as they interact with the experienced crew of marine naturalists. The smaller vessel makes for a more intimate experience and is equipped with an onboard restroom and non-alcoholic beverages.
Let the experts at your resort help you find the best whale-watching excursion for you. To reserve your spot for these and other activities in Maui, and find out about promotional offers, contact your Personal Concierge.
Plan your Hawaiian villa vacation and activities
Contact your Personal Concierge today.